This Kona coconut loaf is insanely moist and bakes up to be the BEST coconut cake!! Take it up a notch with a simple espresso glaze and be prepared to be transported to Hawaii with every bite!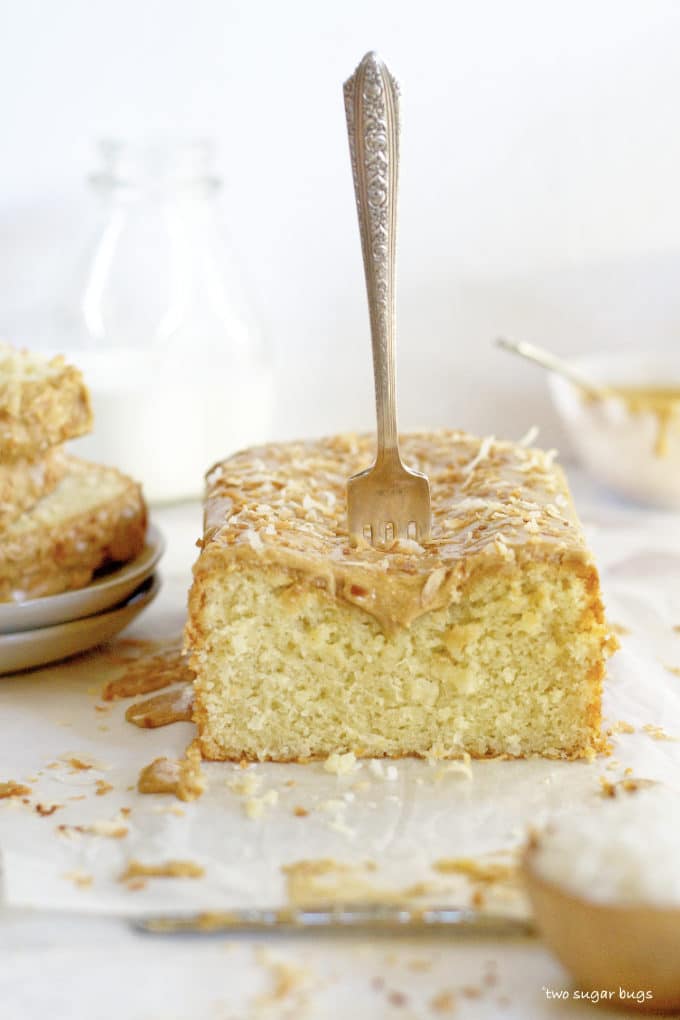 Kona coconut loaf cake embodies everything I want to convey on two sugar bugs.
It's an EASY and unfussy cake recipe.
The batter comes together quickly and bakes in a loaf pan.
The cake is moist and soft with coconut radiating in every bite.
The espresso glaze is also easy to prepare and just gets drizzled over the top of the finished cake.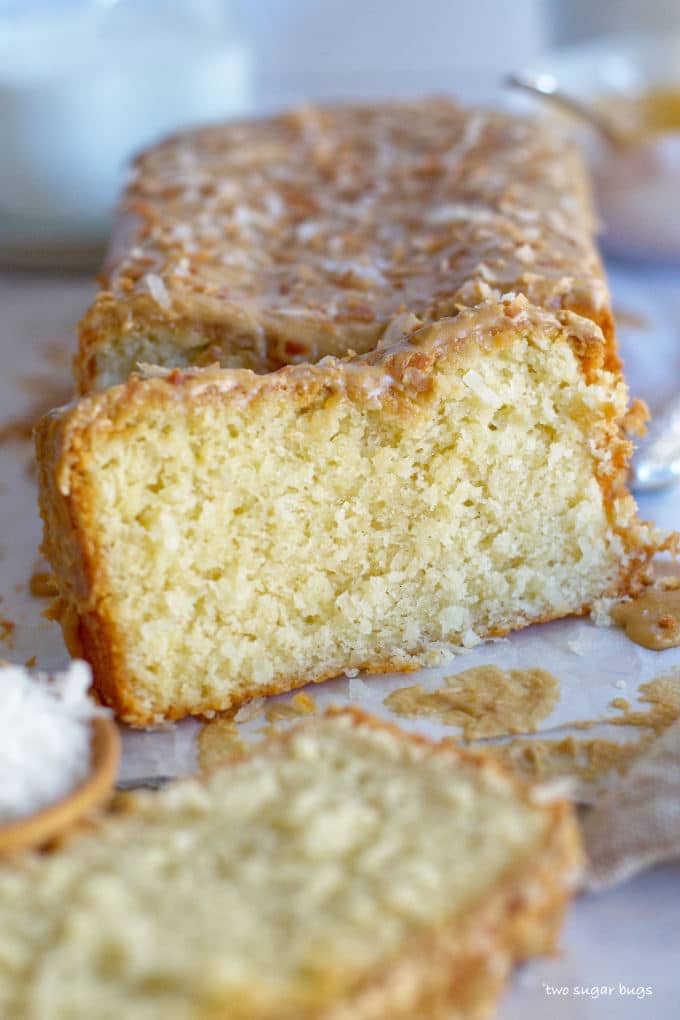 Disclosure | This post may contain affiliate links. As an Amazon Associate I earn from qualifying purchases.
This coconut cake was inspired by Mr. two sugar bugs and my trip to the Big Island last September. We are both huge coconut fans as well as coffee lovers. And while this cake doesn't specifically have Kona coffee in it, the tropical coconut flavors and subtle espresso glaze make it a perfectly delicious Hawaiian influenced cake.
Ingredients needed for this Kona coconut loaf cake
This simple recipe comes together quickly and with minimal effort.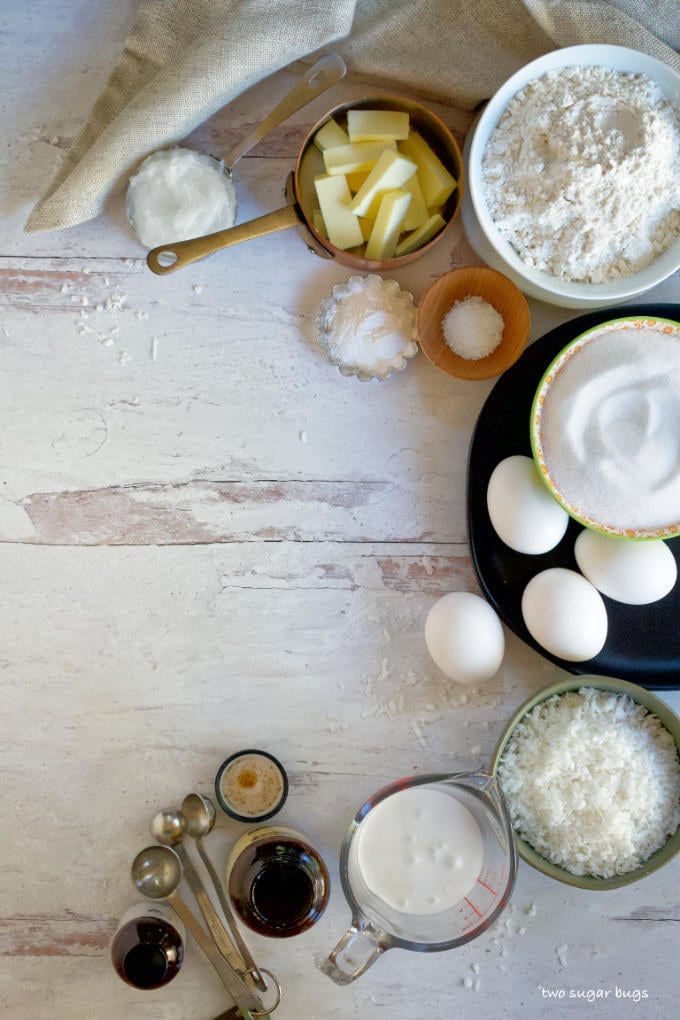 Coconut oil ~ adds moisture and a layer of coconut flavor to every bite of this loaf cake. You will melt the coconut oil together with an equal part of unsalted butter and allow it to cool to room temperature before adding it to the batter.
Melted butter ~ brings another fat to the cake to give it a not too dense texture and some moisture.
Flour ~ nothing fancy here! Just some all-purpose flour, measured by the spoon and level method.
Baking powder ~ to give the cake a little lift.
Salt ~ just a little to balance the sweetness of the cake.
Eggs ~ this recipe uses four large eggs. They give rise and structure and also give the cake a nice tender crumb.
Sugar ~ granulated sugar gives the cake it's sweetness.
Vanilla bean paste ~ I love the tiny flecks of vanilla beans that come from vanilla bean paste and the concentrated vanilla taste. If you do not have vanilla bean paste, you can use the same amount of pure vanilla extract in it's place.
Coconut extract ~ adds just another layer of coconut flavor.
Coconut milk ~ brings a third layer of coconut to this loaf cake. Use full fat coconut milk that you find in a can. It isn't unusual for the coconut to separate to a cream layer on top with coconut water beneath. Give the can a good shake before opening it and then a good stir before measuring.
Sweetened coconut ~ adds a little moisture, a ton of flavor and a fourth layer of coconut! I have you chop the shredded coconut so that you don't get any long strands of coconut in the cake. Adding some toasted coconut on top of the glaze is an optional way to add more flavor and texture.
Remember to pin this recipe to Pinterest! Use the button on the recipe card or the share buttons on the side or bottom of this page.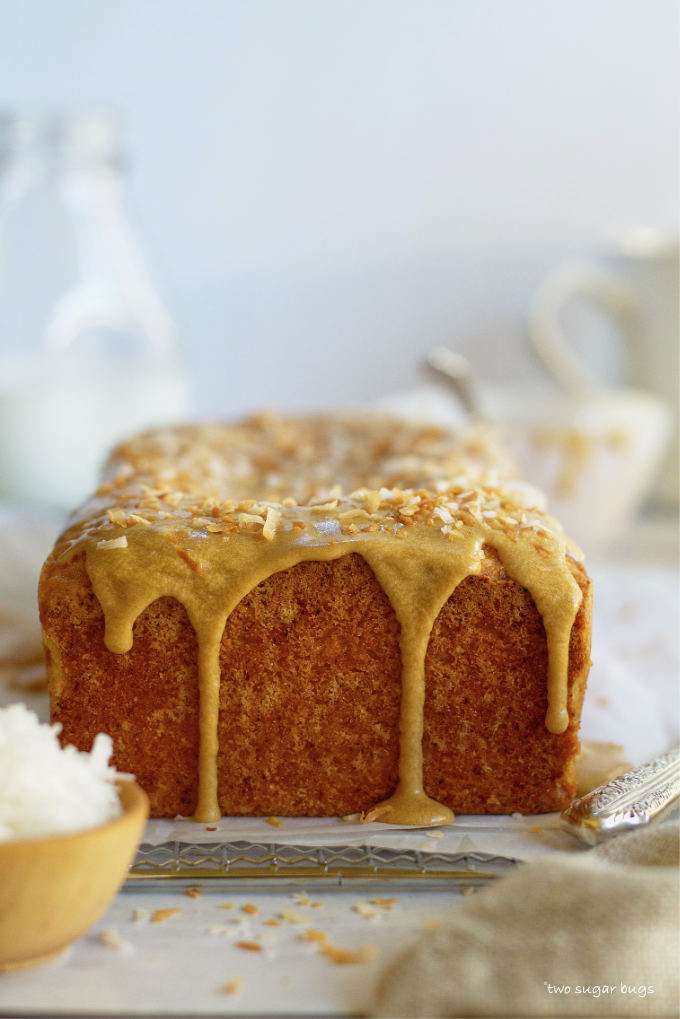 let's make this Kona coconut loaf!
Start by preheating the oven and preparing a loaf pan. I like to spray the pan with cooking spray and then line it with parchment paper. Whisk your dry ingredients together, melt the butter and coconut oil and chop the shredded coconut.
Using a stand mixer or a hand-held mixer, beat together the eggs and sugar on medium low until thick, 1-2 minutes. Then add the vanilla bean paste, coconut extract and melted coconut oil and butter, mixing on low for another minute.
Next, add half the flour mixture and mix for 30 seconds. Scrape up and down the bowl before adding the remaining flour and then mix another 30 seconds. There will still be some spots of flour showing.
Finally, add the chopped coconut and coconut milk and fold it into the batter with a rubber spatula. Mixing until just combined. Then pour the batter into the prepared loaf pan and bake.
A perfectly imperfect loaf cake!
I tested this cake recipe more times than I care to admit! The first couple of rounds were edible, but one was too dry and one didn't have enough sweetness. I also tested a version with espresso in the cake. Finally, I found the right ratios of sweetness to moisture, but I had some massive sinking in the cake. A few more tests playing with the amount of leavener brought me to the final recipe.
This coconut loaf cake gets a subtle crunchiness to the top and will sink just a little in the middle. It's perfectly imperfect. Sweet, wildly moist and soooooo coconut-y!! It even gets better on the second and third day.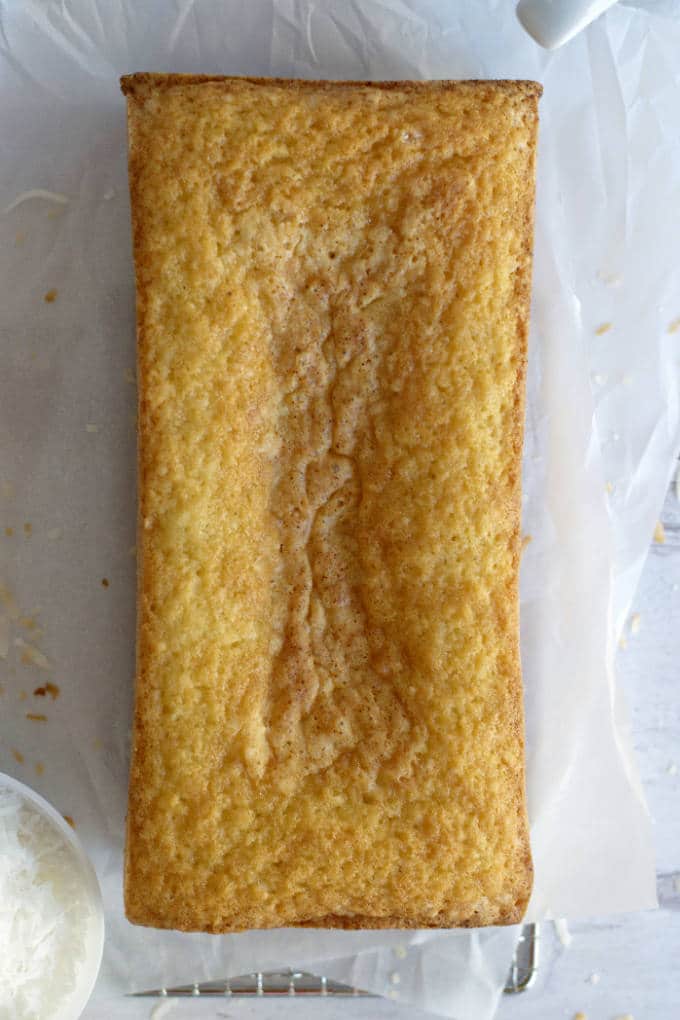 how to make the espresso glaze
This Kona coconut loaf cake gets a small coffee kick with an easy espresso glaze. The glaze is optional and the cake is AMAZING without it as well. Allow the cake to cool before drizzling with the glaze, otherwise it will melt right off the sides.
To make the glaze you will whisk together the softened butter, espresso (or strong coffee) and vanilla extract. The mixture will look clumpy and may not combine to be smooth, don't let this worry you! Once you add the powdered sugar and continue whisking, the glaze will smooth out.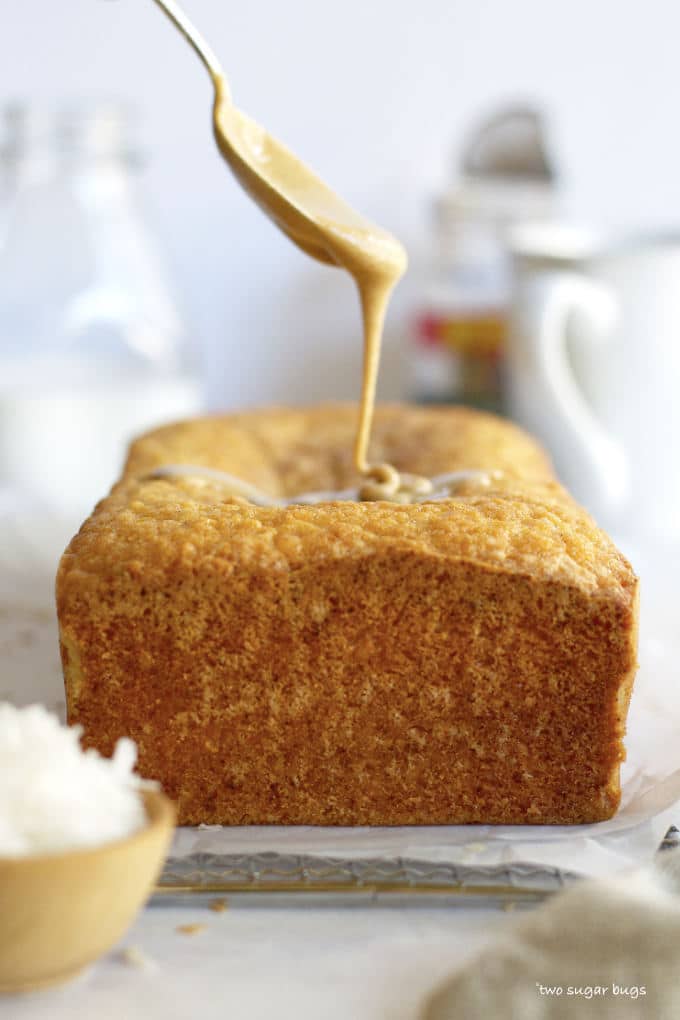 How to store this coconut loaf cake
This loaf cake will stay moist at room temperature for up to one week. Wrap the cool cake tightly in plastic wrap and leave out. The loaf also freezes well; either wrap it in plastic wrap and place in a zip-top bag or place in an airtight container. I tested freezing it both glazed and un-glazed and both versions pass the freezing test.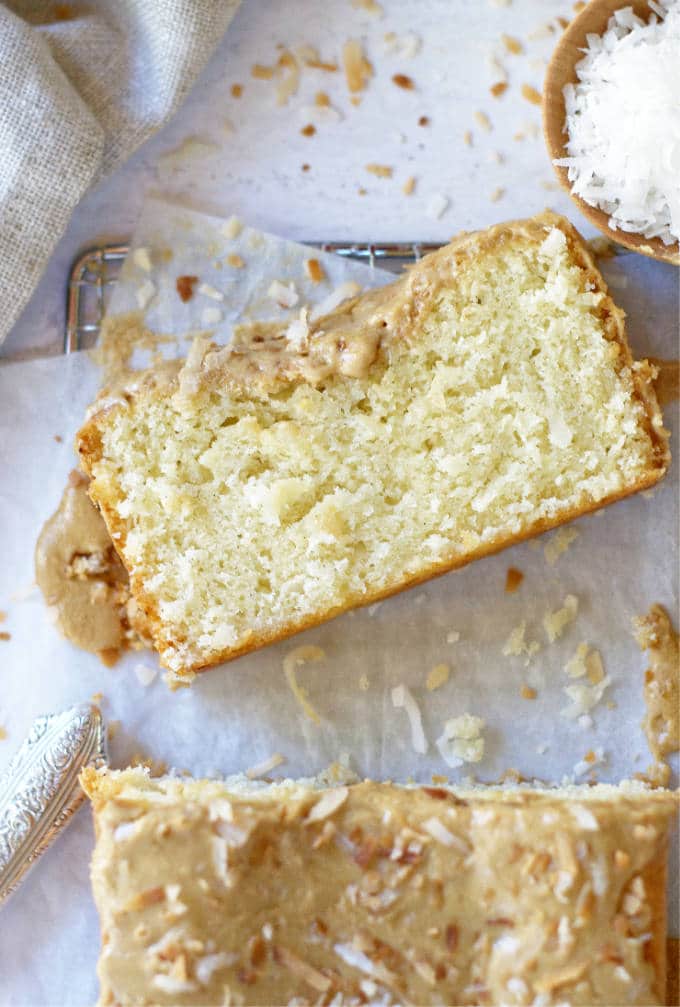 Remember to snap a picture and tag me @twosugarbugs on Instagram if you make this Kona Coconut Loaf Cake. It warms my heart to see you bring these recipes to life! Thank you for being here and happy baking!
more coconut recipes to try ~
If you make this recipe (or any recipe!) from two sugar bugs please come back and leave a review and a star rating. I read every comment, and I LOVE hearing from you!
Yield: 10 slices
Kona Coconut Loaf Cake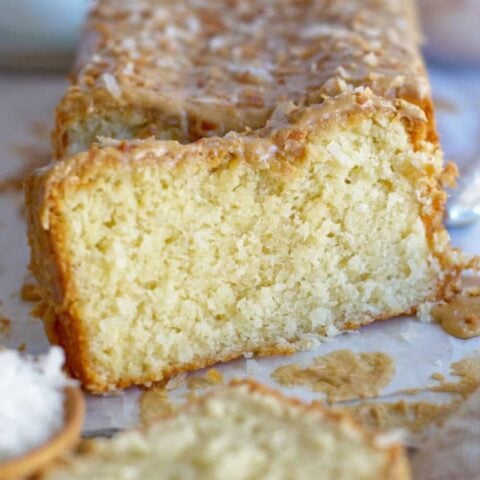 This Kona coconut loaf is insanely moist and bakes up to be the BEST coconut cake!! Take it up a notch with a simple espresso glaze and be prepared to be transported to Hawaii with every bite!
Total Time
1 hour
20 minutes
Ingredients
1 ¾ cups all-purpose flour (220g)
1 ½ teaspoons baking powder
½ teaspoon salt
⅓ cup coconut oil, melted (80mL)
⅓ cup unsalted butter, melted (77g)
¾ cup sweetened shredded coconut, roughly chopped into smaller pieces (90g)
4 large eggs
1 ½ cups granulated sugar (300g)
1 teaspoon vanilla bean paste*
½ teaspoon coconut extract
⅓ cup full-fat coconut milk (80mL)
espresso glaze
2 tablespoons unsalted butter, room temperature (28g)
2 tablespoons espresso or strong coffee**
¼ teaspoon pure vanilla extract
1 ¼ powdered sugar (140g)
2 tablespoons shredded coconut, toasted for garnish***, if desired
Instructions
Preheat the oven to 350°F and prepare a standard metal loaf pan by greasing it and lining it with parchment paper. Set aside.
In a medium bowl, whisk together the all-purpose flour, baking powder and salt. Set aside.
In a small sauce pan over low heat (or in the microwave), melt together the butter and coconut oil. Set aside.
Roughly chop the coconut into small pieces and set aside.
In the bowl of a stand mixer, fitted with the paddle attachment, mix the eggs and sugar on medium-low until thick and smooth, about 1-2 minutes. You could also use a hand-held mixer. Scrape up and down the bowl.
With the mixer on medium-low, add in the vanilla, coconut extract and butter/oil. Mix another 30-60 seconds until combined.
With the mixer on low, add ½ the flour mixture and mix 30 seconds. Stop and scrape up and down the mixer bowl. Add the remaining half of the flour mixture and mix on low another 30 seconds. Remove the bowl from the mixer and add in the chopped coconut and coconut milk with a spatula.
Spread batter evenly into prepared pan and bake 55-60 minutes until a tester comes out with a few moist crumbs. The top of the cake gets a slight crunch to it, so make sure you get the tester all the way down in the middle of the cake.
Allow the cake to cool 10-15 minutes in the pan, then move it to a wire rack to cool completely.
Prepare the espresso glaze: once the cake is cool, whisk together the softened butter, espresso and vanilla. The mixture will be clumpy. Add in the powdered sugar and whisk until smooth. Pour over the cooled cake, letting it dribble over the edges. Immediately sprinkle with toasted coconut, if desired. You can let it set for 5 minutes or so before slicing or allow it to set completely. The cake is also amazing with no glaze at all!

Notes
Store leftovers covered tightly at room temperature for up to one week.

*pure vanilla extract can be substituted for vanilla bean paste

**Espresso can be made from 1 teaspoon of espresso powder dissolved in 2 tablespoons of warm water.

***To toast coconut, place on a foil lined baking sheet and bake at 350°F for 4-7 minutes, tossing once or twice. Watch the coconut carefully as it can go from browned to burned very easily!
Recipe adapted from Jill O'connor's Kona Coconut Loaf

Nutrition Information:
Yield:
10
Serving Size:
1
Amount Per Serving:
Calories:

472
Total Fat:

21g
Saturated Fat:

15g
Trans Fat:

0g
Unsaturated Fat:

5g
Cholesterol:

97mg
Sodium:

233mg
Carbohydrates:

66g
Fiber:

1g
Sugar:

48g
Protein:

5g
The nutrition information is an estimate and may not be entirely accurate.