Homemade raspberry cake ~ a moist, springy cake infused with fresh raspberry puree and topped with a white chocolate Swiss meringue buttercream.  Perfect for Sunday dinner or any special occasion!

I love raspberries.  They are quite possibly my favorite fruit.  I eat them most often just all by them self, in their perfect, sweet form.  Raspberries are high in fiber and are also a great antioxidant so I love looking for ways to include them in my baking.  I have used them to layer between the layers of a cake and in scones, but I wanted to try something new.  I wanted to flavor a cake WITH real raspberries.
A Google search for raspberry cake left me wanting for more.  White cake with raspberries folded in, a Jell-O version, lots of lemon and raspberry and cakes layered with a raspberry puree.  Not one raspberry cake.  While all of these are good options, they are not what I was looking for.  So, I set out to make my own and let me tell you, if you love raspberries like I do, you are going to love this cake!
I started with my favorite white cake and decided to reduce fresh raspberries into a puree to mix into the batter.  Mistake #1.  I completely forgot that while the puree was a gorgeous, deep, rich red, the puree turned the batter a strange bluish green.  Hmmmmm.....is that where blue raspberry was born???  Lesson learned, add some red or pink gel coloring to the batter.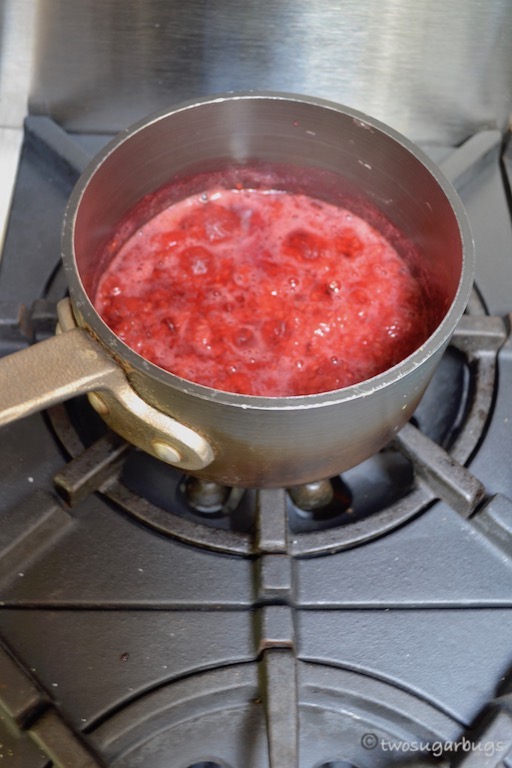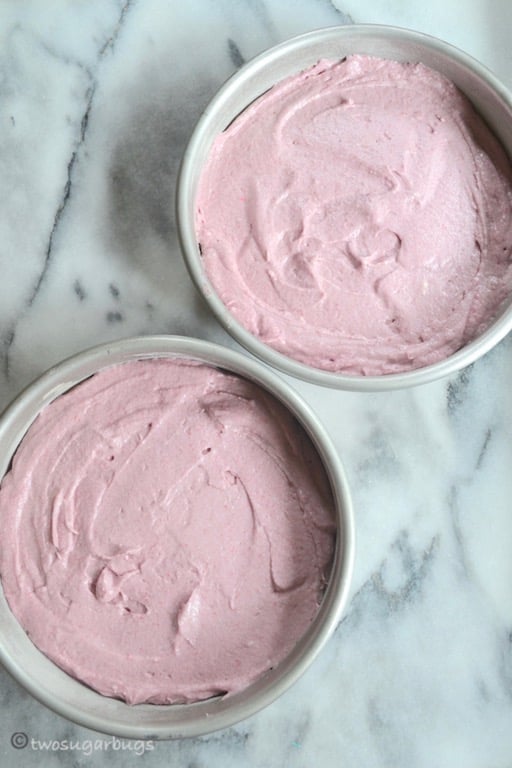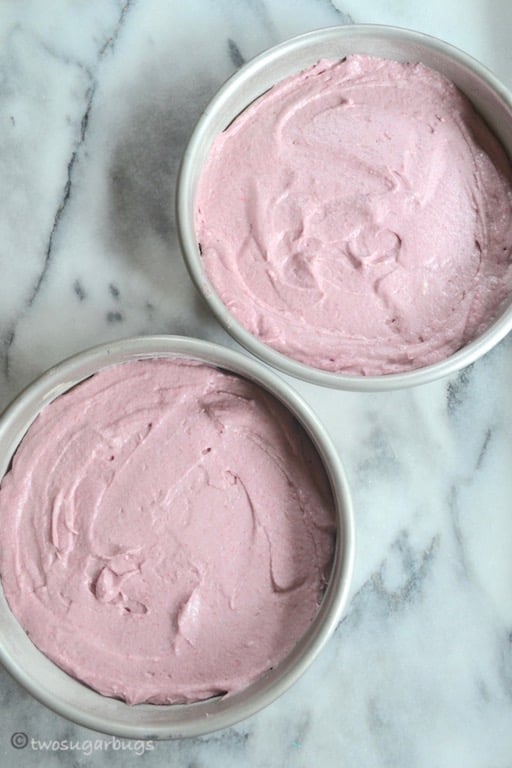 The  first attempt of this cake was good, but it had room for improvement.  The cake was a bit heavy and it did not impart as much of a raspberry flavor as I had hoped.  So, I swapped the all-purpose flour for cake flour and whole eggs for egg whites.  I also increased the raspberry puree from a third cup to two-thirds of a cup and let it reduce on the stove for 15 minutes longer.  I had not intended to go longer on the puree, but that is the hazard of trying to bake while the girls are awake.  I got distracted, but those extra 15 minutes really added depth to the raspberry flavor, so it was a mistake with a win!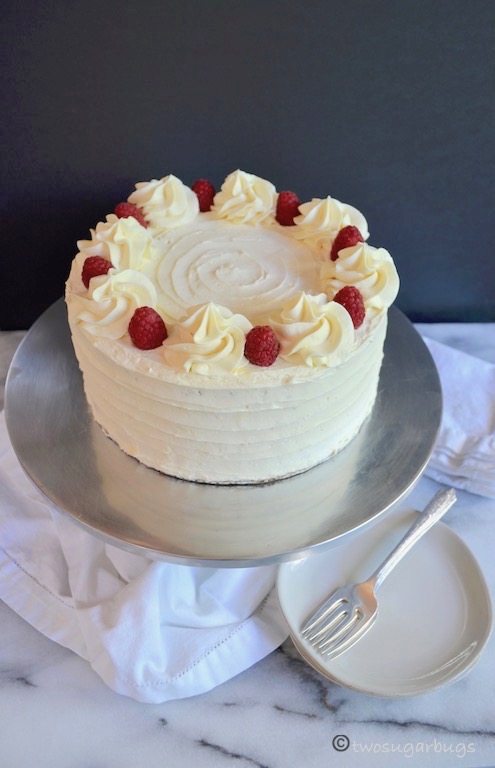 The results?  A lovely, moist, springy cake infused with raspberry flavor.  When combined with a white chocolate Swiss meringue buttercream and more fresh raspberries between the layers, this cake became exactly what I was looking for.  I hope you love it as much as I do!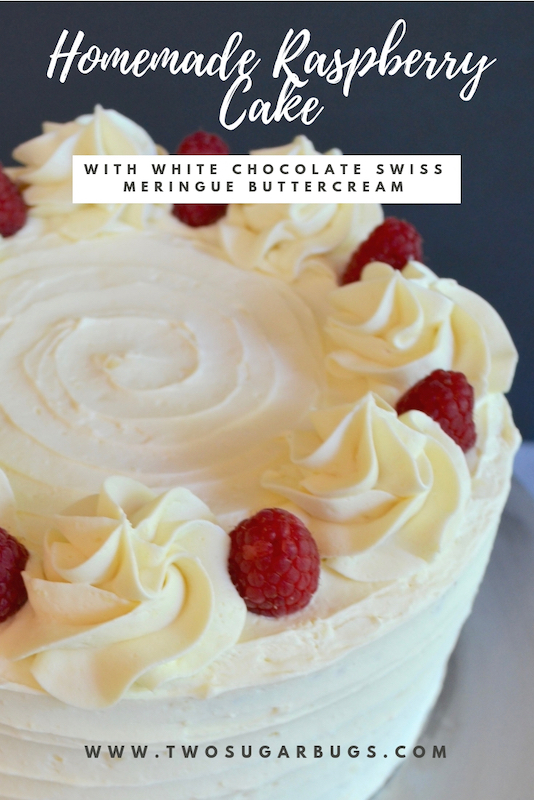 LOOKING FOR MORE CAKE RECIPES?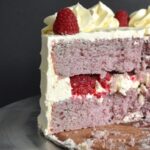 Print
Homemade Raspberry Cake
A moist, springy cake infused with fresh raspberry puree and topped with a white chocolate Swiss Meringue buttercream.

Servings
2
layer 8-inch cake
Ingredients
Raspberry Puree
12

oz

raspberries

fresh or frozen

2-3

tablespoons

granulated sugar
Raspberry Cake
2

cups

cake flour

sifted

2

teaspoons

baking powder

½

teaspoon

baking soda

½

teaspoon

salt

1

cup

(2 sticks unsalted butter)

room temperature

1 ⅓

cups

granulated sugar

3

extra large egg whites

room temperature

1

teaspoon

vanilla extract

1

teaspoon

almond extract

⅔

cup

milk

room temperature
White Chocolate Swiss Meringue Buttercream
8

ounces

quality white chocolate

melted and cooled

5

extra large egg whites

1

cup

granulated sugar

½

teaspoon

salt

¾

pound

(3 sticks butter)

room temperature*

6

ounces

fresh raspberries for between the layers and garnish

if desired
Instructions
For the cake:
Make raspberry puree by placing 12 ounces of raspberries and 2-3 tablespoons granulated sugar (use to your own taste and based on sweetness of berries) in a small saucepan. Place over low heat and allow to reduce for 45 minutes, stirring occasionally. I like to push the reduced berries through a sieve to remove the seeds, but this step is optional. Set aside to cool.

Preheat your oven to 325° F.

Prepare two 8-inch round baking pans; butter the pans, line the bottom of each pan with parchment paper, butter again and dust lightly with flour. Set aside.

Measure your 2 cups of cake flour, and then sift it. In a medium bowl, whisk together cake flour, baking powder, baking soda and salt. Set aside.

In the bowl of a stand mixer fitted with the paddle attachment, cream butter, sugar and a drop or two of pink or red food coloring (if using) on medium-high until light and fluffy, approximately 5 minutes. Scrape up and down the sides of the bowl and add half of your egg whites and mix until incorporated. Scrape up and down the sides of your bowl and add the remaining egg whites and the vanilla and almond extracts and mix until well combined.

With the mixer on low, add the flour mixture and milk in three alternating additions, beginning and ending with the dry. Then add the raspberry puree being careful not to over mix your batter.

Divide your batter equally between the two prepared pans and bake 30-35 minutes, until tops are lightly browned and a toothpick or cake tester comes out mostly clean. Cool cake layers in pans placed on a wire rack for 10-15 minutes before turning them onto the wire rack to cool completely. Be sure to leave them topside up.
For the buttercream:
Wipe the bowl and whisk of your stand mixer with vinegar or lemon juice to make sure it is grease free or your egg whites may not stiffen.

Melt your white chocolate. I use a double boiler by placing the white chocolate in a bowl set over a saucepan of simmering water. Once the chocolate is fully melted, remove the bowl from the saucepan, wipe the bottom of the bowl dry and set it aside to cool.

Whisk egg whites, sugar and salt in the bowl of your stand mixer. Whisk and heat mixture over a saucepan of simmering water until hot to touch, sugar is fully dissolved (you should not feel any granules when rubbed between your fingers) and it's a bit frothy, approximately 3 minutes.

Remove the bowl from the saucepan and wipe the bottom dry. Place on your stand mixer and whisk on medium-high until the mixture is cool and the meringue holds a stiff peak (the bottom of your bowl should also be cooled), approximately 10 minutes.

Switch to the paddle attachment, reduce the speed to medium and add the butter, one tablespoon at a time, letting the butter fully incorporate before adding more. ** Once all butter is incorporated, scrape down sides of the bowl and add the cooled white chocolate and whip until a thick, whipped consistency is reached.
Assemble the cake:
Once the cakes are cool, level with a large serrated knife or cake leveler, if needed.

Place one layer on a serving plate, cake stand or a cardboard cake round, topside up. Spread about 1 cup of buttercream evenly over the cake. Then sprinkle the some fresh raspberries over the buttercream, if using, and gently press into the frosting.

Place the second layer, topside down, on top of the filling. Lightly frost the cake to create a crumb coat. This does not have to be perfect, it is meant to lock all the crumbs into the thin layer of frosting. Chill cake for 30 minutes to set the crumb coat.

Frost with remaining buttercream, smoothing evenly over the top and sides of the cake. Decorate with swirls of frosting around the top edge of cake, if desired. Wilton 1M is my favorite tip. You can also embellish with extra fresh raspberries.
Notes
* Your butter only needs about 1 hour of time (depending on temperature of your kitchen) to get to room temperature. You want the butter still slightly cool to the touch and not overly warm or soft.
** At some point your buttercream is going to be a sloppy mess. It may even look curdled. Do not fear, just keep whipping and it will magically come together into a beautiful whipped frosting. If you feel it is too soupy, place the mixture in the refrigerator for 20 minutes and then re-whip.
DID YOU MAKE THIS RECIPE?
Be sure to tag @twosugarbugs on Instagram and hashtag it #twosugarbugs