The only sugar cookie recipe you will ever need. These always perfect sugar cookies come out perfect. Every. Single. Time.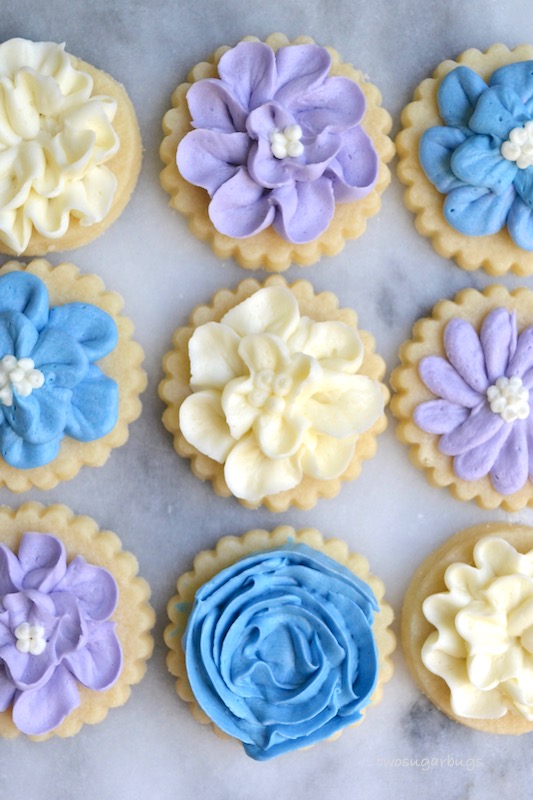 Oh sugar cookies, how I love thee. 💗
If I could only have one cookie for the rest of my life, it would be these sugar cookies. They are just the right amount of sweet while perfectly soft and thick. Add a layer of buttercream and I am one happy girl.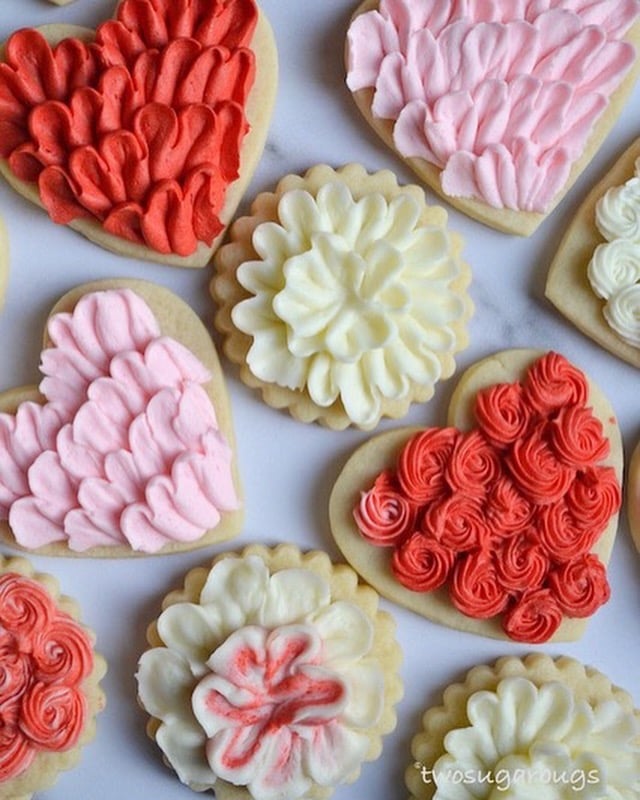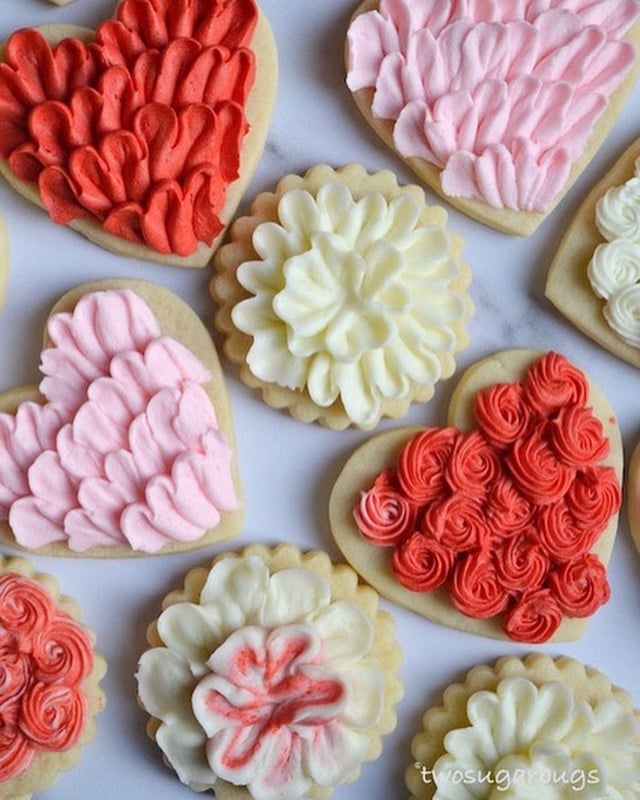 I call these always perfect sugar cookies because they come out perfect every time.
I'm not kidding.
Perfect, every time.
Nice sharp edges, they hold their shape and the taste? Classic soft sugar cookie.
Disclosure | This post may contain affiliate links. As an Amazon Associate I earn from qualifying purchases.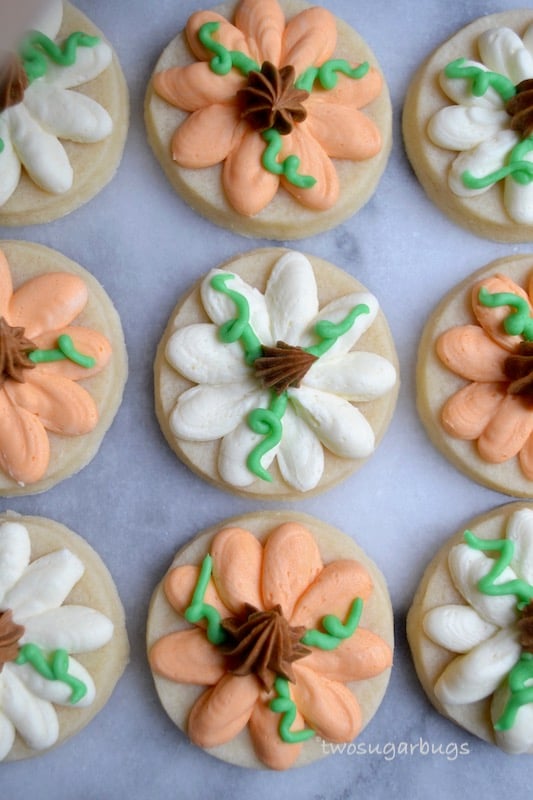 Searching for sugar cookie recipes, specifically cut-out sugar cookies yields a lot of different recipes. Most of which claim to be "the best". I've tried many of them over the years, with varying degrees of success. But the recipe I prefer is from a local cookie celebrity, Jenny Keller, of Jenny Cookies. This is the only cut-out sugar cookie recipe that I have used for many years now. As stated above, they come out perfect. Every. Darn. Time. And when you are making cut-out sugar cookies, you want that consistency. 😊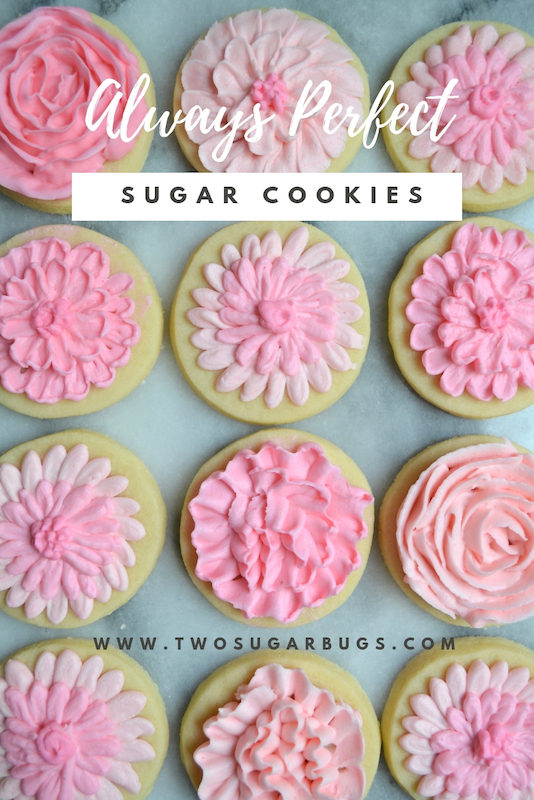 You'll find I made a couple small modifications to Jenny's sugar cookie recipe. I prefer to use unsalted butter and add my own salt. This gives you a little more control of the salt and I find the sugar cookies are perfectly sweet with just a small hint of saltiness. I also typically use my own favorite American buttercream, which is an all butter buttercream, to decorate. For those of you that like a more royal icing like frosting, I am giving you an alternative to a royal icing today. This icing dries firmly enough to allow for stacking of the cookies after they are decorated. It has a little honey in it which helps to keep the icing from being rock hard once it dries, and as a dental hygienist, I'd hate to see someone break a tooth on too-hard frosting.😂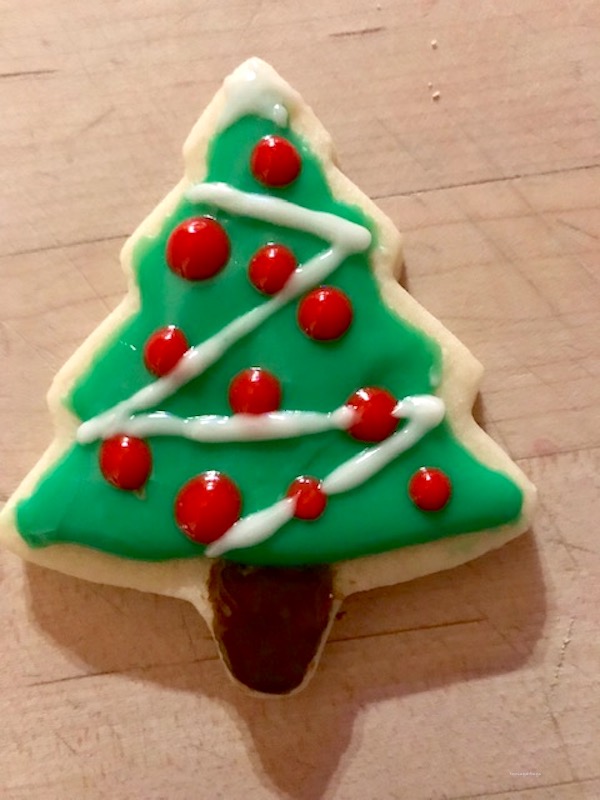 You do need to plan on a small amount of time to chill the dough for these sugar cookies. I typically chill mine for about one hour; the recipe states a minimum of 30 minutes. Then you will want to make sure you keep the dough nice and thick when you roll them out, about ¼ inch thickness is what you are going for. Finally, you do not want to over bake these cookies. 7-8 minutes is all they need in a 375 degree Fahrenheit oven. Yep, that quick. The cookies barely even have a touch of brownness to the edges, they'll appear slightly puffy when they are done and you'll let them rest on the pan for 2 minutes before moving them to a cooling rack to cool completely.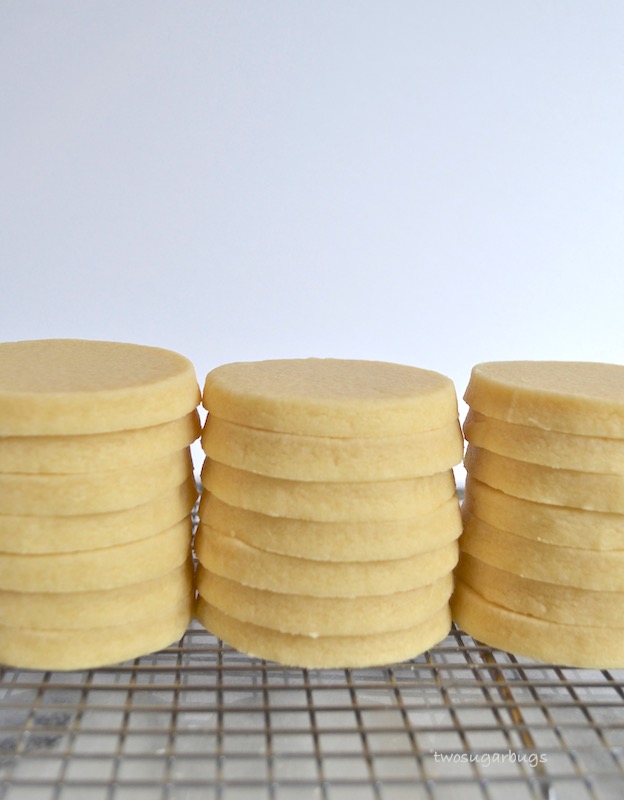 I have had the pleasure of meeting and chatting with Jenny at her Jenny Cookies Bake Shop in Lake Stevens, Washington. She creates beautiful cookies and cakes and is as sweet and pretty in person as she is on her website and social media. If you are ever in the area, you should check out her bake shop; the staff is incredibly warm, welcoming and helpful.
In the meantime, fire up your oven and bake some sugar cookies!
Ever dreamed of starting your own bakery? I'm so intrigued by my blogging friend, Neda, who shares how she made 215K in her first year owning her own bakery. You can read about it at nedasnummees.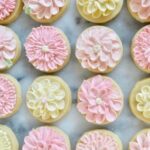 Print
Always Perfect Sugar Cookies
The only sugar cookie cut out recipe you will ever need. These always perfect sugar cookies come out perfect. Every. Single. Time.
Ingredients
3

cups

all-purpose flour

2

teaspoons

aluminum free baking powder

1

cup

unsalted butter

room temperature

½

teaspoon

salt

1

cup

granulated sugar

1

large egg

room temperature

2

teaspoons

pure vanilla extract
Frosting Glaze
1

tablespoon

honey

2

tablespoons

milk

1

teaspoon

vanilla, almond, peppermint

or whatever flavor you prefer

2

cups

powdered sugar
Instructions
In a medium bowl, combine flour and baking powder with a whisk. Set aside.

Using a hand mixer or a stand mixer fitted with the paddle attachment, beat the butter and salt on medium speed until combined, about 1 minute. Add in sugar and beat until smooth, about 1-½ minutes. Beat in egg and vanilla and mix until well combined, about 1 minute. Scrape up and down the sides of the bowl.

With the mixer on low, add the flour mixture a little at a time, occasionally stopping to scrape your bowl. The dough should form a ball around the paddle when the mixing is finished. The dough should be soft, but not sticky.

Tightly wrap the dough ball in plastic wrap and press into a 1 inch thick disc. Chill for a minimum of 30 minutes and up to one week before rolling out.

Preheat the oven to 375° F. Prepare baking sheets with silicone baking mats or parchment paper.

On lightly floured surface, roll the dough to about a ¼ inch thickness, use additional flour as needed to prevent sticking. Cut into shapes with cookie cutters. Re-roll the remaining dough and continue cutting until all is used.

Arrange cookies on baking sheets about 1 inch apart.

Bake one sheet at a time in the middle of the oven, about 7-8 minutes, until puffy. Allow the cookies to rest for 2 minutes on the pan and then transfer to a wire rack to cool completely.

Decorate as desired. Cookies will stay fresh covered at room temperature or in the refrigerator for up to 1 week. They also freeze well for up to 3 months.
Frosting Glaze
Mix honey, milk and choice of flavoring in a small bowl until well combined.


Add powdered sugar to a medium size bowl, then mix in honey/milk/flavoring mixture. Mix until well combined. You may need to add a little more milk, if the consistency is too thick, add just a teaspoon at a time until you reach your desired consistency. You want the frosting glaze to be on the thicker side, but still spreadable.


Split the frosting glaze into smaller bowls and color, if desired.


If using sprinkles or embellishments to your cookies, add them before the glaze dries. It will not dry rock hard, but should dry firm enough that you can stack your cookies.

Notes
Yield of cookies will depend on the size of your cookie cutter.  24 is a good average.
*Cookie recipe slightly adapted from Jenny Keller of Jenny Cookies
DID YOU MAKE THIS RECIPE?
Be sure to tag @twosugarbugs on Instagram and hashtag it #twosugarbugs