You will love this cookie butter cake because it is tender, moist and loaded with cookie butter flavor!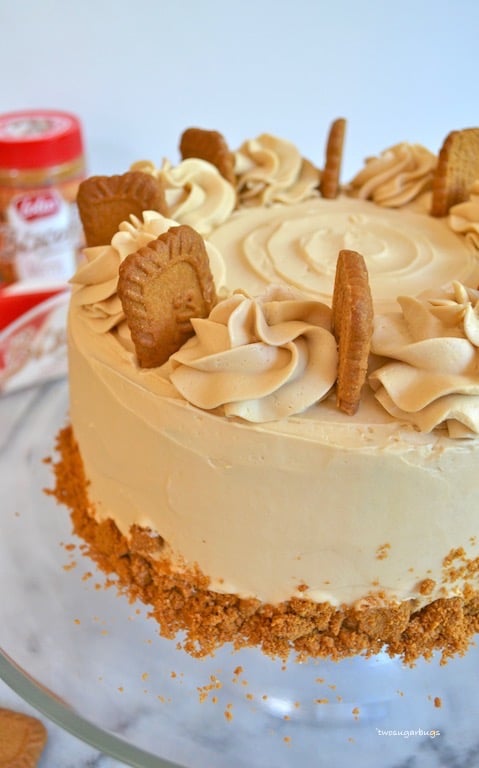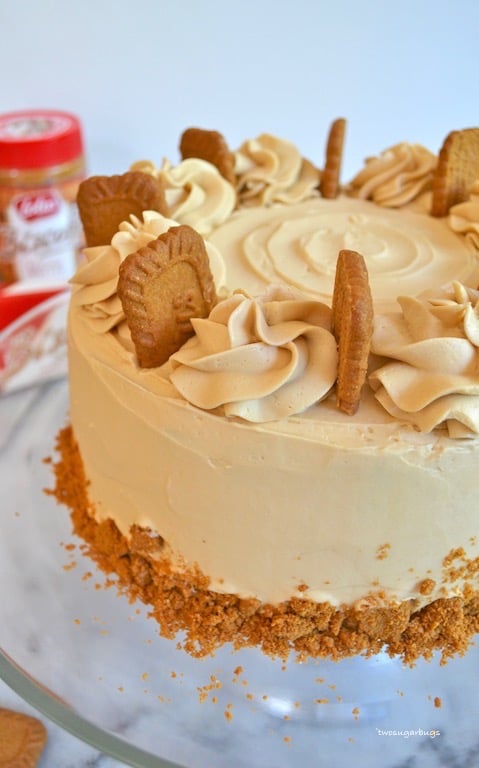 This cookie butter cake was the recipe that started it all.  The idea of starting a food blog is something that I've been thinking about for many years now.  It started when Big E was an infant and my sister introduced me to Pinterest.  I've never considered myself a crafty person and originally thought Pinterest would be of no interest to me.  Then I took a look.  All the beautiful pictures of food, entertaining stories and recipes in one convenient place.  I quickly became hooked and wasted many naptimes feeding my new Pinterest addiction.
I've always loved baking and entertaining and developed a love of cooking in my later 20's, so a food type blog seemed right up my alley.  But, I was a new mom.  But, I don't write well.  But, I don't know all the technical stuff.  But, but, but......you get the idea.  I was scared and found lots of excuses.
In those early days, I would pull out my camera and pretend to style food and photograph it.  I realized how challenging it is to take tantalizing photos!  See early attempt ~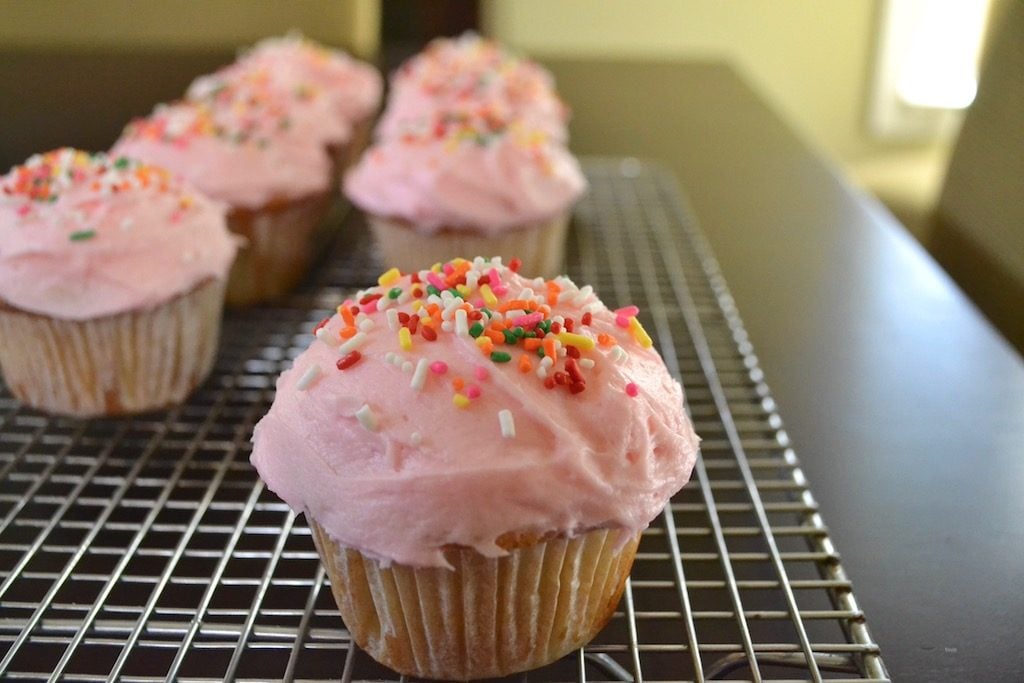 I'd write in my head while I ran, but I let fear hold me back from taking action.  The years sped past and the blog idea would come and go.  We had another daughter, I continued to work as a dental hygienist two days a week and felt like there was never enough time for me.  The realization set in that I was feeling a bit lost in my identity and was searching for who I was after becoming a mom.
I continued to bake and started playing with my camera.  I found a new spark and was having fun!  The blog idea crept back in and one day I actually said it out loud to my husband, "I think....maybe....I'd like to try starting a blog".  There, I actually said it out loud.  Yikes!!! Being the awesome human that he is, my husband was supportive and said I should give it a go.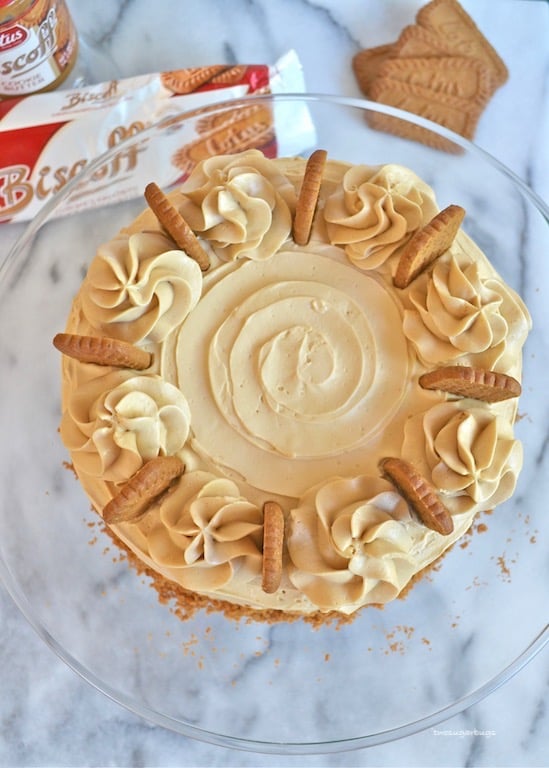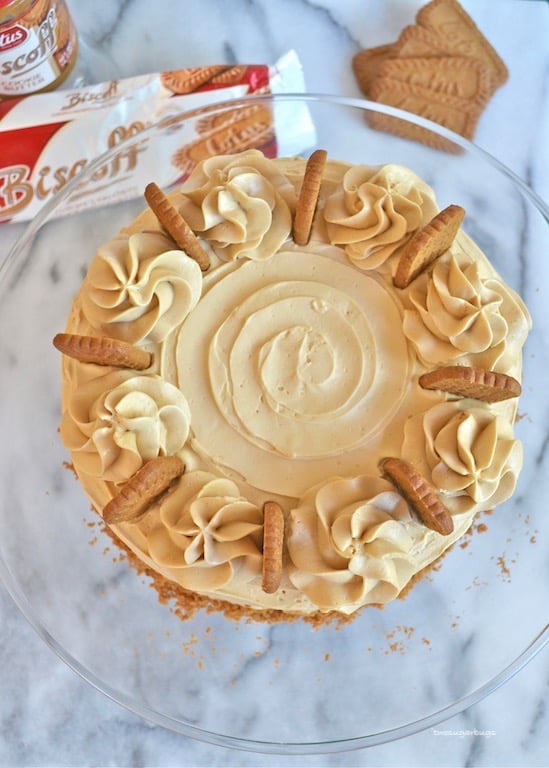 Then he challenged me to start creating more of my own recipes.  A day or two later I saw a quote that included, "you've got to start to go anywhere", and at the market that day I came across a special display of Biscoff cookies and cookie butter and I felt like it was a sign.  That night, after the girls were in bed, I got busy in the kitchen and this cookie butter cake was born.  We've come to love it and I hope you do too!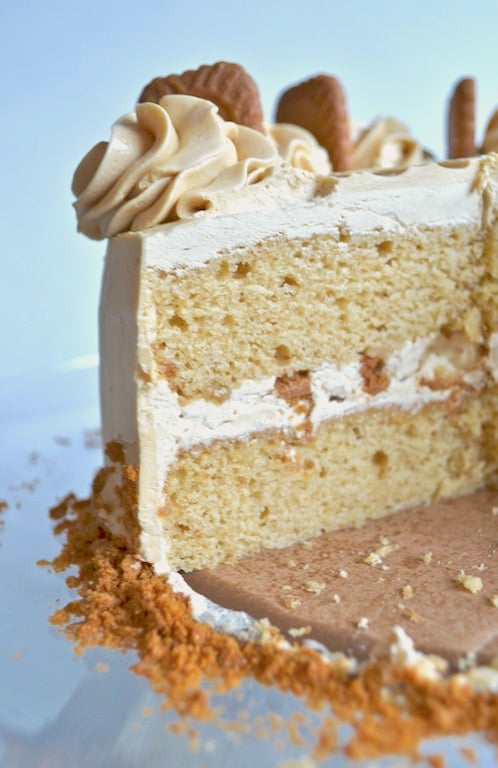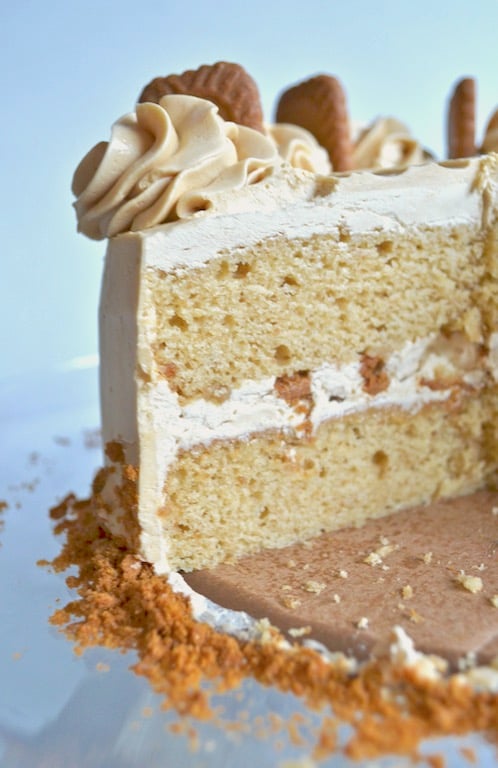 You will love this cookie butter cake because it is tender, moist and loaded with lovely hints of cookie butter.  I created it because I love the cookie butter flavor and wanted it to shine through in every bite.  You get cookies (ground to flour consistency) in the batter, a layer of pure cookie butter, and cookie butter buttercream with some crushed cookies between the layers.  It's cookie butter heaven!!! Don't let the Swiss Meringue buttercream scare you, the lightness of the frosting is key to letting the cookie butter be the star of the show.  Now get to your kitchen and make this cake, you won't be disappointed!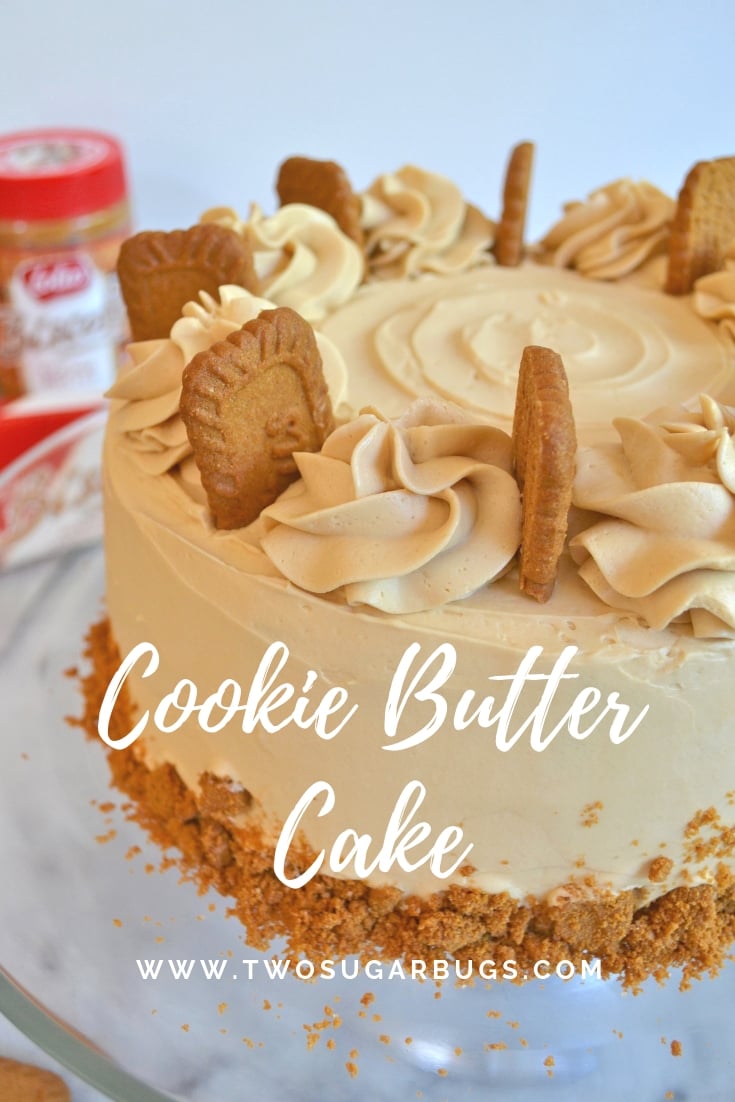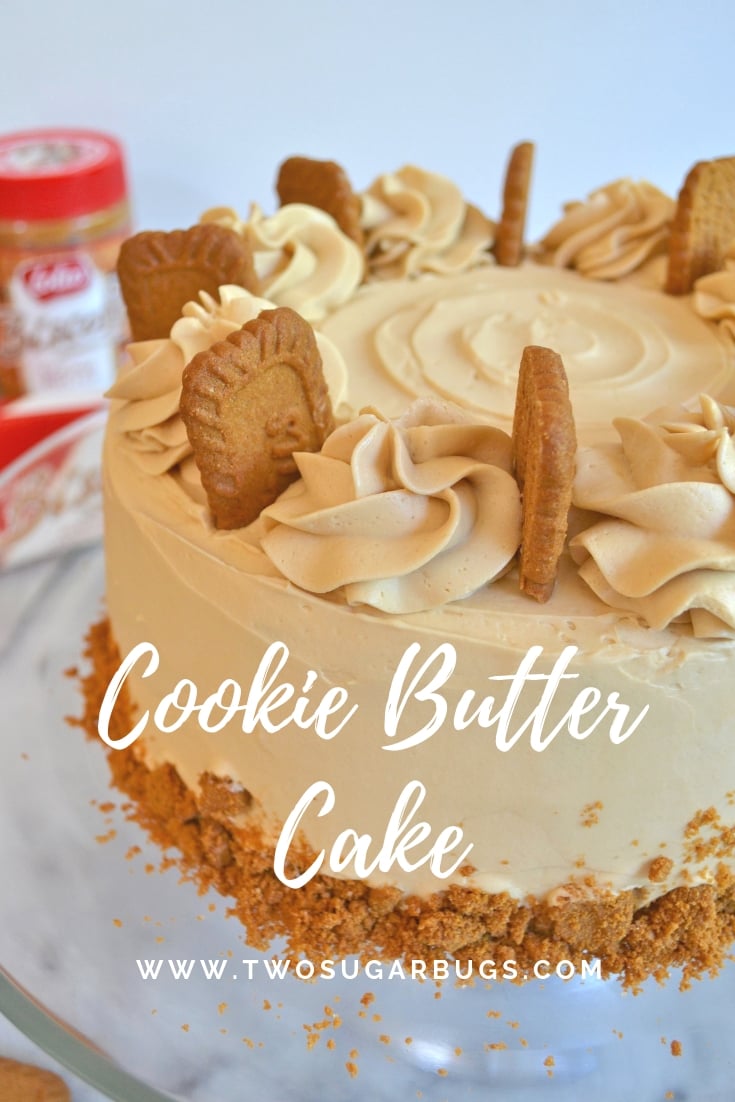 HAVE YOU TRIED THESE OTHER CAKE/CUPCAKE RECIPES?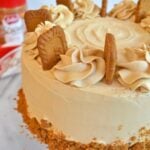 Print
Cookie Butter Cake
This cookie butter cake is tender, moist and loaded with lovely hints of cookie butter.

Servings
2
layer eight-inch cake
Ingredients
Cookie Butter Cake
2

cups

all-purpose flour

6

ground Biscoff cookies

yields a shy ½ cup

2 ¼

teaspoons

baking powder

½

teaspoon

salt

¾

cup

(1½ sticks) unsalted butter

room temperature

1

cup

granulated sugar

½

cup

packed dark brown sugar

2

extra large eggs

room temperature

1

teaspoon

pure vanilla extract

¾

cup

buttermilk

room temperature
Filling
6

Biscoff cookies

crumbled

¾

cup

cookie butter
Cookie Butter Swiss Meringue Buttercream***
5

extra large egg whites

1 ¼

cups

granulated sugar

½

teaspoon

salt

¾

pound

(3 sticks) unsalted butter

room temperature*

½

cup

cookie butter
Instructions
For the cake:
Preheat your oven to 350°F.

Prepare two 8-inch round baking pans; butter the pans, line the bottom of each pan with parchment paper, butter again and dust lightly with flour. Set aside.

Place 6 Biscoff cookies in your food processor and pulse several times to reach a flour-like consistency. This will yield a shy ½ cup of ground cookies.

In a medium bowl, whisk together all-purpose flour, ground Biscoff cookies, baking powder, and salt. Set aside.

In the bowl of a stand mixer fitted with the paddle attachment, cream butter and both sugars on medium-high until light and fluffy, approximately 5 minutes. Scrape down bowl, add your eggs and vanilla extract and mix until well combined.

With the mixer on low, add the flour mixture and buttermilk in three alternating additions, beginning and ending with the dry, being careful not to over mix your batter.

Divide your batter equally between the two prepared pans and bake 30-35 minutes, until tops are lightly browned and a toothpick or cake tester comes out mostly clean. Cool cake layers in pans placed on a wire rack for 10-15 minutes before turning them onto the wire rack to cool completely. Be sure to leave them topside up.
For the buttercream:
Wipe the bowl and whisk of your stand mixer with vinegar or lemon juice to make sure it is grease free or your egg whites may not stiffen.

Whisk egg whites, sugar and salt in the bowl of your stand mixer. Whisk and heat mixture over a saucepan of simmering water until hot to touch, sugar is fully dissolved (you should not feel any granules when rubbed between your fingers) and it's a bit frothy, approximately 3 minutes.

Remove the bowl from the saucepan and wipe the bottom dry. Place on your stand mixer and whisk on medium-high until the mixture is cool and the meringue holds a stiff peak (the bottom of your bowl should also be cooled), approximately 10 minutes.

Switch to the paddle attachment, reduce the speed to medium and add the butter, one tablespoon at a time, letting the butter fully incorporate before adding more. ** Once all butter is incorporated, scrape down sides of the bowl and add cookie butter and whip until a thick, whipped consistency is reached.
Assemble the cake:
Once the cakes are cool, level with a large serrated knife or cake leveler, if needed.

Place one layer on a serving plate, cake stand or a cardboard cake round, topside up. Spread ¾ cup of cookie butter evenly over the layer. Add about 1 cup of buttercream and spread evenly over the cookie butter. Then sprinkle the 6 crumbled Biscoff cookies over the buttercream and gently press into the frosting.

Place the second layer, topside down, on top of the filling. Lightly frost the cake to create a crumb coat. This does not have to be perfect, it is meant to lock all the crumbs into the thin layer of frosting. Chill cake for 30 minutes to set the crumb coat.

Frost with remaining buttercream, smoothing evenly over the top and sides of the cake. Decorate with swirls of frosting around the top edge of cake, if desired. Wilton 1M is my favorite tip. You can also embellish with extra Biscoff cookies between the swirls and sprinkle crushed cookies around the base of the cake.
Notes
* Your butter only needs about 1 hour of time (depending on temperature of your kitchen) to get to room temperature. You want the butter still slightly cool to the touch and not overly warm or soft.
** At some point your buttercream is going to be a sloppy mess. It may even look curdled. Do not fear, just keep whipping and it will magically come together into a beautiful whipped frosting. If you feel it is too soupy, place the mixture in the refrigerator for 20 minutes and then re-whip.
***Buttercream recipe slightly adapted from livforcake.com
DID YOU MAKE THIS RECIPE?
Be sure to tag @twosugarbugs on Instagram and hashtag it #twosugarbugs