Ooey, gooey, perfectly messy homemade s'mores. No campfire required!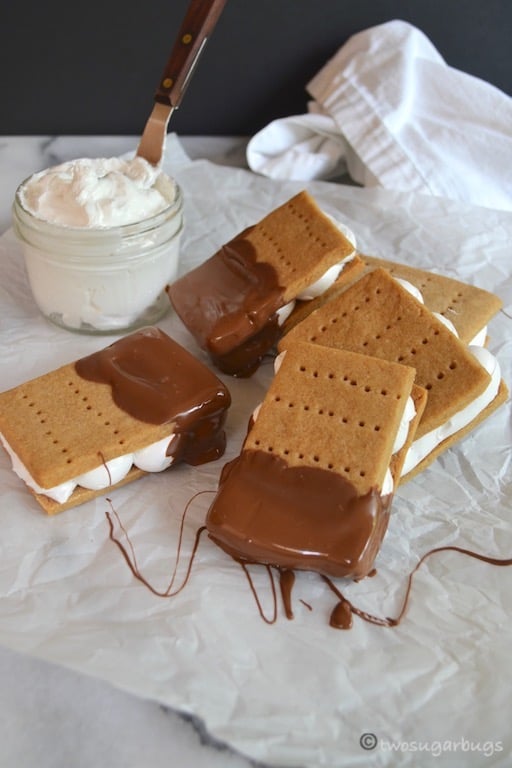 Homemade s'mores are the ultimate summer treat–or in my house, an anytime treat. Whoever came up with the idea is a genius. Crunchy graham crackers, gooey marshmallow and melted chocolate…it's pure perfection!
I came across these years ago on Pinterest and I am so happy that I printed out the recipe as the blog that originally posted them is no longer functioning. It was called Sweetened with Honey and as soon as I saw the pictures I knew I needed to make them.
The graham crackers are swoon worthy. Deceptively simple, but the taste is ah-maz-ing!! Once you make them, you may never go back to buying graham crackers at the store again. They are that good! The ingredients are basic ~ flour, whole-wheat flour, cinnamon, salt, butter, brown sugar, and honey. But they come together and bake up to make a perfect graham cracker.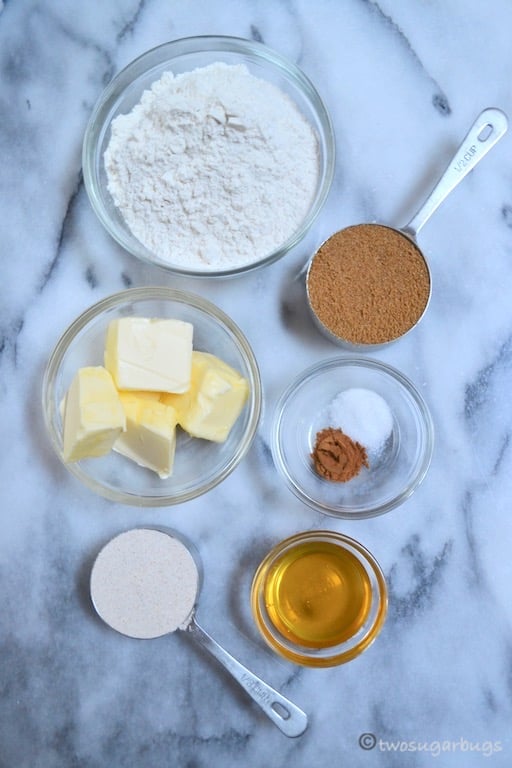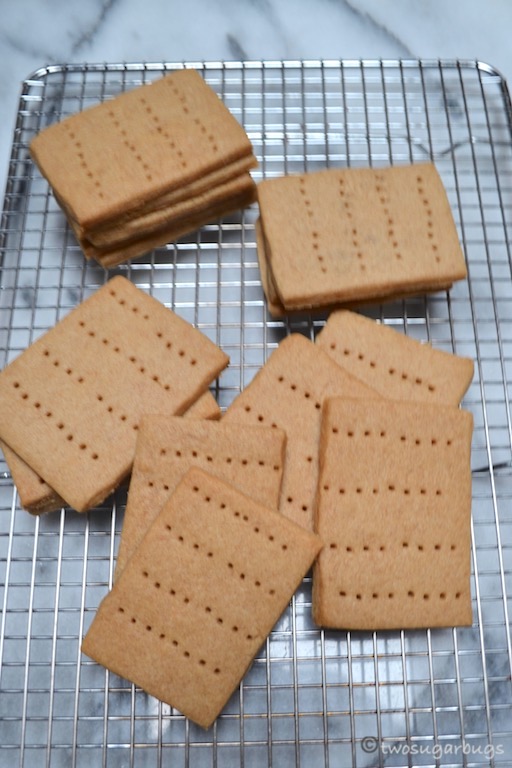 Homemade smore's also need an ooey-gooey marshmallow! The middle layer is a marshmallow fluff. The original recipe used a corn syrup and powdered sugar concoction, but I have found that I prefer them with a traditional meringue. It gives the texture and flavor of a melted marshmallow. Don't let the meringue scare you, it too, is pretty simple to prepare.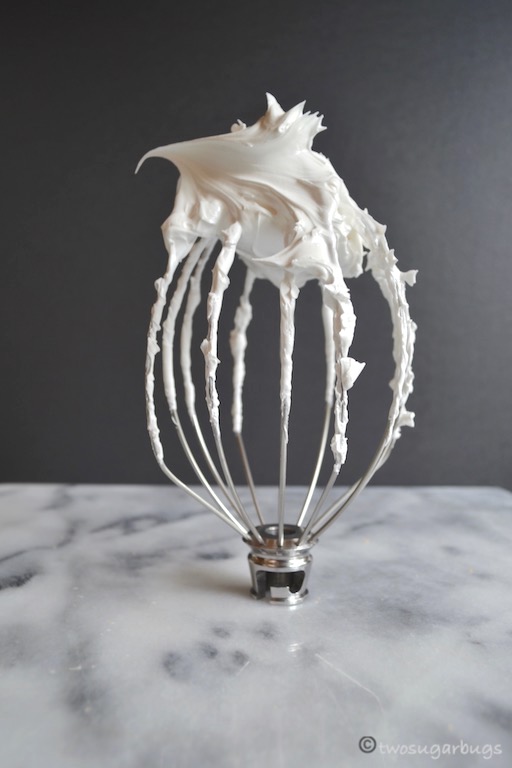 Once your graham crackers are cooled, you top them with a thick layer of meringue and another graham cracker on top to make a *sandwich*. They need a quick trip to the freezer after this step to firm up before their dip into melted chocolate. Then you will be on your way to homemade s'mores heaven!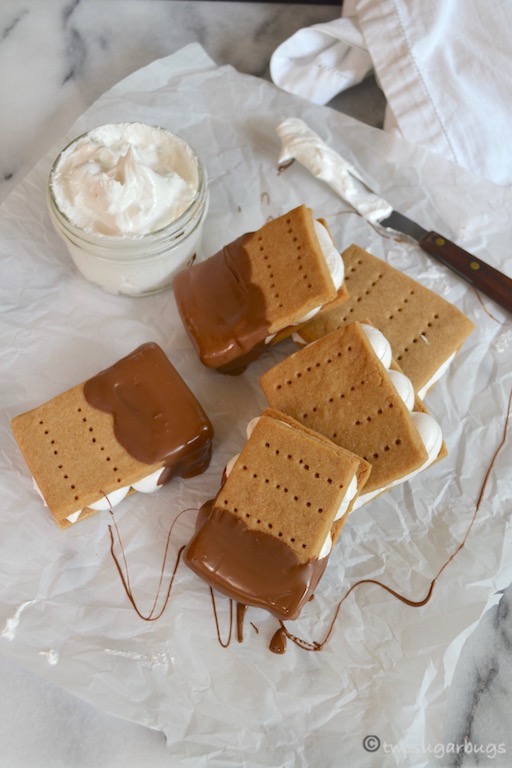 These homemade s'mores do take a few steps, but all the steps are simple and the final results will make you look like the queen or king of your kitchen. You'll get comments like, "you MADE these graham crackers"?? "you MADE the marshmallow filling"?? "These taste better than any s'more I've had before"! And only you and I need to know how simple they really are! 😉
Print
Homemade S'mores
Ooey, gooey, s'mores with homemade graham crackers and homemade marshmallow meringue dipped in chocolate.

Ingredients
Graham Crackers
1 ½

cups

all-purpose flour

1/3

cup

whole-wheat flour

½

teaspoon

salt

½

teaspoon

cinnamon

2/3

cup

unsalted butter

room temperature

½

cup

firmly packed brown sugar

2

tablespoons

honey
Marshmallow Meringue
4

large egg whites

room temperature

1

cup

granulated sugar

½

teaspoon

cream of tartar

½

teaspoon

pure vanilla extract
Chocolate for Dipping
3

cups

milk chocolate chips

for dipping
Instructions
For the graham crackers:
In a bowl, whisk together all-purpose flour, whole-wheat flour, salt and cinnamon. Set aside.

In the bowl of a stand mixer, fitted with the paddle attachment, combine the butter, brown sugar and honey. Beat on medium high until fluffy, approximately 4 minutes. Scrape up and down sides of the bowl.

With the mixer on low speed add the flour mixture in three additions, mixing until just combined after each addition.

Wrap the dough tightly in plastic wrap and refrigerate for a minimum of 30 minutes before rolling or for up to 2 days. You can also freeze for up to 2 months and defrost in the refrigerator before rolling out and baking.

Preheat the oven to 350° F.

Line a baking sheet with parchment paper or a silicone mat.

Unwrap the dough and place between two sheets of parchment paper. On a clean work surface, roll out the dough to a ¼ inch thickness.

Use any cookie cutter, sharp knife, or pizza or pastry cutter to cut out the graham crackers. I use a pastry cutter and then poke with a fork to give the appearance of a graham cracker. (I typically get 18, as I like them slightly thicker and softer)

Bake until golden brown, about 10-14 minutes.

Transfer to a wire rack to cool completely. Store in an airtight container for up to 2 weeks.
For the Marshmallow Meringue:
Whisk egg whites, sugar and cream of tartar in a heatproof bowl. Set the mixture over a saucepan filled with 2 inches of simmering water. Do not let the bottom of the bowl touch the water.

Whisk constantly until the sugar is dissolved, about 4 minutes. Remove from the saucepan and wipe the bottom of the bowl dry.

Transfer the mixing bowl to an electric mixer fitted with the whisk attachment. Add the vanilla.

Beat on high speed for 5-6 minutes until stiff, glossy peaks form.
Assemble the s'mores:
On a cookie sheet lined with a silicone mat or parchment paper, place half of the graham crackers, bottom side up. Pipe a generous layer of the marshmallow meringue on the graham cracker. (I use a pastry bag fitted with a large round tip. You could use a zip lock bag with a cut corner or just spoon the marshmallow meringue as well). Top with the remaining graham cracker. Place in the freezer for about 30 minutes to firm them up.

Meanwhile, melt the chocolate chips using your preferred method. Let cool slightly.

Working with 2-3 graham cracker and marshmallow *sandwiches* at a time, dip about half way into the melted chocolate and return to the freezer. Continue dipping until all *sandwiches are dipped. Freeze until chocolate has hardened.
Notes
Store covered in the refrigerator for up to two weeks or in the freezer for up to 3 months.
*graham cracker recipe from Sweetened with Honey
DID YOU MAKE THIS RECIPE?
Be sure to tag @twosugarbugs on Instagram and hashtag it #twosugarbugs
Recipe sharped with Full Plate Thursday, Meal Plan Monday and Weekend Potluck