A perfect homemade s'mores recipe! Ooey, gooey, s'mores bars with homemade graham crackers and homemade marshmallow meringue, dipped in chocolate. No campfire required and sure to be a hit!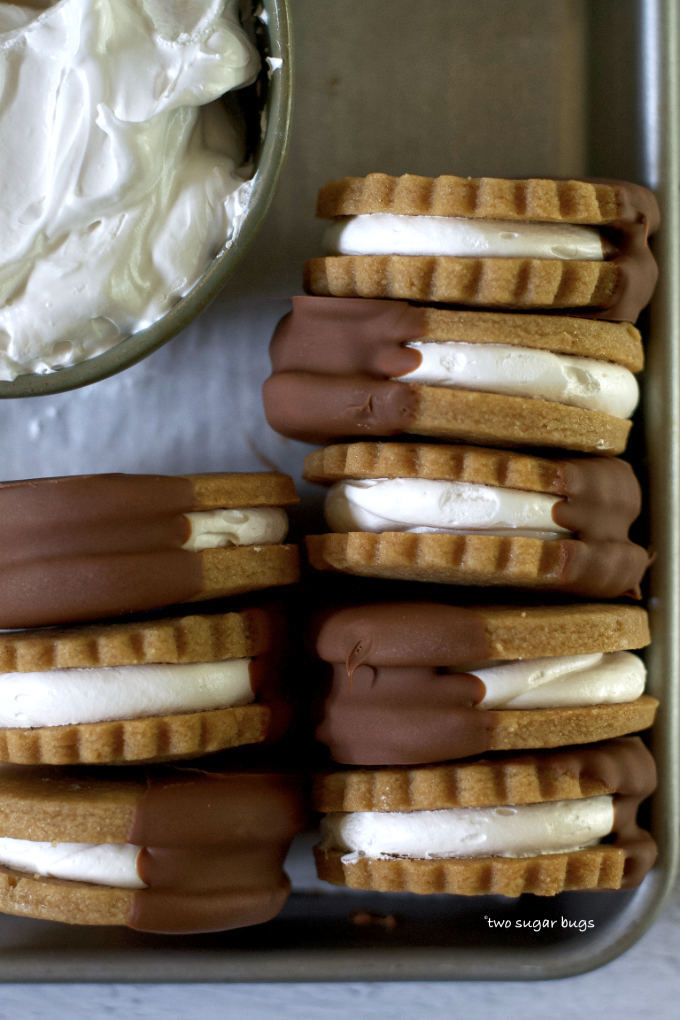 Homemade s'mores are the ultimate summer treat ~ or in my house, an anytime dessert!  Whoever came up with the idea is a genius.  Crunchy graham crackers, gooey marshmallow and melted chocolate...it's pure perfection!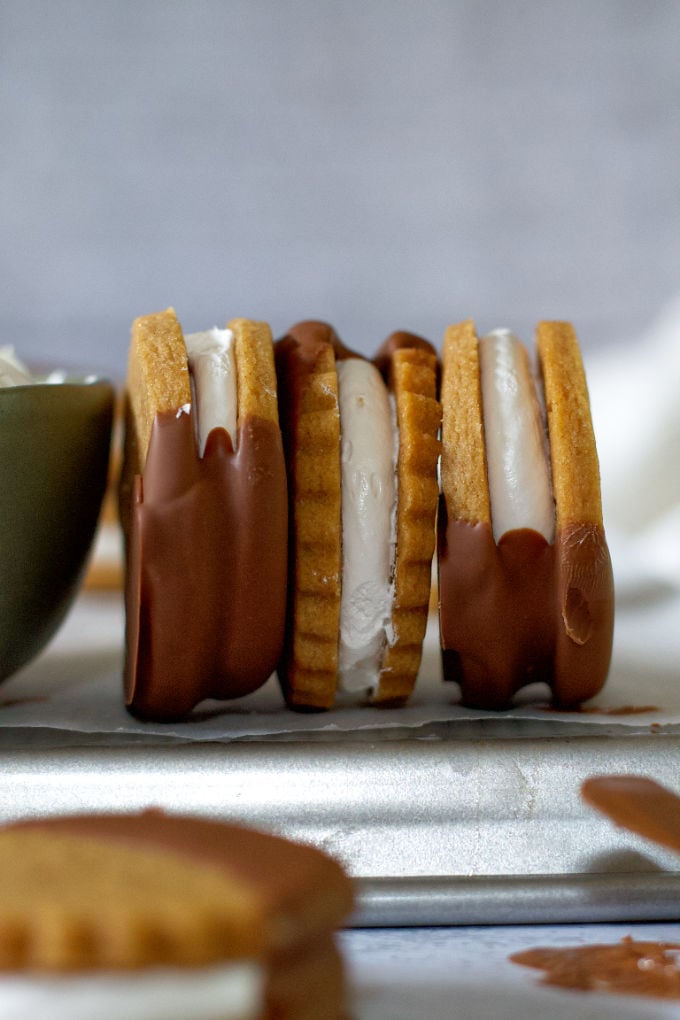 This post was originally published in September 2018 and has been updated with some new photos and text. I've also made some adjustments to the ingredient amounts in the recipe. Be sure to check out an original photo at the end of the post!
I came across this idea years ago on Pinterest and I am so happy that I printed out the recipe as the blog that originally posted them is no longer functioning.  The blog was called Sweetened with Honey and as soon as I saw the pictures I knew I needed to make them. I've made a few tweaks to her recipe and recently realized I could scale down the marshmallow meringue and melted chocolate as well, so the recipe card has some new ingredient amounts.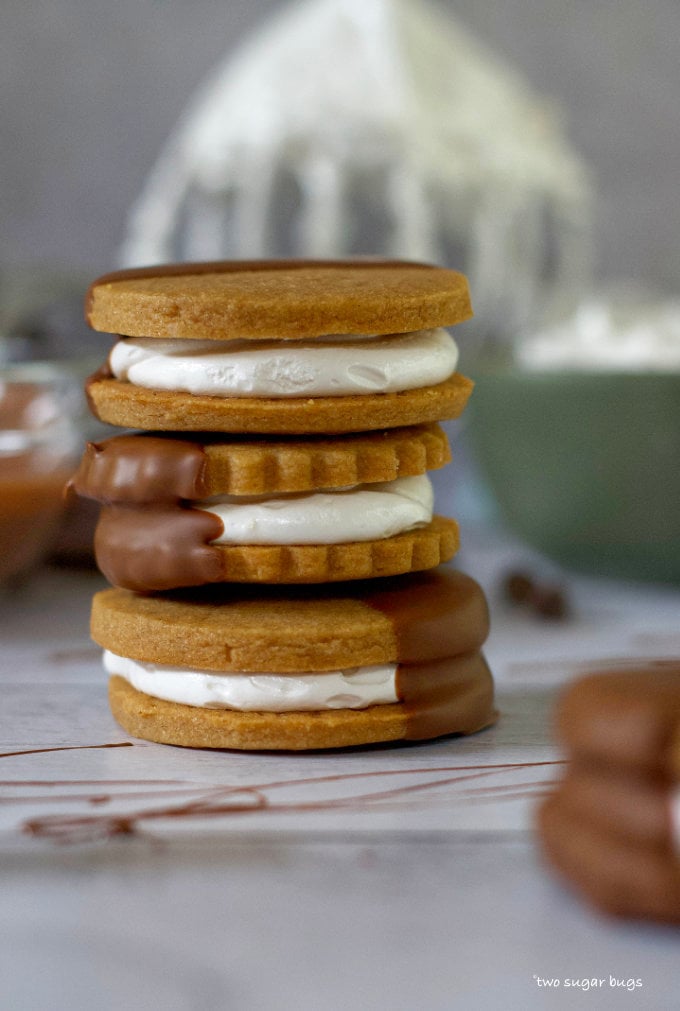 how to make homemade s'mores without a fire
Bake homemade graham crackers. You can make them rectangular or circular in shape (or really any shape you choose!)
Make marshmallow meringue
Pipe meringue onto graham crackers and create a *sandwich*
Freeze the sandwiches (to make them easier to work with)
Melt chocolate
Dip the sandwiches in melted chocolate
Eat and enjoy!
The graham crackers are swoon worthy.  Deceptively simple, but the taste is ah-maz-ing!! Once you make them, you may never go back to buying graham crackers at the store again.  They are that good!  The ingredients are basic ~ flour, whole-wheat flour, cinnamon, salt, butter, brown sugar, and honey.  But they come together and bake up to make a perfect graham cracker.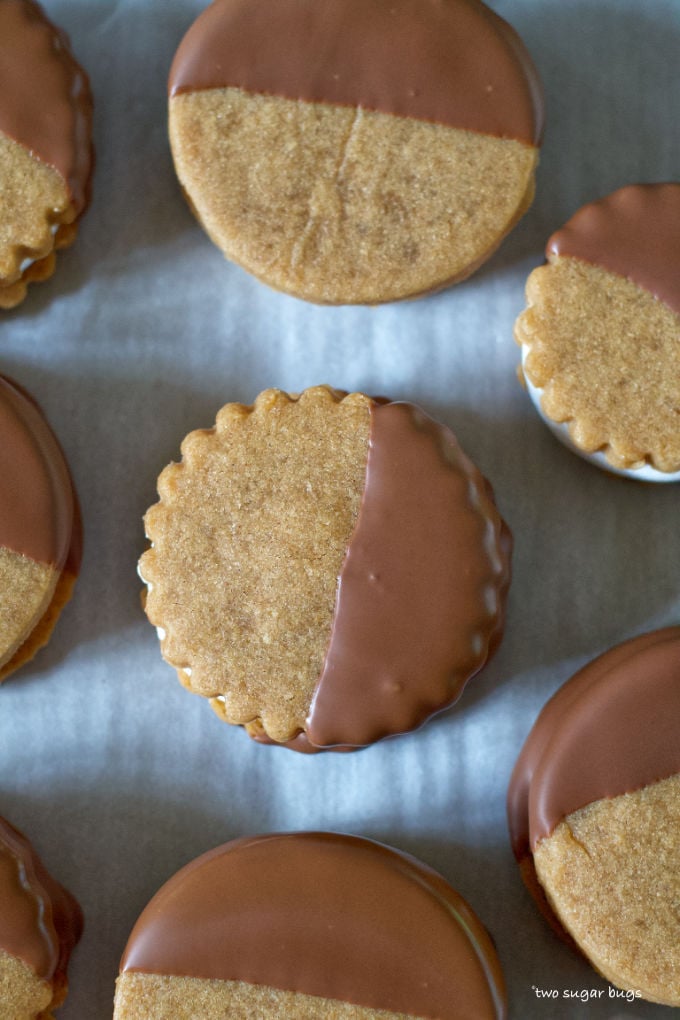 how to make homemade marshmallow meringue
Homemade s'mores also need an ooey-gooey marshmallow! The middle layer is marshmallow fluff. A traditional meringue gives the texture and flavor of a melted marshmallow and is perfect for these dessert bars!
Whisk egg whites, granulated sugar and cream of tartar together over a pot of simmering water. This gently cooks the egg whites and melts the sugar. The cream of tartar helps to stabilize the egg whites. Once the sugar is fully melted (I test by rubbing a little of the mixture between my clean fingers. If no grittiness remains and they are hot), they are done.
Then whip the heated egg white mixture and some vanilla in a stand mixer with the whisk attachment until stiff and glossy peaks form.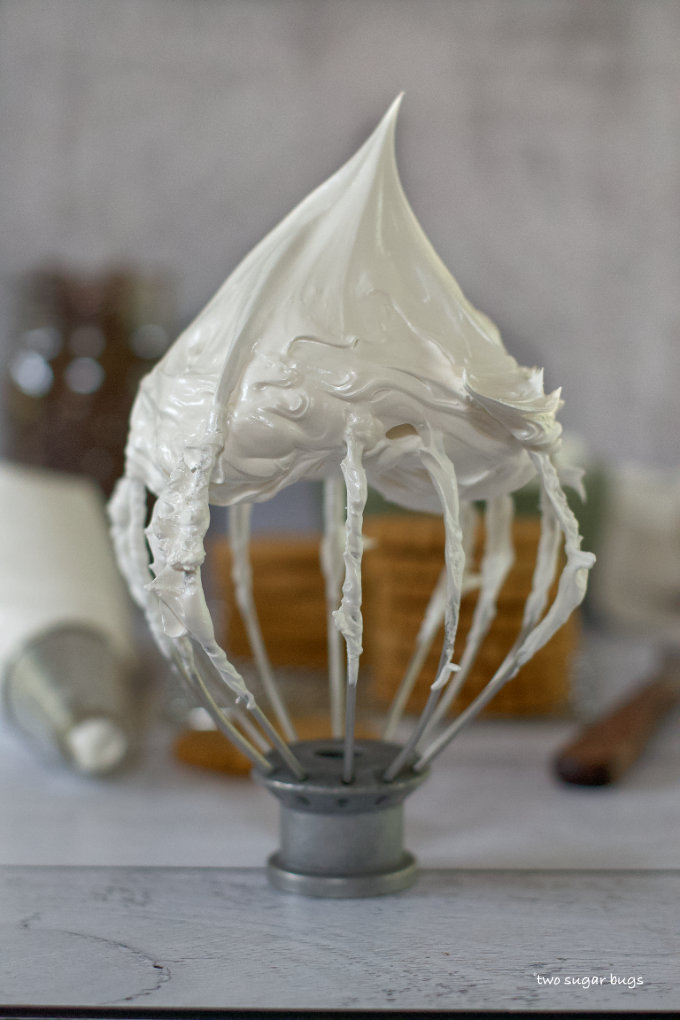 Once your graham crackers are cooled, you top them with a thick layer of meringue and another graham cracker on top to make a *sandwich*. They need a quick trip to the freezer after this step to firm up before their dip into melted chocolate. Then you will be on your way to homemade s'mores heaven!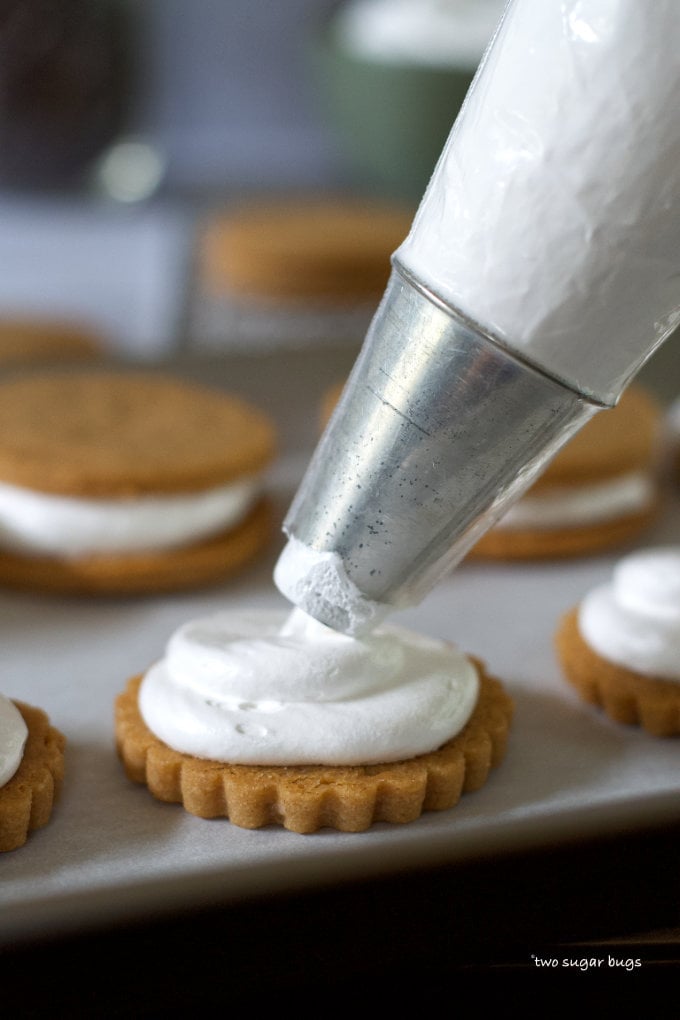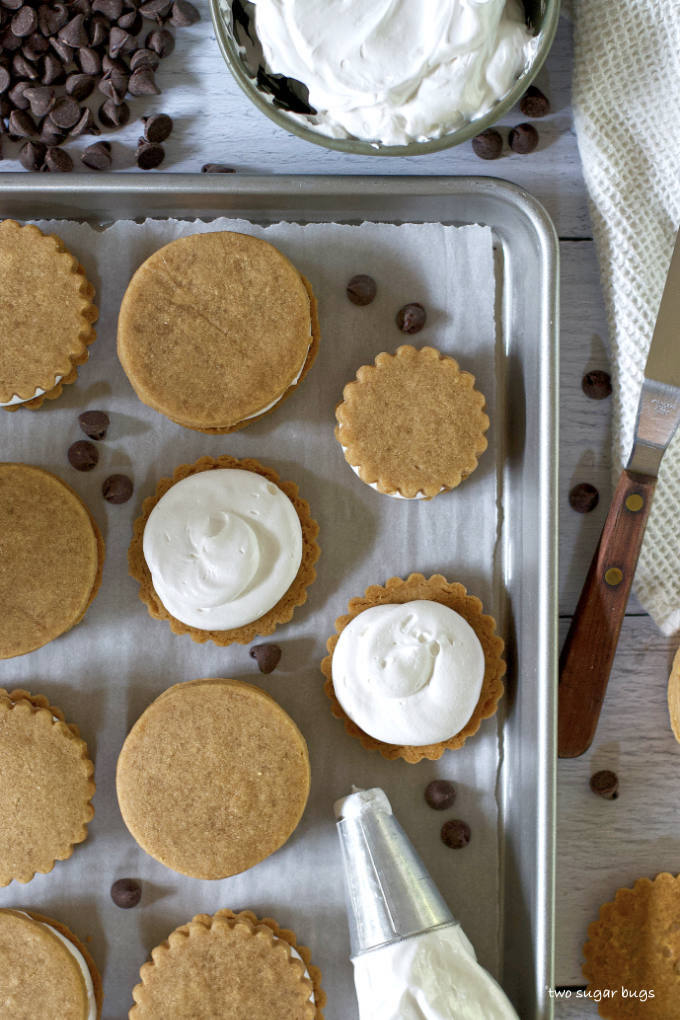 what chocolate is best for s'mores?
Milk chocolate is the classic chocolate used in s'mores. You can use chocolate chips or a chopped chocolate bar for this recipe. Milk chocolate melts easily and gives a mellow, sweet chocolate touch. That being said, if dark chocolate is more your thing, use dark chocolate! I haven't tested this recipe with white chocolate, but I'm pretty sure that would be fantastic too (although it would be a sweeter dessert bar)!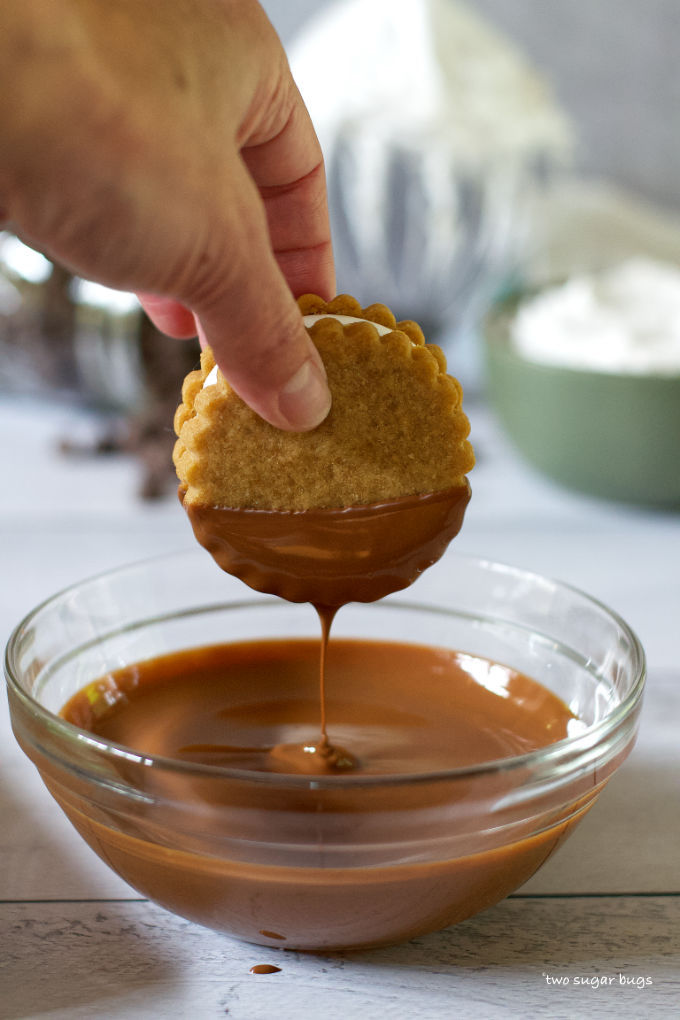 Homemade s'mores bars do take a few steps, but all the steps are simple and the final results will make you look like the queen or king of your kitchen.  You'll get comments like, "you MADE these graham crackers"?? "you MADE the marshmallow filling"?? "These taste better than any s'more I've had before"! 
And only you and I need to know how simple they really are! 😉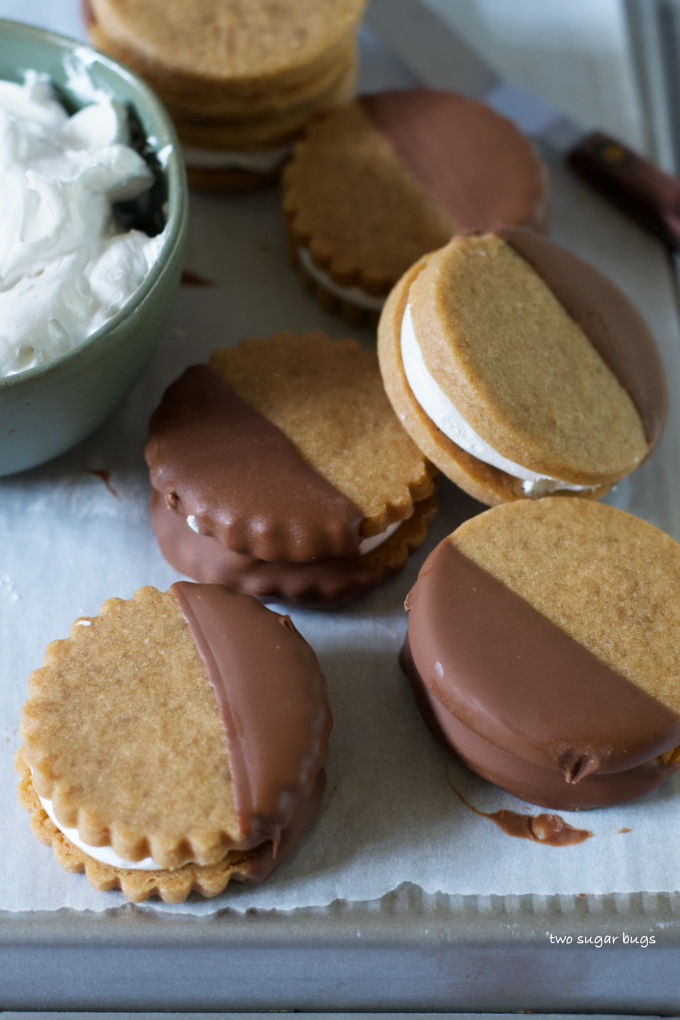 more dessert bar recipes to enjoy!
Remember to snap a picture and tag me @twosugarbugs on Instagram if you make these Homemade S'mores Bars. It warms my heart to see you bring these recipes to life! Thank you for being here and happy baking!
If you make this recipe (or any recipe!) from two sugar bugs please come back and leave a review and a star rating. I read every comment, and I LOVE hearing from you!
Yield: 12 bars
Homemade S'mores Bars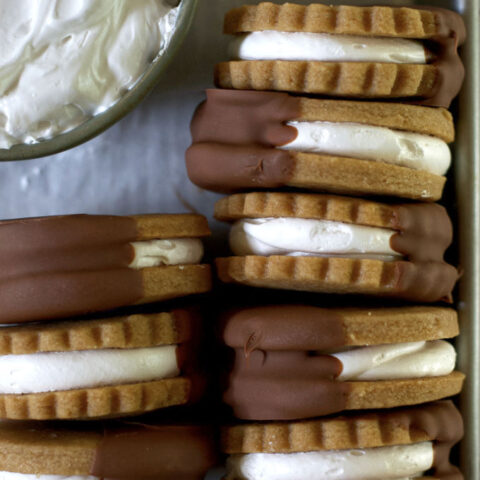 Ooey, gooey, s'mores bars with homemade graham crackers and homemade marshmallow meringue, dipped in chocolate. No campfire required and sure to be a hit!
Total Time
2 hours
14 minutes
Ingredients
Graham Crackers
1 ½ cups all-purpose flour
⅓ cup whole-wheat flour
½ teaspoon salt
½ teaspoon cinnamon
⅔ cup unsalted butter, room temperature
½ cup firmly packed brown sugar
2 tablespoons honey
Marshmallow Meringue
3 large egg whites
¾ cup granulated sugar
¼ teaspoon cream of tartar
½ teaspoon pure vanilla extract
Chocolate for Dipping
1 ½ cups milk chocolate (chopped or chocolate chips)
1 tablespoon coconut oil
Instructions
For the graham crackers:
In a bowl, whisk together all-purpose flour, whole-wheat flour, salt and cinnamon. Set aside.
In the bowl of a stand mixer, fitted with the paddle attachment, combine the butter, brown sugar and honey. Beat on medium high until fluffy, approximately 4 minutes. Scrape up and down sides of the bowl.
With the mixer on low speed add the flour mixture in three additions, mixing until just combined after each addition.
Wrap the dough tightly in plastic wrap and refrigerate for a minimum of 30 minutes before rolling or for up to 2 days. You can also freeze for up to 2 months and defrost in the refrigerator before rolling out and baking.
Preheat the oven to 350° F and line a baking sheet with parchment paper or a silicone mat.
Unwrap the dough and place between two sheets of parchment paper. On a clean work surface, roll out the dough to a ¼ inch thickness.
Use any cookie cutter, sharp knife, or pizza or pastry cutter to cut out the graham crackers. I either use a pastry cutter and then poke with a fork to give the appearance of a graham cracker or round biscuit cutters. (I typically get 18-24, but the yield will depend on the size you cut the crackers)
Bake until golden brown, about 10-14 minutes.
Transfer to a wire rack to cool completely. Store in an airtight container for up to 2 weeks.
For the Marshmallow Meringue:
Whisk egg whites, sugar and cream of tartar in a heatproof bowl. Set the mixture over a saucepan filled with 2 inches of simmering water. Do not let the bottom of the bowl touch the water. Whisk constantly until the sugar is dissolved, about 4 minutes. Remove from the saucepan and wipe the bottom of the bowl dry.
Transfer the mixing bowl to an electric mixer fitted with the whisk attachment. Add the vanilla. Beat on high speed for 5-6 minutes until stiff, glossy peaks form.
Assemble the s'mores:
On a cookie sheet lined with a silicone mat or parchment paper, place half of the graham crackers, bottom side up. Pipe a generous layer of the marshmallow meringue on the graham cracker. (I use a pastry bag fitted with a large round tip. You could use a zip lock bag with a cut corner or just spoon the marshmallow meringue as well). Top with the remaining graham cracker. Place in the freezer for about 30 minutes to firm them up.
Meanwhile, melt the chocolate and coconut oil using your preferred method. Let cool to about room temperature.
Working with 2-3 graham cracker and marshmallow *sandwiches* at a time, dip about half way into the melted chocolate and place back on the cookie sheet in the freezer. Continue dipping until all sandwiches are dipped. Freeze until chocolate has hardened.
Notes
Store covered in the refrigerator for up to two weeks or in the freezer for up to 3 months.
*graham cracker recipe from a no longer functioning blog, Sweetened with Honey
Nutrition Information:
Yield:
12
Serving Size:
1
Amount Per Serving:
Calories:

375
Total Fat:

18g
Saturated Fat:

11g
Trans Fat:

0g
Unsaturated Fat:

5g
Cholesterol:

32mg
Sodium:

123mg
Carbohydrates:

50g
Fiber:

2g
Sugar:

34g
Protein:

5g
The nutrition information is an estimate and may not be entirely accurate.
DID YOU MAKE THIS RECIPE?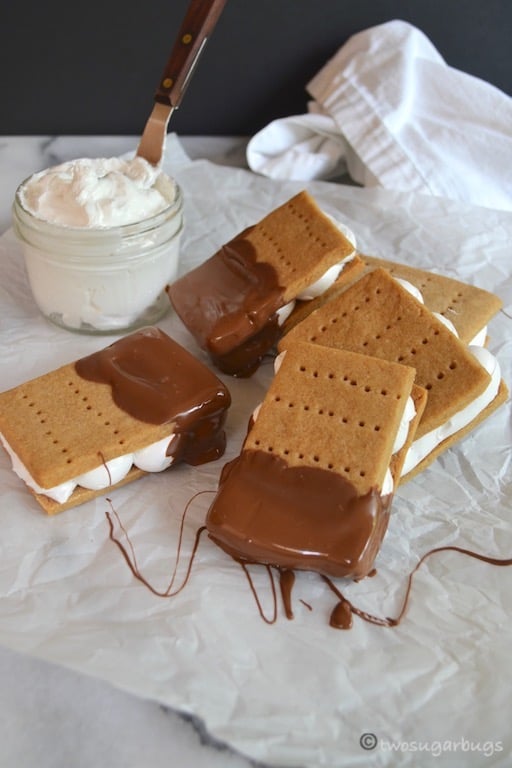 Recipe shared with Full Plate Thursday, Meal Plan Monday and Weekend Potluck