A little bit of nostalgia with these homemade graham animal crackers. Kid-friendly, easy to make, and fun to eat!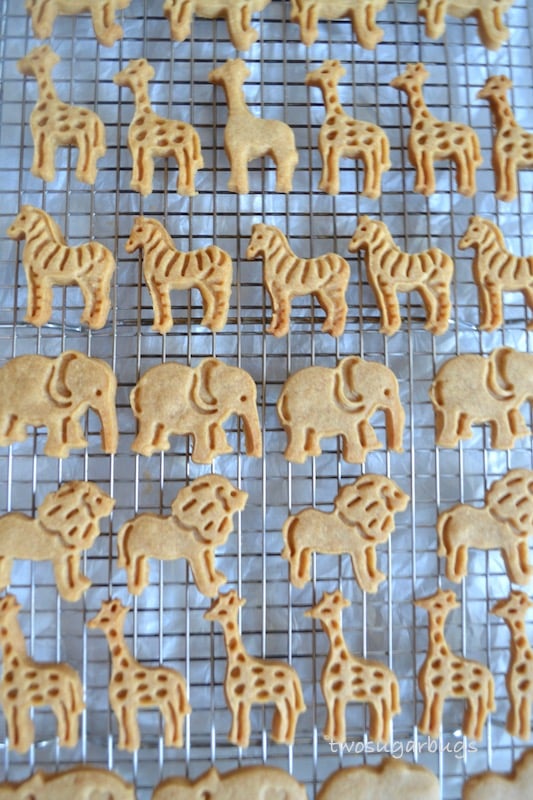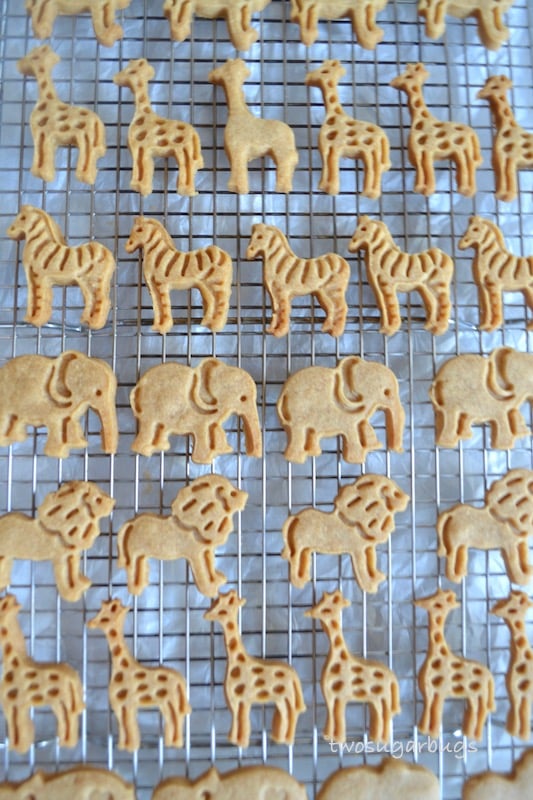 There is just something fun about these homemade graham animal crackers. I'm not sure if it's the mini size, the delicious flavor or the fun different ways you can decorate them, but they are always a hit in my house!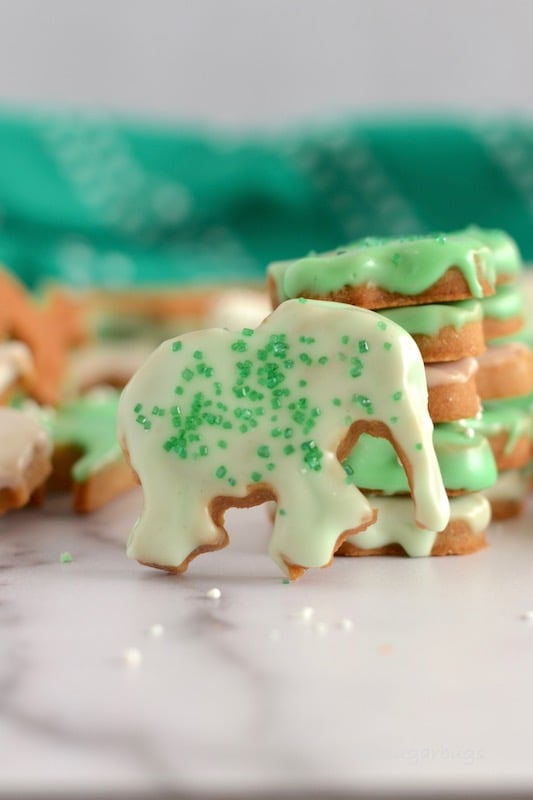 Disclosure | This post may contain affiliate links. As an Amazon Associate I earn from qualifying purchases.
This recipe for animal crackers is quick, easy and uses only seven ingredients. They come together so quickly that little e and I whipped up a batch and baked them in the last hour before we had to pick up Big E from school on Thursday.
I use this same recipe to make graham crackers for my homemade s'mores. This version uses adorable cookie cutters to create mini animal crackers. The recipe is so simple and so good that you may never go back to buying graham crackers at the store!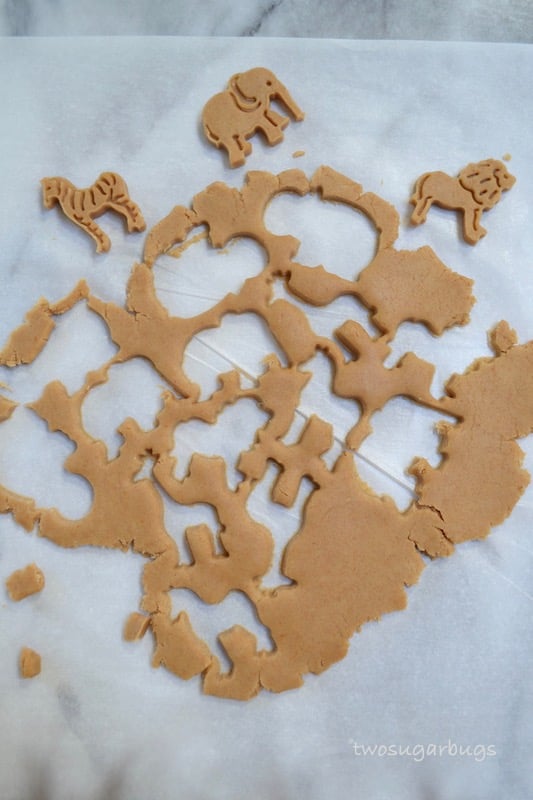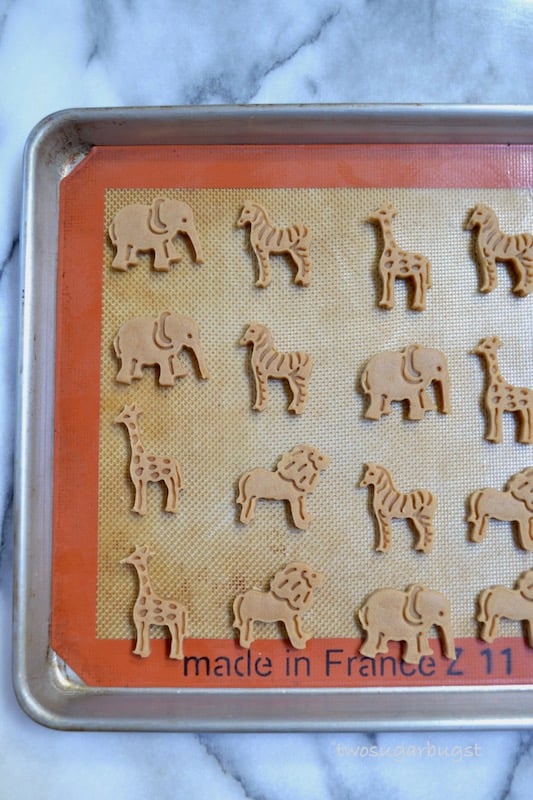 The homemade graham animal crackers are perfect for a lunch box treat. They are also a fun after school snack or for anyone looking for a nostalgic treat. I usually make them in their naked form, but they can be livened up with an easy glaze. If you want to make people smile even more you can throw on some sprinkles or sanding sugar!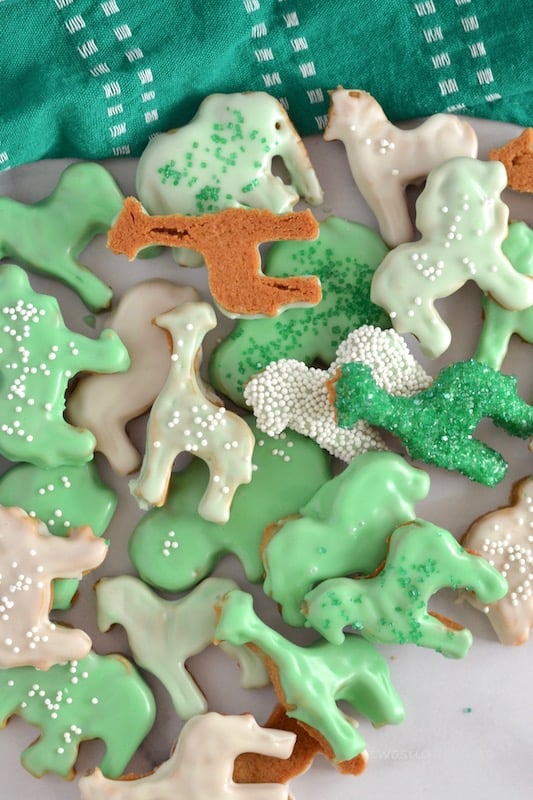 The glaze is my favorite alternative to royal icing. I often use it when decorating my always perfect sugar cookies at the holidays. The glaze is made with a little bit of honey, which gives it a subtle honey taste. The honey allows the glaze to harden with a softer texture and without being a rock hard icing.

The glaze can be tinted with any colors you choose. I like a gel-based food coloring. This recent batch was given a St. Patrick's Day theme. Green is my favorite color and I adore how these came out!! I can just imagine how cute these could be in a variety of pastel colors for Easter or for a baby shower. They'd also be fun in red, pink and white for Valentine's Day. You could also go for the classic pink and white with nonpareil sprinkles.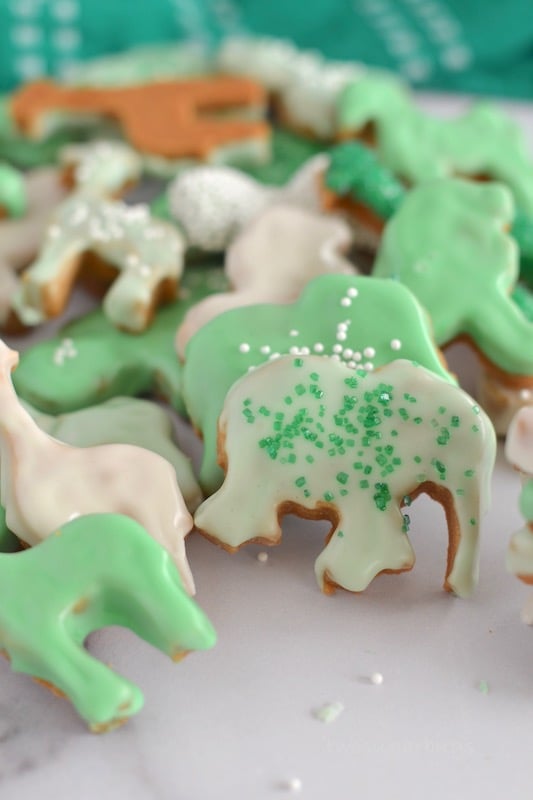 If you choose to glaze your homemade graham animal crackers, I highly recommend just dipping the cracker into the glaze. You can see from mine that they are not perfect, but they still come out super cute. This makes it perfect for little helpers to assist with glazing!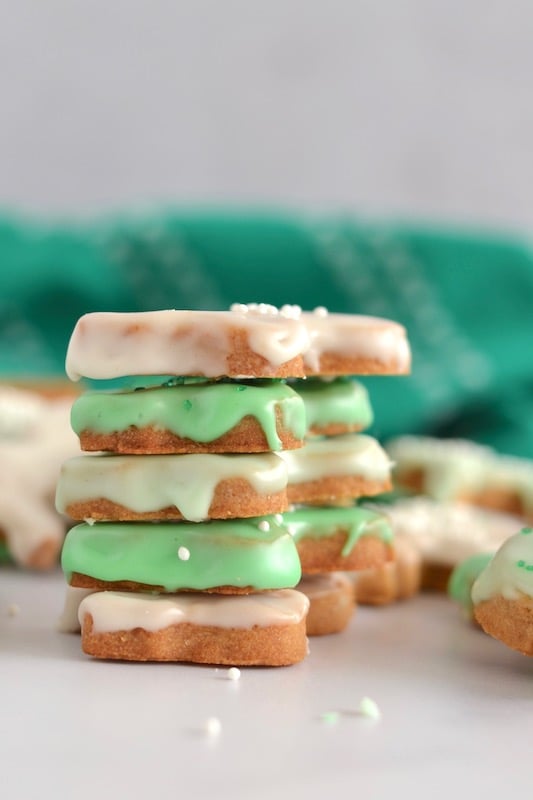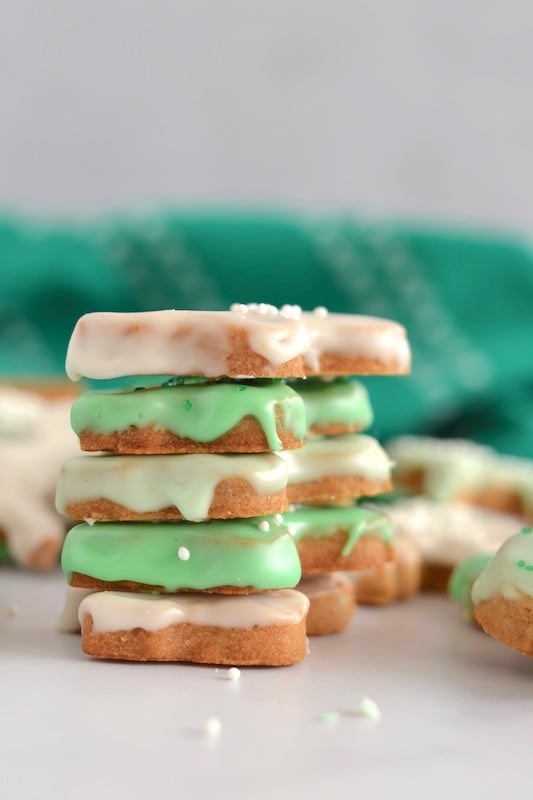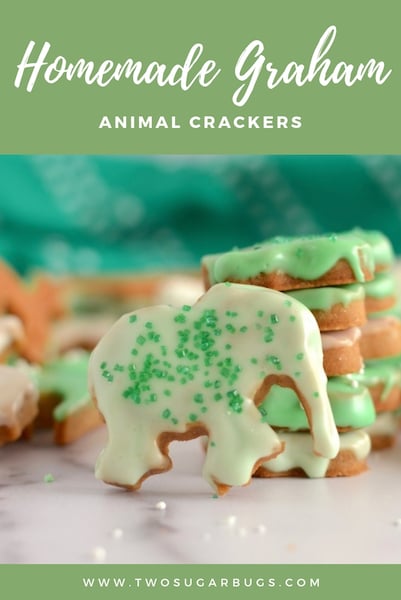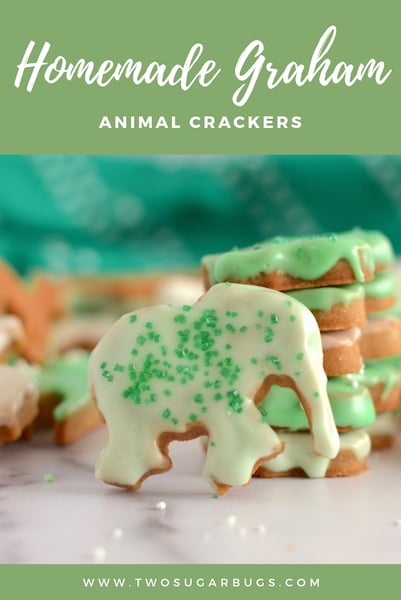 Recipe shared with Meal Plan Monday, Full Plate Thursday and Weekend Potluck.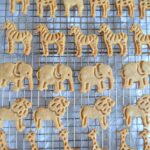 Print
Homemade Graham Animal Crackers
A little bit of nostalgia with these homemade graham animal crackers. Kid-friendly, easy to make, and fun to eat!
Ingredients
1 ½

cups

all-purpose flour

⅓

cup

whole-wheat flour

½

teaspoon

salt

½

teaspoon

cinnamon

⅔

cup

unsalted butter

room temperature

½

cup

firmly packed brown sugar

2

tablespoons

honey

I prefer local honey
Frosting Glaze
1

tablespoon

honey

I prefer local honey

2

tablespoons

milk

1

teaspoon

pure vanilla extract, almond extract

or whatever flavor you prefer

2

cups

powdered sugar
Instructions
For the graham crackers:
In a bowl, whisk together all-purpose flour, whole-wheat flour, salt and cinnamon. Set aside.

In the bowl of a stand mixer, fitted with the paddle attachment, combine the butter, brown sugar and honey. Beat on medium high until fluffy, approximately 4 minutes. Scrape up and down sides of the bowl.

With the mixer on low speed add the flour mixture in three additions, mixing until just combined after each addition.

Wrap the dough tightly in plastic wrap and refrigerate for a minimum of 30 minutes before rolling or for up to 2 days. You can also freeze for up to 2 months and defrost in the refrigerator before rolling out and baking.

Preheat the oven to 350° F.


Line a baking sheet with parchment paper or a silicone mat.

Unwrap the dough and place between two sheets of parchment paper. On a clean work surface, roll out the dough to a ¼ inch thickness.

Use any cookie cutter, sharp knife, or pizza or pastry cutter to cut out the graham crackers. If using the cookie cutters I used, you'll get about 46 cookies.

Bake until golden brown, about 10-14 minutes.

Transfer to a wire rack to cool completely.
Frosting Glaze
Mix honey, milk and choice of flavoring in a medium bowl until well combined.


Add powdered sugar to honey/milk/flavoring mixture. Mix until well combined. You may need to add a little more milk if the consistency is a little too thick. Add just a teaspoon of milk at a time until you reach your desired consistency. You want the frosting glaze to be on the thicker side, but still spreadable. I typically add 1-2 teaspoons to get to a good dipping consistency.


Split the frosting glaze into smaller bowls and color, if desired.


If using sprinkles or embellishments to your graham animal crackers, add them before the glaze dries. The glaze will dry firm enough that you should be able to stack your graham animal crackers.

Notes
Store in an airtight container for up to 2 weeks.
Graham cracker recipe from Sweetened with Honey