Sharing the only clam chowder recipe you will ever need. Daddy's clam chowder is so satisfying to eat and easier to make than you think!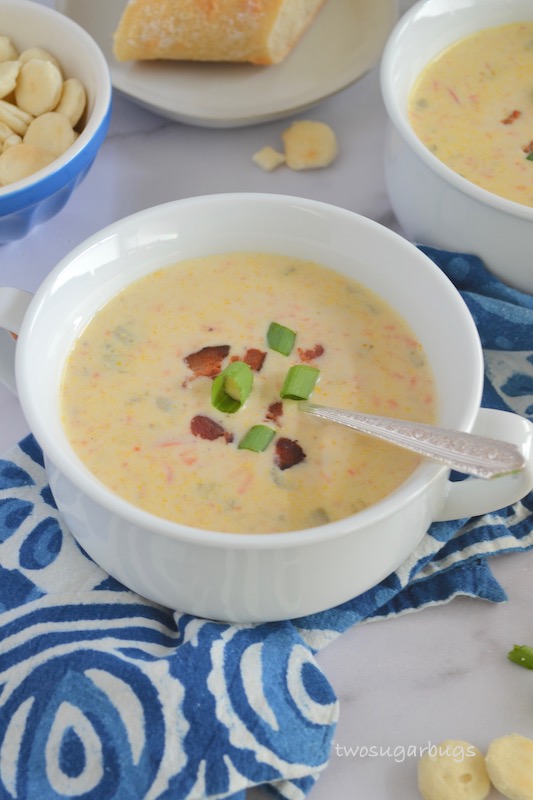 I'm sharing a recipe near and dear to my heart ~ Daddy's Clam Chowder.
Tomorrow would have been my dad's 70th birthday. Yep, he was an April Fool's baby. 😊 Some of you already know this, but my dad was killed in an accident when I was young. He was a Naval aviator and lost his life doing night flying off an aircraft carrier. I had turned five the month prior to his accident so I really didn't grasp what had happened.
I wasn't able to truly mourn his loss until I got older.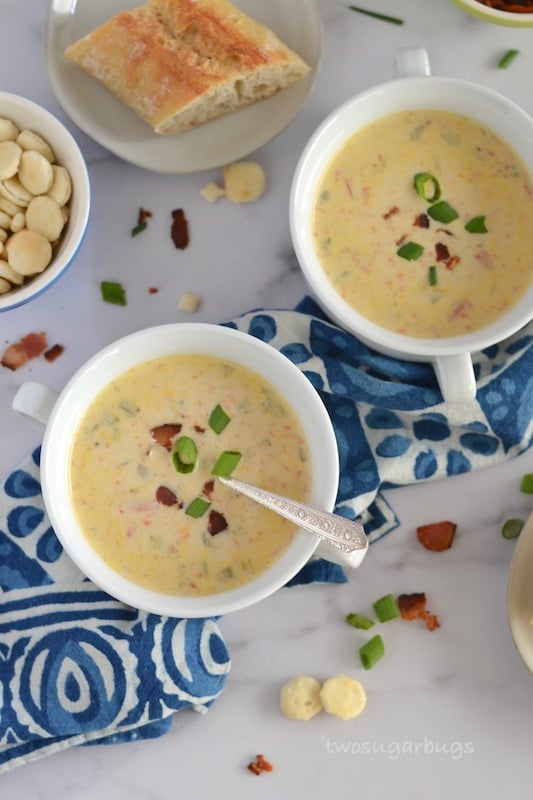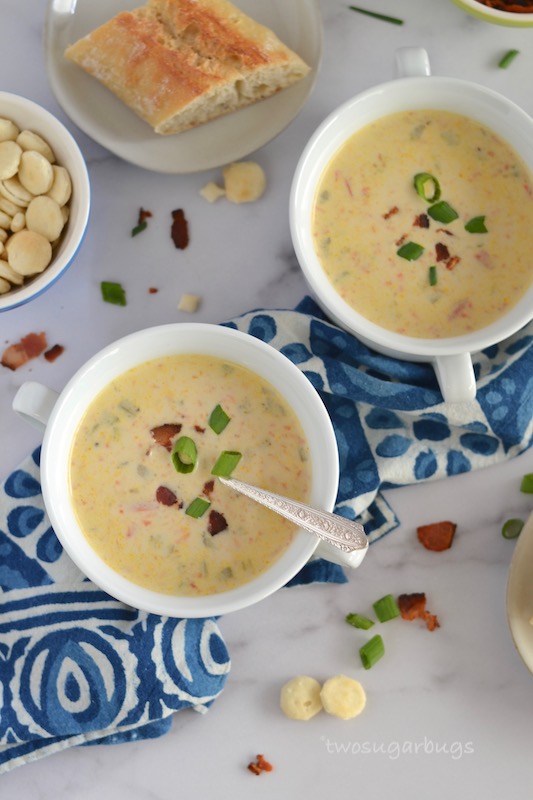 Disclosure | This post may contain affiliate links. As an Amazon Associate I earn from qualifying purchases.
My memories of him are murky; mostly from stories I've been told or photos we have. Daddy's clam chowder is in some of those memories.
We were stationed on Whidbey Island and we'd go clamming. It was so much fun to roll up your jeans and smush your toes between the cold and wet sand. I'd watch for water squirting up from the sand and then eagerly dig with my little shovel, hoping to capture a clam. Don't fret though, the recipe I'm sharing uses canned clams that you can find at your local market.
My dad is from the mid-west, so I'm not sure how he got to be such an expert on clam chowder, but he definitely knew what he was doing!
Daddy's clam chowder is surprisingly easy to make. It's brimming with clams, potatoes and bacon and swimming in a creamy broth. I love how quickly it comes together and you are going to fall in love with the flavor.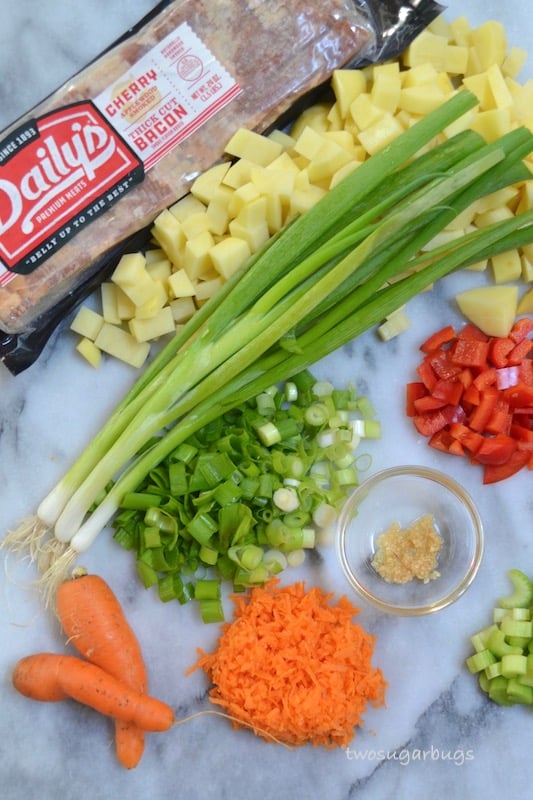 I've made two minor changes to Daddy's recipe. The first being that I use any color of bell pepper that I have. Dad's recipe specifies a green bell pepper, which I rarely have on hand. The second change is that I often substitute half the water with homemade chicken stock. Substituting chicken stock adds a really nice depth of flavor, but the recipe is fantastic either way!

MAKING DADDY'S CLAM CHOWDER
You'll start by sauteing bacon in a large stock pot or Dutch oven. *see recipe note if you'd like to make the clam chowder meat free* Once crisp, remove it from the pan and drain all but 1 tablespoon of the bacon fat. Next you'll add the vegetables, all diced similar sizes; except for the carrot, which you will finely grate (I use my box grater). Followed by the water and/or stock, some Worcestershire sauce and hot sauce.
Cover and simmer for about 15 minutes or until the potatoes are tender. Then using a potato masher, slightly mash the vegetable mixture leaving some chunks of the potatoes intact.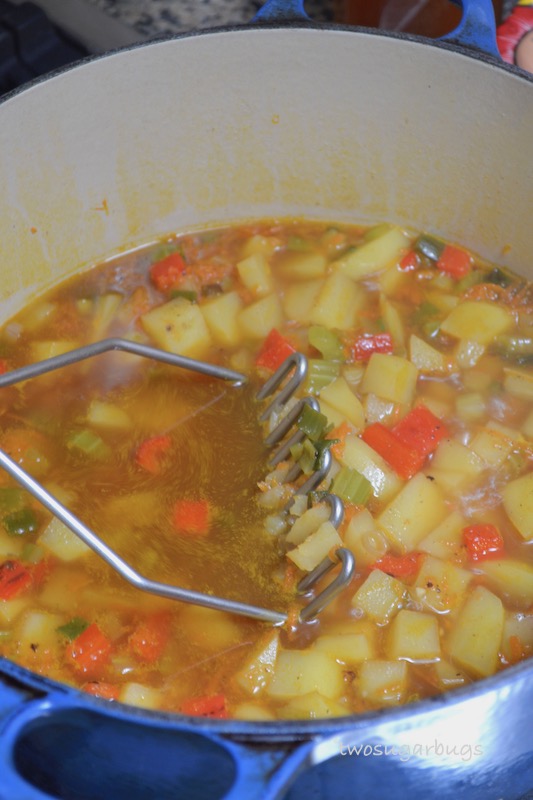 While the vegetables and water and/or stock are simmering, you will open your canned clams and place them and the clam juice into a small saucepan. Warm them over medium heat until tender, about 3 minutes. If you've never bought canned clams before, you'll find them in the grocery aisle with canned tuna fish. Don't do what I did and go to multiple stores expecting to find them with the fresh seafood.🙈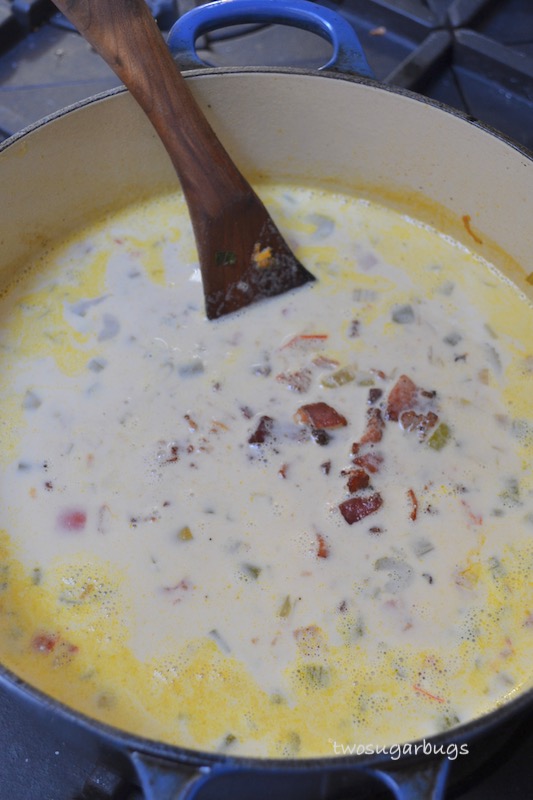 Finally, you'll add the warmed clams and their juice, the half and half and bacon into your vegetable, water and/or stock mixture and heat until warm. Serve topped with chopped green onions or chives and extra bacon. I typically make a loaf of no-knead bread as well, using recipes from My Bread: The Revolutionary No-Work, No-Knead Method.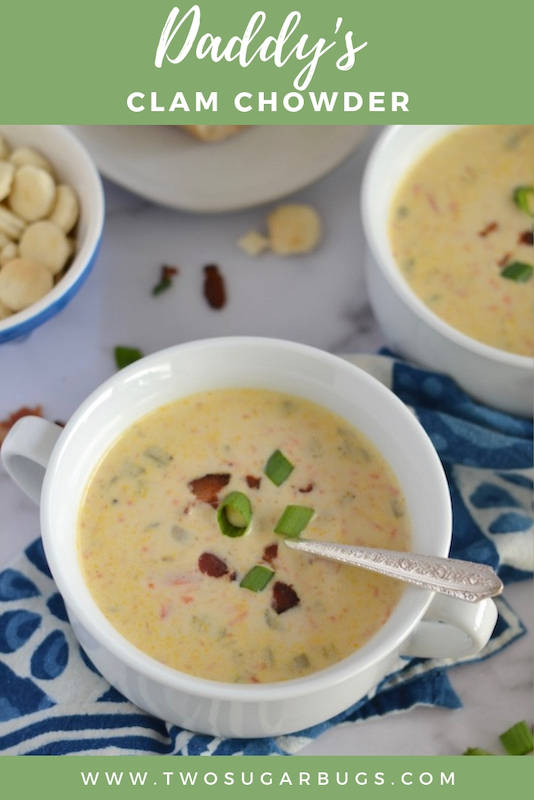 Daddy's clam chowder is sure to become your go-to chowder recipe. I'm truly honored to be sharing it with all of you!

PERFECT DESSERTS TO PAIR: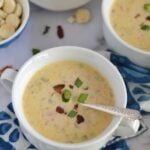 Print
Daddy's Clam Chowder
This is the only clam chowder recipe you will ever need. It's easier to make than you think and so satisfying to eat. Packed with clams, bacon and vegetables, it's soon to be your family's favorite chowder.
Servings
4
main course servings
Ingredients
4

slices

thick bacon

chopped

3

green onions

chopped

5

medium potatoes

chopped in ½ inch cubes, I use Yukon gold

2

tablespoons

bell pepper

diced

1

clove

garlic

minced

1

carrot

finely grated

1

stalk celery

diced

2

cups

water

or 1 cup water and 1 cup stock

1

teaspoon

salt

½

teaspoon

Worcestershire sauce

4

drops liquid hot sauce

I use chipotle Tabasco

4 6.5

ounce

cans chopped clams in clam juice

2

cups

half and half
Instructions
In a large stock pan or Dutch oven, sauté the bacon over medium heat until crisp. Remove bacon to a paper towel lined plate and set aside. Drain all but 1 tablespoon of bacon fat.

Add green onions, potatoes, bell pepper, garlic, carrots and celery. Pour in the water (or half water and half stock), salt, Worcestershire sauce and hot sauce. Add a shake or two of fresh ground black pepper.

Cover and simmer for 15 minutes or until potatoes are tender.

Using a potato masher, slightly mash mixture leaving some intact chunks of potatoes.

In a separate saucepan, warm the clams and their juice for 3 minutes or until tender. Then add the clams and juice to the vegetable mixture.


Add the sauteed bacon and the half and half and stir well. Test for seasoning; add additional salt or pepper, if needed.

Heat until hot, but not boiling.

Top with additional chopped green onions or chives and extra chopped bacon, if desired.

Notes
*to make the calm chowder meat free - omit the bacon and use 1 tablespoon butter to sauté the vegetables.  Use all water or a combination of water and seafood stock.