Soft and thick snickerdoodle cookies ~ rolled in cinnamon and sugar with a slight crunch on the exterior and a soft, thick and chewy center.

I love a thick and chewy cookie and these snickerdoodles fit the bill perfectly!
I don't know about you, but I find cinnamon and sugar to be a magical flavor combination.  Snickerdoodles are like a tangy version of a sugar cookie (my absolute favorite!) dressed up with a tasty coating of cinnamon and sugar.  You get a subtle crunch from the cinnamon and sugar on the outside and a thick, soft and chewy cookie on the inside.  They are pure heaven!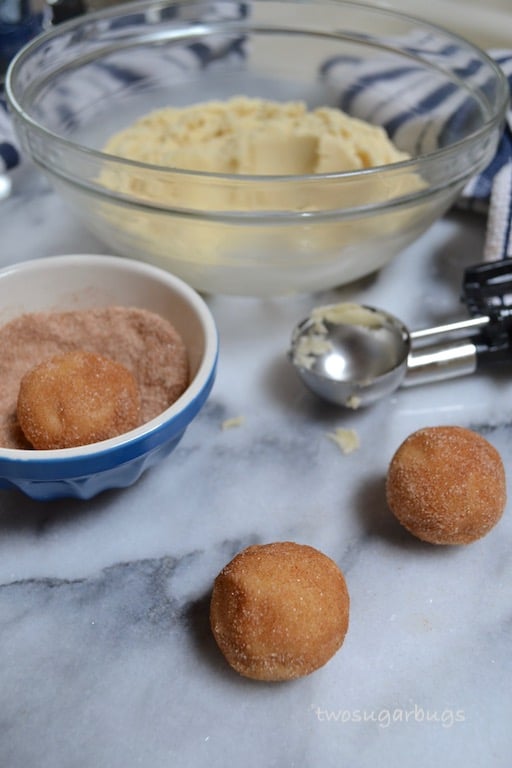 Many, many years ago now, I had a job where I drove a desk.  I did event planning and travel management for an educational company and it was there that I became infatuated with snickerdoodles.  The office was small and did not have any sort of food options within the building.  We did have a service that came by everyday with a cooler filled with sandwiches, salads and snacks that could be purchased (they came from a nearby deli).  Some days there would be snickerdoodle cookies as an option and when they were available, I would always buy one.  The cookies were quite large, probably 4 inches in diameter and they were $1.  The soft, chewy snickerdoodle would be my lunch on those days. OK, not the healthiest choice, but a girl needs her sweets. 🙂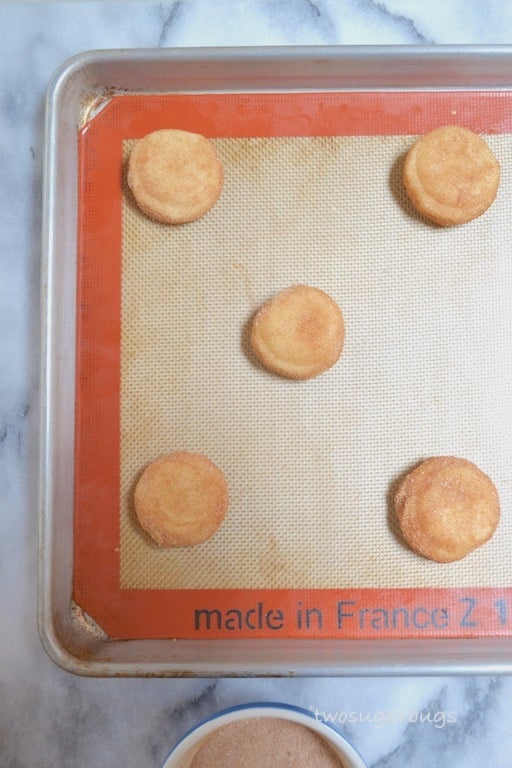 Over the years, I have tried various snickerdoodle recipes trying to recreate those lunch cookies I used to eat.  The flavors would be good, but the texture was often off and I ended up with a lot of flat cookies.  This is a recipe that I found in my mom's recipe box, handwritten, so I have no idea where it originated.  I was a bit skeptical about using oil in the cookies, but I am pretty sure that is what helps give the snickerdoodles their soft and chewy texture.
This recipe comes together quickly, but performs best if the dough gets chilled (~2 hours) before you bake them. My mom's recipe did not specify to chill the dough.  You could skip the chilling, but the cookie will spread a bit and you won't get the same thickness in the baked cookie.  You'll chill the dough before you shape them and roll them in the cinnamon and sugar mixture.  Then it's just a short 10-12 minute ride in the oven and you will be on your way to enjoying these classic snickerdoodle cookies.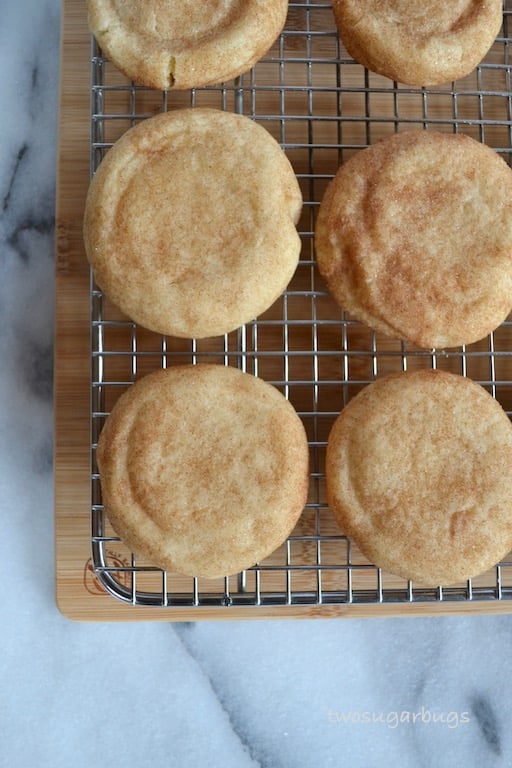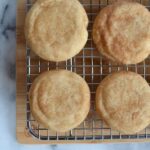 Print
Soft and Thick Snickerdoodle Cookies
Ingredients
4 ½

cups

all-purpose flour

1

teaspoon

baking soda

1

teaspoon

cream of tartar

½

teaspoon

salt

1

cup

unsalted butter

room temperature

1

cup

canola oil

1

cup

granulated sugar

1

cup

powdered sugar

2

large eggs
For rolling cookies
½

cup

granulated sugar

1

tablespoon

cinnamon
Instructions
In a medium size bowl, whisk together the flour, baking soda, cream of tartar and salt. Set aside.

In a small bowl, mix sugar and cinnamon. Set aside.

Using a stand mixer with a paddle attachment, or a hand-held mixer, cream the room temperature butter for about 1 minute on medium speed. Once the butter is smooth and creamy, add the canola oil and both sugars. Mix on medium until fluffy and light in color.

Scrape down the sides of the bowl and add the eggs, mixing until combined.

Scrape down the sides of the bowl again and with the mixer on low, slowly add in the flour mixture. Mix until just combined.

Cover and chill the dough in the refrigerator for a minimum of 2 hours.

Preheat oven to 375°F. Line baking sheets with silicone baking mats or parchment paper.

Take about 1.5 tablespoons of dough (I use a size 40 scoop) and roll the dough into a ball. Roll the ball in the cinnamon- sugar mixture and place on your baking sheet. Flatten slightly with the bottom of a glass dipped in the cinnamon-sugar mixture.

Bake until the edges are barely browned, about 10-12 minutes. Allow cookies to cool on the pan for 5 minutes before removing to a wire rack to cool completely.
Notes
Store cookies in an airtight container at room temperature for 5-7 days or freeze for up to 3 months.
DID YOU MAKE THIS RECIPE?
Be sure to tag @twosugarbugs on Instagram and hashtag #twosugarbugs