Mom's lemon bars, the perfect balance of sweet and tart with a crumbly shortbread-like cookie base.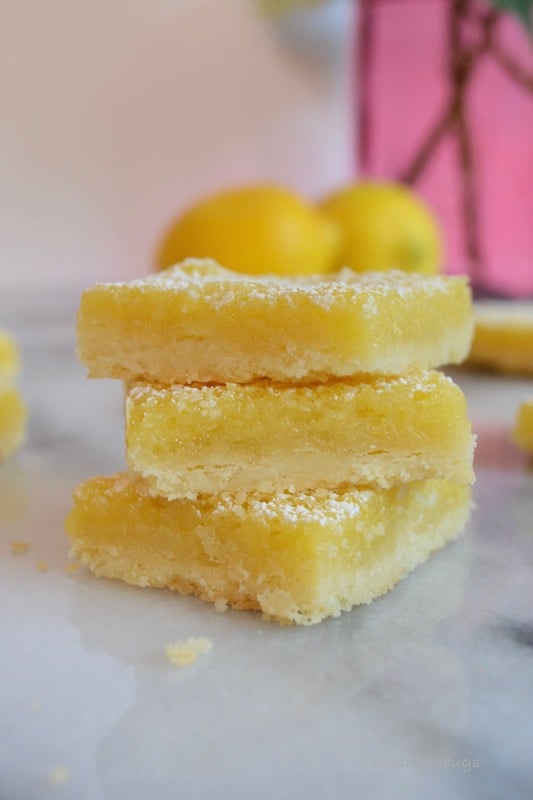 Calling all lemon lovers! Today I have a quick and simple recipe for my mom's lemon bars. You will love how easily these lemon bars come together. The taste combines the brightness and tartness of the lemons with a shortbread-like cookie bottom. They are a great bar cookie to have in your recipe box!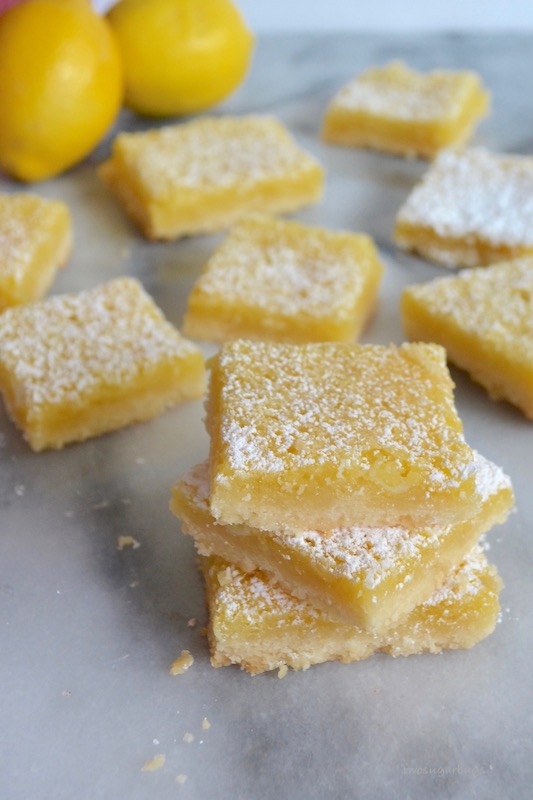 This post may contain Amazon or other affiliate links. As an Amazon Associate I earn from qualifying purchases.
Spring is officially arriving this week and the weather predictions are teasing us with the thought of maybe even hitting 70 degrees Fahrenheit! This temperature is practically unheard of in the Pacific Northwest for this time of year. Lemon bars are the perfect, easy dessert to ring in the new season.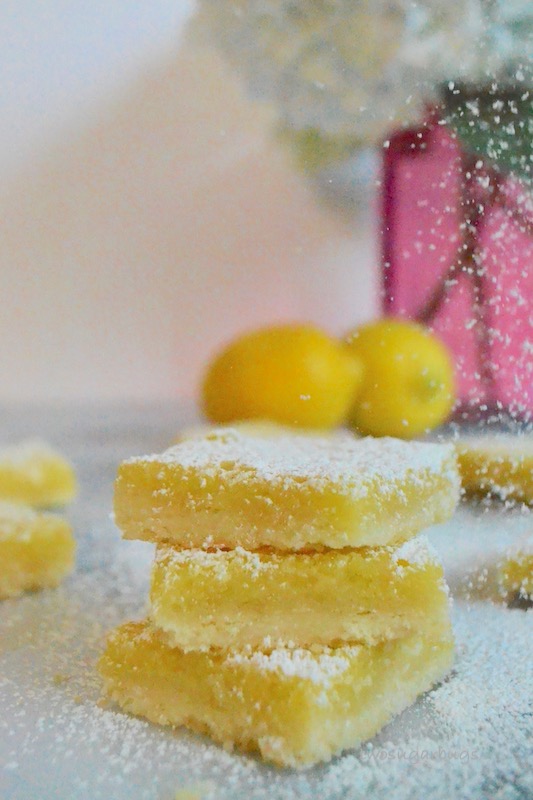 I have fond memories of my mom making my sister and I our birthday cakes as we grew up. She actually had a side hustle, although I doubt it was referred to as that at the time, when she was in college. My mom made cakes on the side to earn extra money.
We'd always make cookies at Christmas, but truthfully, the fog of time (not to mention the energy required to keep up with my two little sugar bugs) limits my memory of other baking standouts.
But I do remember Mom's lemon bars.
The crumbly base, the perfect sweet and tart lemon layer and a generous dose of powdered sugar on the top.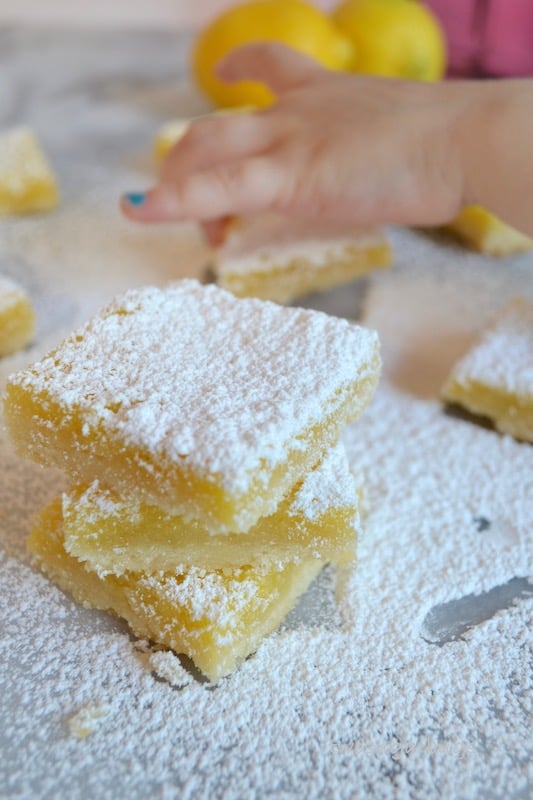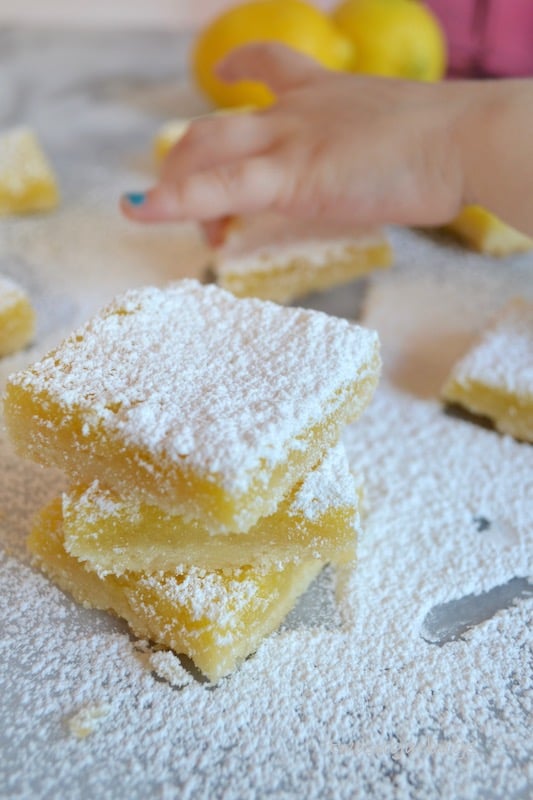 MAKING MOM'S LEMON BARS
The cookie base has flour, powdered sugar and butter. You will press this shortbread-like base into a parchment lined 8×8 inch baking pan or 9×9 inch baking pan. I personally like these bars a little thicker, so I typically use the 8×8. Mom's recipe actually calls for a 9×9 and Mr. Two Sugar Bugs likes them that way best. Either one works, so use what you have!
You will bake the base for 15-20 minutes and allow it to cool slightly while you prepare the filling. I added some lemon zest to give Mom's recipe a little more lemon flavor, but it's completely optional. I also prefer to use freshly squeezed lemon juice, but will use a quality lemon juice in a pinch.

The filling gets poured over the warm base and baked for another 20-25 minutes. When the filling is set, you will pull the lemon bars from the oven and allow them to cool on a cooling rack. Once cool, dust with powdered sugar and cut into desired size bars.
Mom's lemon bars are perfect for a picnic, a baby shower, Easter, Mother's Day or for an after school or work treat. I hope you love them as much as we do!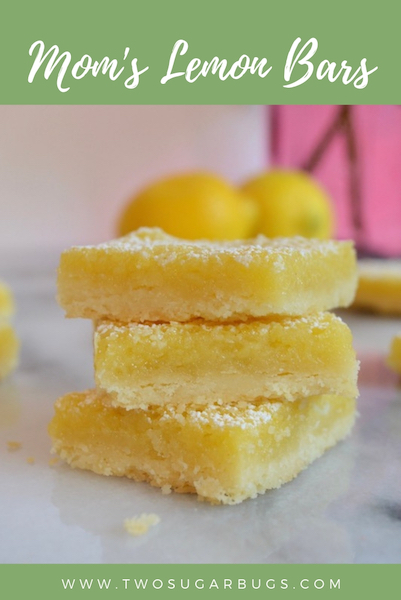 HAVE YOU TRIED THESE OTHER RECIPES?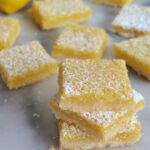 Print
Mom's Lemon Bars
Mom's lemon bars, the perfect balance of sweet and tart with a crumbly cookie base.
Ingredients
1

cup

all purpose flour

¼

cup

powdered sugar

½

cup

butter

2

large or extra large eggs

1

cup

granulated sugar

½

teaspoon

baking powder

½

teaspoon

salt

3

tablespoons

all purpose flour

3

tablespoons

lemon juice

2

teaspoons

lemon zest

use zest from two lemons
Instructions
Preheat oven to 350°F.

Line an 8×8 or 9×9 inch pan with parchment paper, leaving some overhang (to assist with pulling them from the pan). Either size pan works. I prefer them a bit thicker so I like the 8×8.

Blend flour, powdered sugar and butter together with a pastry cutter, a fork or your clean hands until a meal like mixture is achieved. Press crust into prepared pan. Bake approximately 15-20 minutes, until edges are slightly browned.

Remove crust from the oven and allow to cool slightly while you prepare the filling. Leave oven on.

In a medium bowl, whisk together eggs, sugar, baking powder, salt, flour, lemon juice and lemon zest. Pour mixture over baked crust. Return pan to the oven and bake another 20-25 minutes until mixture is set.

Cool bars in the pan on a cooling rack. Dust with powdered sugar, cut into bars of your desired size.
Notes
You will get the cleanest cuts if your bars are chilled when you cut them. Use a sharp knife and wipe it clean between each cut.
It's best to store lemon bars in the refrigerator. They are fine at room temperature for several hours.
They can be served cold or at room temperature.
DID YOU MAKE THIS RECIPE?
Be sure to tag @twosugarbugs on Instagram and hashtag #twosugarbugs
Replica Surfaces Partner ~ Receive 15% off your purchase of any Replica Surfaces photo board for your photography needs.