Our favorite pasta carbonara is the perfect combination of pasta, Parmesan and bacon. You'll love how quick, easy and satisfying it is!

Here it is! My first "sometimes savory"😊. I'm so excited to share this recipe with you!! This favorite pasta carbonara is something we eat frequently at our house. When I say frequently, I mean we eat it weekly. It's so quick and simple to prepare and it tastes amazing!! Comfort food at it's finest.
My mom is a fantastic cook. We ate a variety of foods growing up and every once in a while she would make us Pasta al Burro, a decadent, simple pasta dish. My mom even added bacon to put it over the top. It was incredibly rich, but so delicious!
As I grew older, I worried more about fat and calories and Pasta al Burro went out the window. Flash forward to meeting my husband. In my opinion, he is the ultimate foodie and has taught me so much about cooking and baking, but that in it self is another story for another day! Mr. Two Sugar Bugs has taught me that I can enjoy everything, but rich and decadent things should be eaten in smaller portions. We used to joke that we are full-fat, full flavor cooks. Actually, we still are!!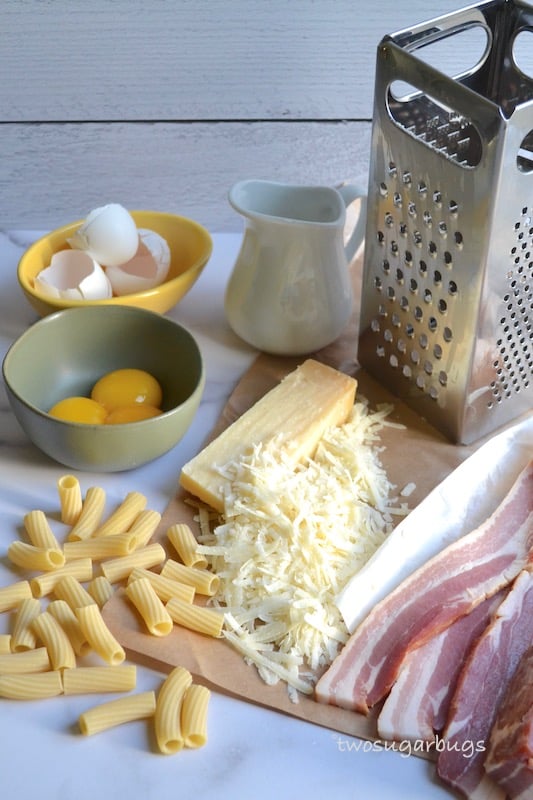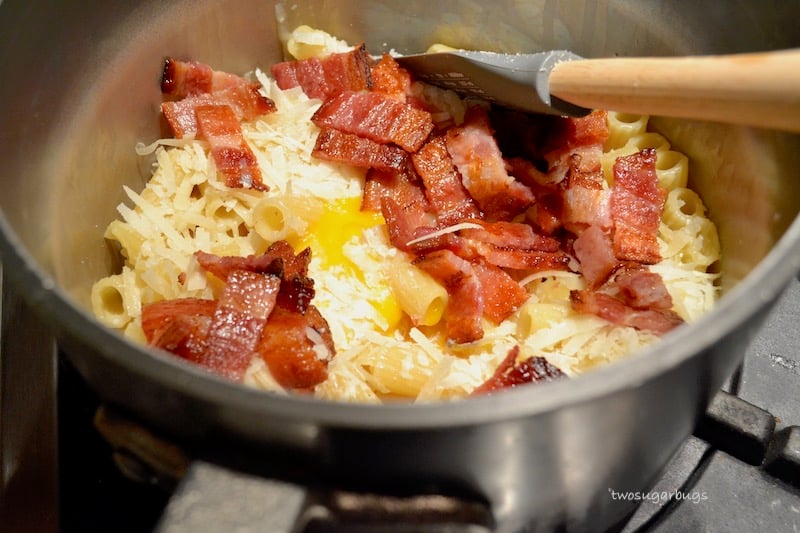 Early in our marriage we watched a lot of Food Network and Jamie Oliver's shows were one of our favorites. Mr. Two Sugar Bugs started making us pasta carbonara using Jamie's recipe and he has become the master of this recipe. Over the years we have tweaked Jamie's recipe and have made it our own. Let me tell you, bring on a Bobby Flay Throwdown; I will put my money on Mr. Two Sugar Bugs any day!!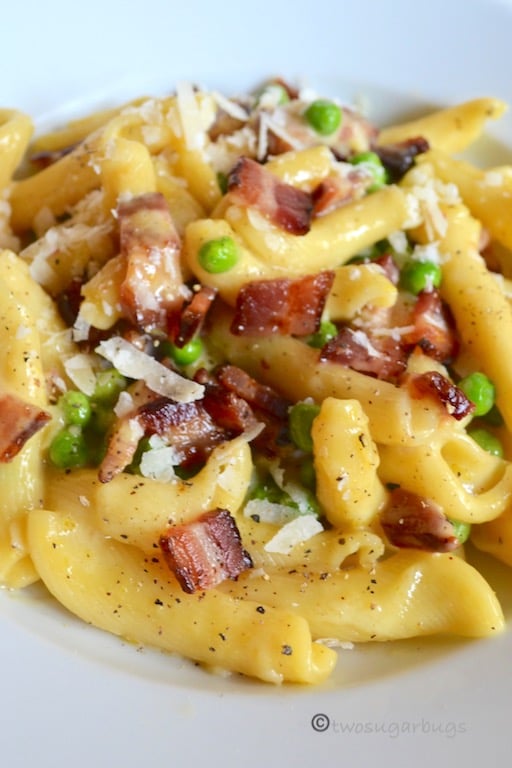 You will love this recipe because pasta carbonara is quick, so it is perfect for a busy night. It is also special enough for a dinner party. The ingredients are things most people already have in their pantry and refrigerator; pasta, heavy cream, Parmesan cheese, eggs and bacon. This dish can be amped up with the addition of sauteed mushrooms or made healthy (wink 😉 wink 😉 ) by adding fresh or frozen peas. The bonus? Even my kids will happily eat this for dinner!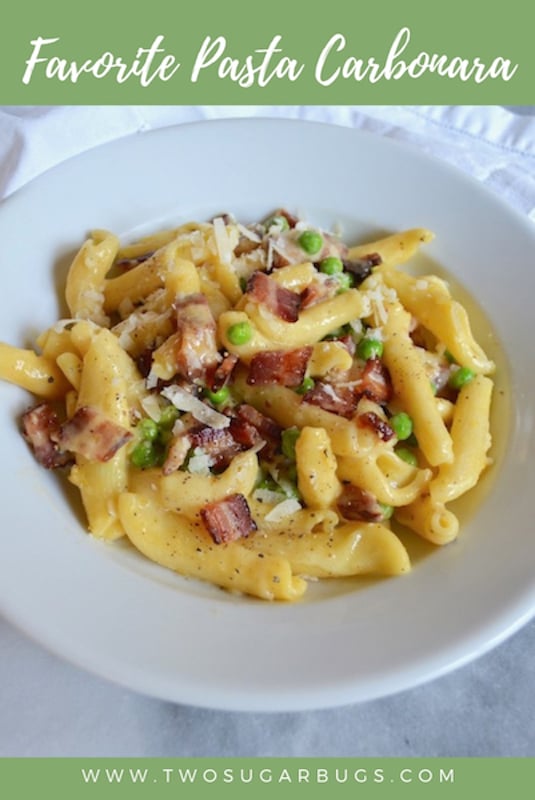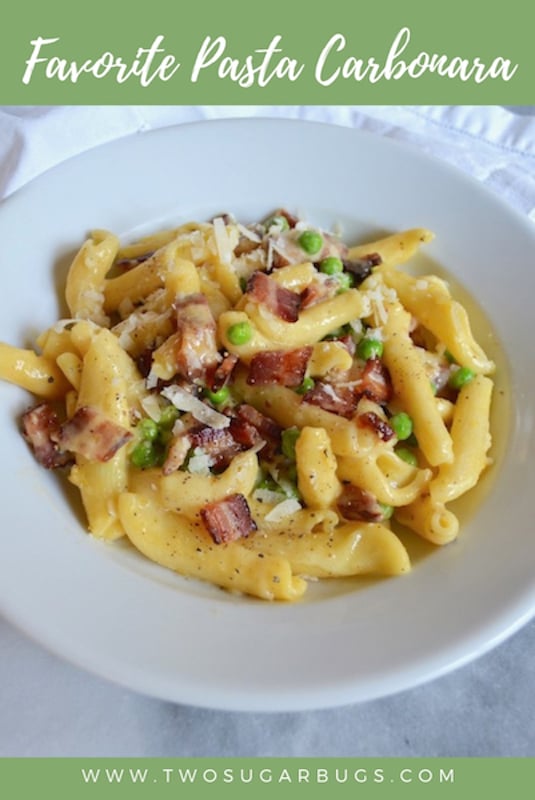 Recipe shared with Full Plate Thursday, Weekend Potluck and Meal Plan Monday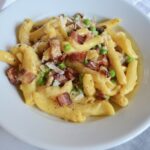 Print
Favorite Pasta Carbonara
Our favorite Pasta Carbonara is quick, easy and satisfying. Perfect for a busy night, but special enough for a dinner party!

Ingredients
6

slices

platter (thick cut) bacon

3

egg yolks

8

tablespoons

heavy cream

1

cup

freshly shredded Parmesan cheese

divided

8

ounces

pasta

¾

cup

peas

fresh or frozen and warmed up
Instructions
Preheat oven (or toaster oven) to 425°F.

Place bacon on a foil lined baking sheet and bake for 10-12 minutes until cooked through and slightly crisp. (Or cook your bacon using your preferred method) Once bacon has cooled to touch, chop into bite size pieces and set aside.

Place egg yolks and heavy cream in a small bowl, whisk to combine and then stir in ¾ cup of Parmesan cheese. Set aside.

Bring a large pot of water to a boil. Salt the water generously, then add pasta and cook until al dente (time will depend on the type of pasta you use, look at packaging for estimate time).

When the pasta is ready, drain, but reserve about ¼ cup of the pasta water. Immediately place hot pasta back in the pot and stir in egg and cream mixture, mixing until the sauce has coated all the pasta. Add in your bacon and peas and season to taste with salt and pepper. If the sauce is too thick, add in some of the reserved pasta water, a tablespoon at a time until sauce has loosened up. ** (I rarely have to add water)

Use remaining parmesan as a garnish on top of finished pasta.
Notes
**You can also add in sautéed mushrooms with the bacon
Recipe adapted from Jamie Oliver
DID YOU MAKE THIS RECIPE?
Be sure to tag @twosugarbugs on Instagram and hashtag it #twosugarbugs