Hearty and wholesome whole wheat blueberry oat muffins. These are soon to become your favorite blueberry muffin.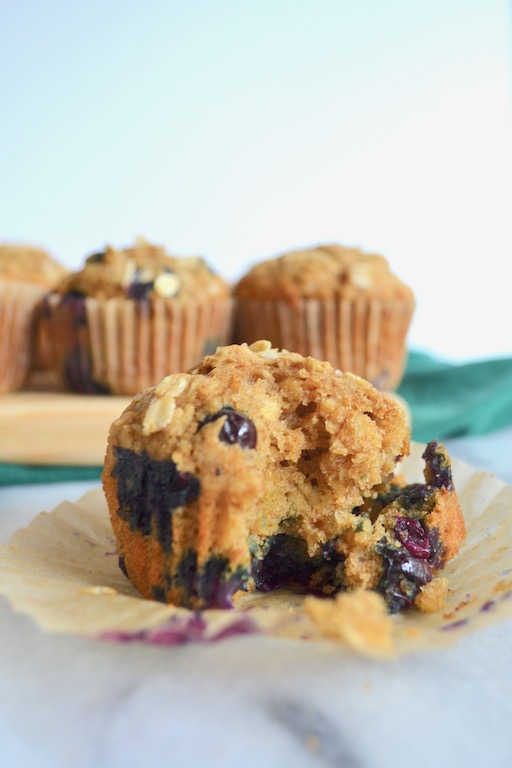 My family loves blueberries.  We eat them year round, but love them best in the summer months when we can pick them up fresh at the local farmer's market or from the local blueberry farm.  This past summer, Mr. Two Sugar Bugs and I decided to plant a couple of our own blueberry bushes.  Neither of us have much of a green thumb, so this is an experiment of sorts for us.  We got a nice, small yield this summer, but I hear that it can take 2-3 years before we will really see a good production.  Fingers crossed!
Disclosure | This post contains affiliate links. The price you pay as a consumer does not change, but I may make a small commission based on your purchase.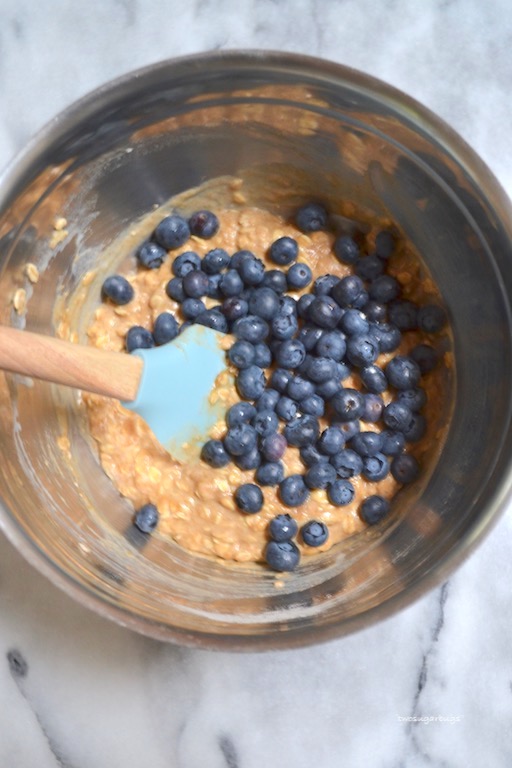 When Sally at Sally's Baking Addiction posted her recipe for Blueberry Oatmeal Muffins this past summer, I knew I wanted to make them.  I have loved oatmeal since childhood.  My mom used to tell me that oatmeal is good for breakfast because "it sticks to your ribs and keeps you full".  Somehow I have always believed that wisdom.  🙂 There is just something about adding oats to baked goods.  I love the texture and the heartiness that oats add and I was intrigued with Sally's method for adding the oats and getting a tall and hearty muffin.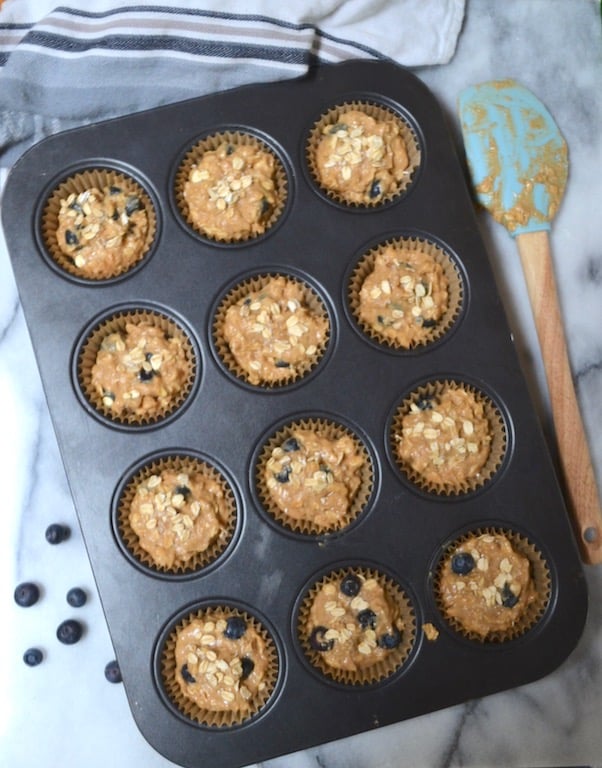 I made a couple of changes to her recipe, namely substituting some of the all-purpose flour with whole wheat flour and using brown sugar in place of the honey.  And oh...my...gosh!!!  These muffins are incredible!  I'm pretty sure little e ate one, big E ate two, Mr. Two Sugar Bugs had one and I consumed the remaining eight.  Oops! They were just so darn good and I could not help myself.  I'm pretty sure I got in a long run that morning too, which no doubt helped me to justify eating that many muffins. 😉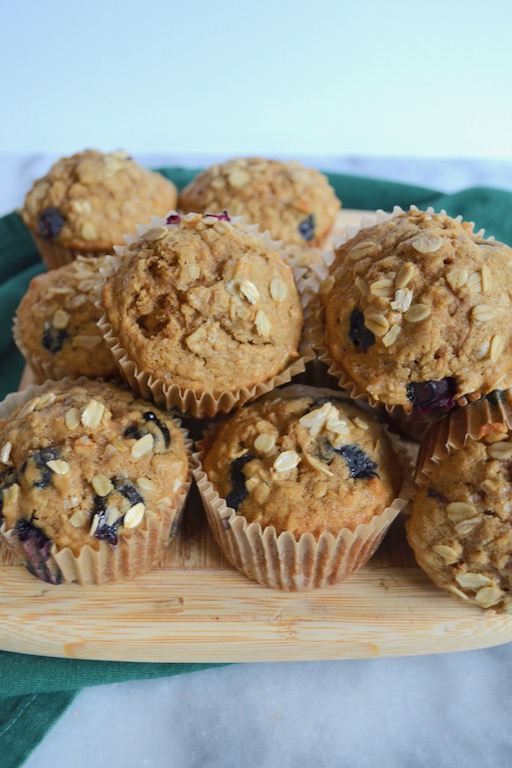 These muffins freeze beautifully, so if they don't all get eaten warm from the oven, just pop them in a freezer bag and into the freezer.  They can be defrosted in the refrigerator overnight.  Or if you are like me and don't think that far ahead, they can be warmed in the oven (I love and use my Breville toaster oven) for about 6-7 minutes at 350°F.  Enjoy!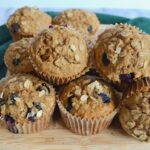 Print
Whole Wheat Blueberry Oat Muffins
Hearty and wholesome whole wheat blueberry oat muffins. These are soon to become your favorite blueberry muffin!

Ingredients
1

cup

old-fashioned oats

1

cup

unsweetened almond milk

any milk can work

¾

cup

whole-wheat flour

½

cup

all-purpose flour

1

teaspoon

baking powder

½

teaspoon

baking soda

½

teaspoon

cinnamon

½

teaspoon

salt

½

cup

brown sugar

½

cup

unsalted butter

melted and slightly cooled

1

teaspoon

pure vanilla extract

1

egg

1

cup

fresh or frozen blueberries

do not thaw if frozen
Instructions
Combine the oats with the milk and set aside for 20 minutes so the oats can soak up some of the moisture.* Don't go longer than 30 minutes with this step! Old-fashioned oats work best. Instant or quick oats are too small and will dissolve as the muffins cook.

Preheat oven to 425°F and line your muffin pan with paper liners or coat with non-stick spray.

In a large bowl, whisk together the whole-wheat flour, all-purpose flour, baking powder, baking soda, cinnamon and salt. Set aside. In another bowl, combine the brown sugar, cooled melted butter, vanilla extract and egg. Pour the wet ingredients into the dry ingredients and stir a few times before adding the soaked oats and milk mixture. Gently combine, then add the blueberries and gently mix it all together.

Spoon batter into muffin wells (I like to use an ice cream or cookie scoop), filling them up to the top. Bake for 5 minutes at 425°F, then turn the oven down to 350°F* (keeping muffins in the oven the whole time) and bake another 16-17 minutes or until a toothpick inserted in the center of the muffin comes out clean.

Allow muffins to cool about 5 minutes in the pan and then transfer to a wire rack to cool further. Muffins will stay fresh covered at room temperature for a couple days, then transfer to the refrigerator for up to one week. They also freeze well.
DID YOU MAKE THIS RECIPE?
Be sure to tag @twosugarbugs on Instagram and hashtag it #twosugarbugs