A healthier gingerbread muffin with a cream cheese cinnamon drizzle, packed with oats and bran to help keep you full and running through your busy mornings.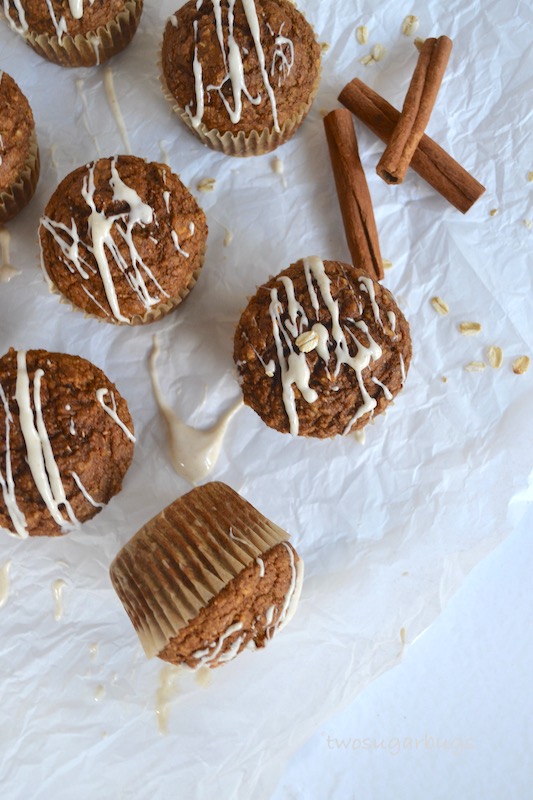 Today I bring you a healthier gingerbread muffin with a cream cheese cinnamon drizzle.  These beauties will make your house smell amazing!!  When I ran the nutrition values on this muffin alone, it clocks in at 105 calories per muffin.  If you add the drizzle, it's about another 20 calories.  That makes these gingerbread muffins a nutritional win in my book 😊 and we're going to need all the help we can get as we head into the holiday season!  They are packed with oats and bran to help keep you full and running through your busy mornings.
Disclosure | This post contains affiliate links. The price you pay as a consumer does not change, but I may make a small commission based on your purchase.
While the baking and food world is obsessed with pumpkin spice everything, my mind wanders to gingerbread.  There is something warm and comforting about the smell of gingerbread baking and it is one of the flavors that helps me transition into the holiday season.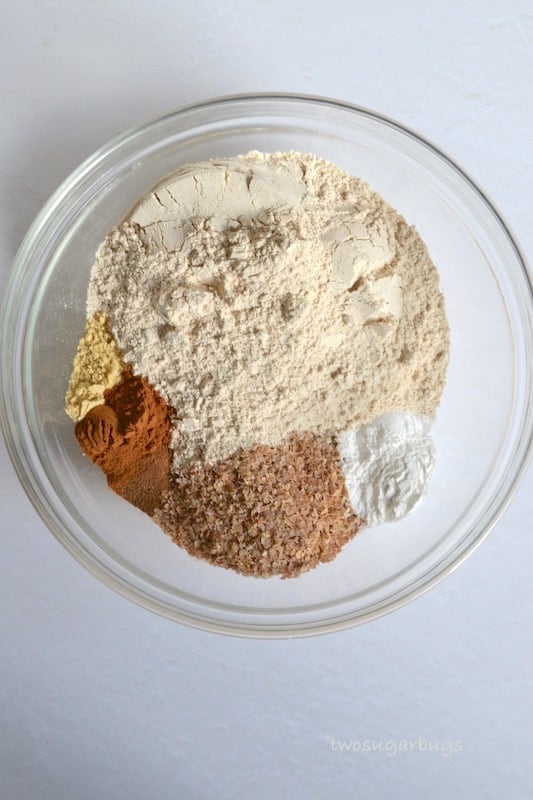 It took me several tries to get these muffins to a point where they were share worthy.  My first attempt was shy on the gingerbread spices and a bit dry.  The second try nailed the gingerbread flavor, but was still drier than a muffin should be.  The third try was a charm.  These muffins have very little fat and use applesauce and honey for a teeny tiny hint of sweetness, so they needed something else to give them a bit more moisture.  Enter Greek yogurt, which gives the muffins more moisture and also has added nutritional value.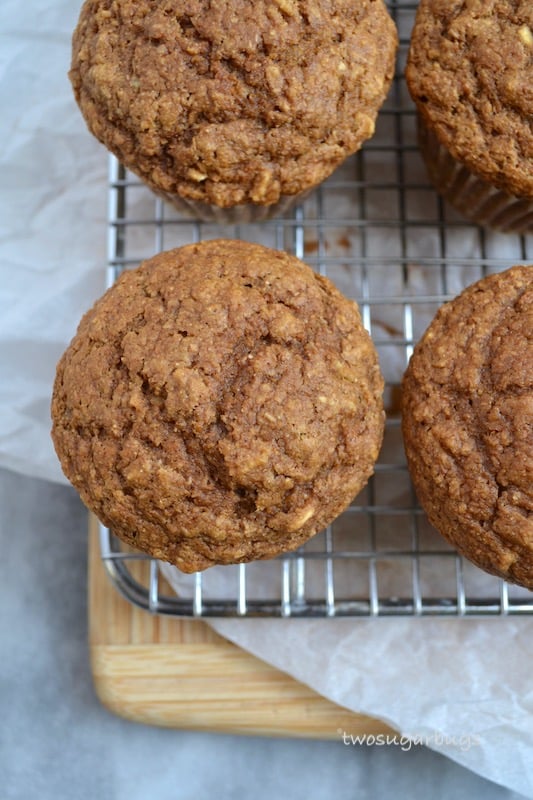 Muffins are a baked good that often are really just a cupcake pretending to be something healthier.  These gingerbread muffins are not a dessert.  In fact, they aren't really sweet unless you add the cream cheese cinnamon drizzle.  And who are we kidding?, you know you want that drizzle!  The cream cheese cinnamon drizzle not only tastes amazing, it's a fun way to finish these to perfection.  The muffins are filled with whole wheat flour, bran, oats, molasses, applesauce, Greek yogurt and a little honey, so they are a muffin you can feel good about eating.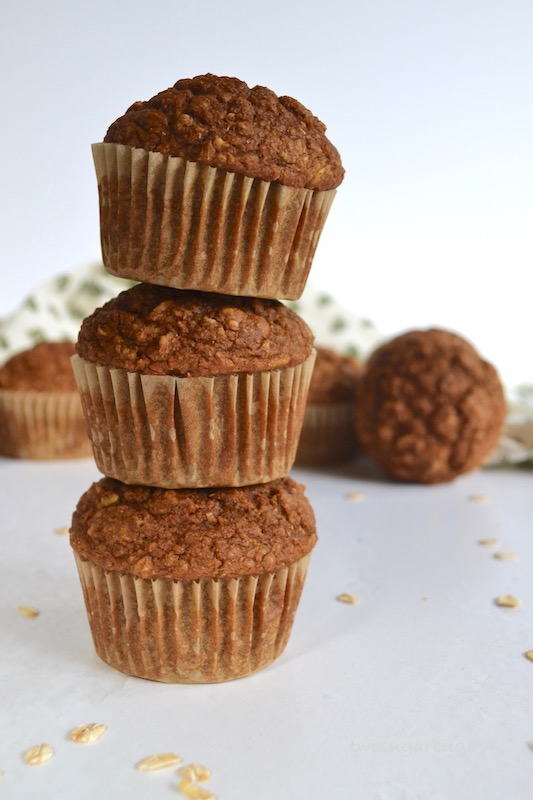 With November whizzing along, I am really starting to feel the holiday spirit.  My girls are adding everything they see to their wish list and have been asking for weeks now if we can start decorating for Christmas.  For most of my adult life I have put up the Christmas tree the first or even sometimes the second weekend of December.  But since Big E has been old enough to have an opinion, (that would be since about two years old...) we have started decorating for Christmas the day after Thanksgiving.  There's something about having little bugs around and their genuine excitement for the season.  It's really fun to experience it all through their eyes!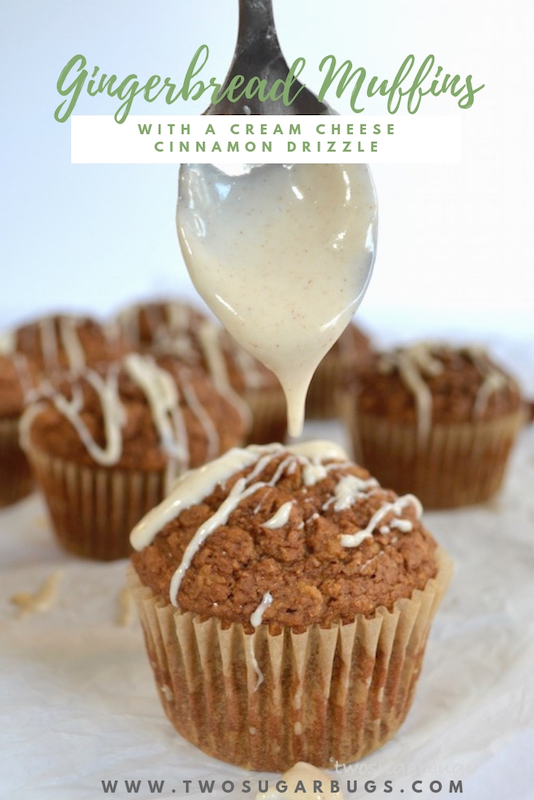 If your days are like mine and you are running on little sleep and feeling like there is too much to do, make up a batch of these gingerbread muffins to get your busy days off to a good start.  The muffins keep well in the refrigerator for up to one week ~ if they last that long!  I like to pop them in the toaster oven for a minute or two to warm them up.  Pair them with some fresh fruit and you have an easy and satisfying breakfast that feels like a treat.  The muffins also freeze beautifully and defrost overnight in the refrigerator.
In the midst of all the holiday planning, shopping and baking, I am also working on content for 2019.  I have a few savory things that will be coming your way in the new year and I'd love to know what kinds of sweet treats you'd like to see.  Drop me a comment below with your ideas. 😊
OTHER HEALTHIER BREAKFAST OPTIONS YOU MAY ENJOY: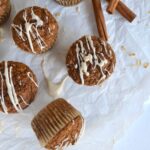 Print
Gingerbread Muffins with a Cream Cheese Cinnamon Drizzle
A healthier gingerbread muffin with a cream cheese cinnamon drizzle, packed with oats and bran to help keep you full and running through your busy mornings.
Ingredients
½

cup

old-fashioned oats

1

cup

unsweetened almond milk

any milk can work

½

cup

wheat bran

I like Bob's Red Mill

1 ½

cups

whole-wheat flour

I like King Arthur's White Whole Wheat

1

teaspoon

baking powder

1

teaspoon

baking soda

1

teaspoon

ground cinnamon

¾

teaspoon

ground ginger

¼

teaspoon

ground clove

¾

cup

unsweetened applesauce

¼

cup

Greek yogurt

can substitute sour cream

2

tablespoons

molasses

2

tablespoons

honey

I prefer local honey

2

tablespoons

butter

melted and slightly cooled

1

teaspoon

pure vanilla extract

2

large eggs
Cinnamon Cream Cheese Drizzle
1

ounce

cream cheese

room temperature

¼

cup

powdered sugar

½

teaspoon

ground cinnamon

1 -3

teaspoons

half and half or milk
Instructions
Combine the oats with the milk and set aside for 20 minutes so the oats can soak up some of the moisture.* Don't go longer than 30 minutes with this step! Old-fashioned oats work best. Instant or quick oats are too small and will dissolve as the muffins cook.

Preheat oven to 425°F and line your muffin pan with paper liners or coat with non-stick spray.

In a large bowl, whisk together the wheat bran, whole-wheat flour, baking powder, baking soda, cinnamon, ginger and cloves. Set aside. In another bowl, combine the applesauce, Greek yogurt, molasses, honey, cooled melted butter, vanilla extract and eggs. Pour the wet ingredients into the dry ingredients and stir a few times before adding the soaked oats and milk mixture. Gently combine it all together.

Spoon batter into muffin wells (I like to use an ice cream or cookie scoop), filling them up to the top. Bake for 5 minutes at 425°F, then turn the oven down to 350°F* (keeping muffins in the oven the whole time) and bake another 12-14 minutes or until a toothpick inserted in the center of the muffin comes out clean.

Allow muffins to cool about 5 minutes in the pan and then transfer to a wire rack to cool further.

If you want a sweeter muffin, make the cinnamon cream cheese drizzle while the muffins cool. In a small bowl, combine the cream cheese, powdered sugar and cinnamon. Once well combined, slowly add half and half or milk until the glaze is thin enough to drizzle. Drizzle over cooled muffins.
Notes
Muffins will stay fresh covered at room temperature for a couple days (I refrigerate from day one if they have glaze on them), then transfer to the refrigerator for up to one week. They also freeze well.
*This method learned from Sally at Sally's Baking Addiction
DID YOU MAKE THIS RECIPE?
Be sure to tag @twosugarbugs on Instagram and hashtag it #twosugarbugs