Peanut butter cookie fans it's time to celebrate with a chewy, thick, peanut buttery cookie!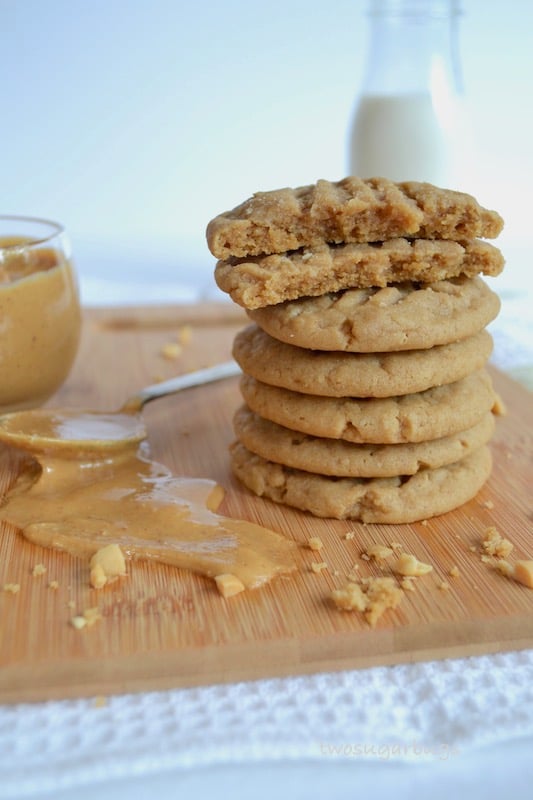 A chewy, thick, peanut buttery pb cookie. This cookie has a little twist on the classic with the addition of some ground oatmeal. The oats add a phenomenal chew factor and also some nutritional value.
Peanut butter is a staple at our house. We go through a 36 ounce jar of natural peanut butter every couple of months. PB and J is little e's current lunch sandwich of choice. Big E likes toast with peanut butter and cinnamon honey for breakfast. As far as Mr. Two Sugar Bugs and I, we'll take it any way we can get it! That makes these chewy, peanut buttery cookies a favorite for us.
Disclosure | This post contains affiliate links. The price you pay as a consumer does not change, but I may make a small commission based on your purchase.
If you follow me on Instagram, you know these peanut butter cookies gave me a run for my money. I wanted to create a classic peanut butter cookie, like I remember from my childhood, but without the shortening. I also wanted a chewy and thick cookie. Since these cookies use all butter my test batches kept coming out thin and chewy. Delicious, but not what I was going for. I'd chill the dough, roll them into balls, and give the tops that recognizable criss cross pattern on the top. But all my adjustments kept giving me flat cookies.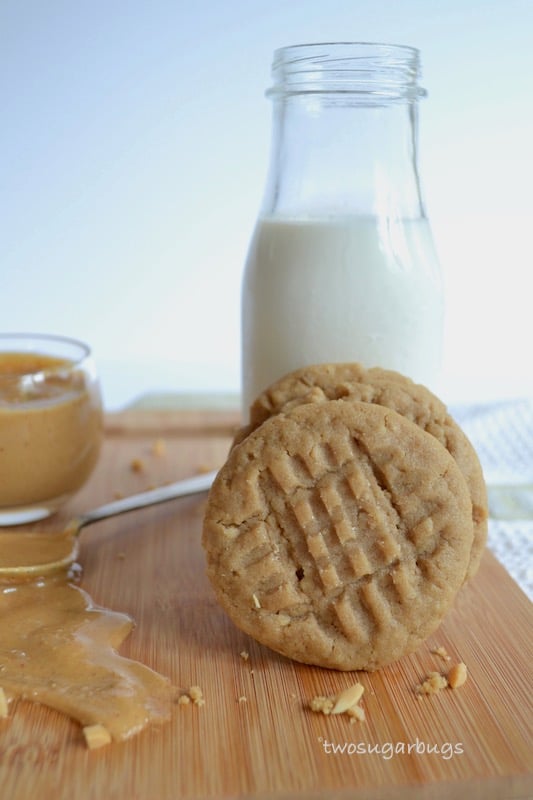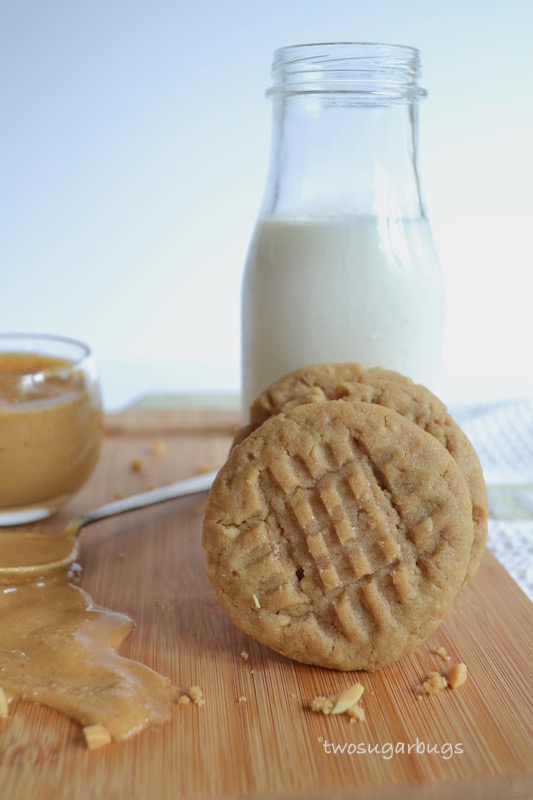 Here's where the ground oatmeal comes in. My friend, Peggy, from Cookie Carts, is one smart cookie ~ pun intended 😊. She told me she almost always substitutes some of the flour in her cookie recipes with ground oats. I decided to give it a try because I wasn't going to let these peanut buttery pb cookies go until I got the recipe right! The addition of ground oatmeal gives these cookies some extra body and chew factor, but absolutely no taste of oatmeal.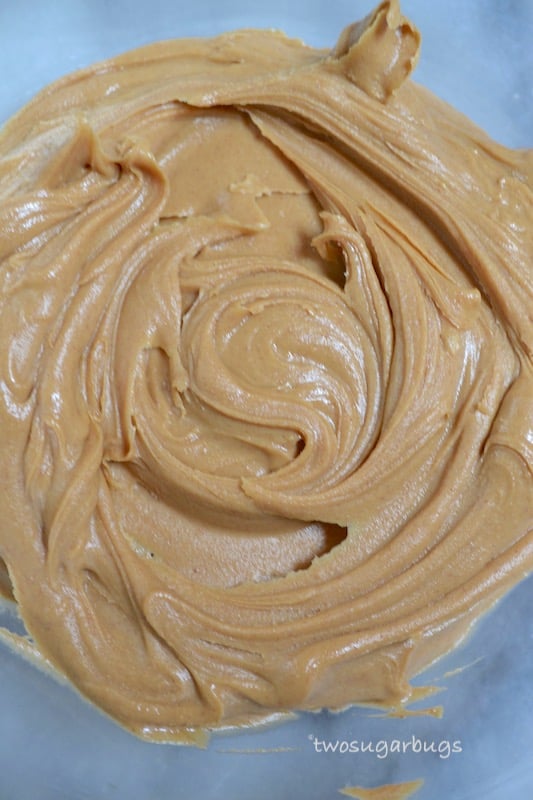 I like to use my stand mixer fitted with a Side Swipe blade to cream my butter and sugars. Then I mix in my egg and vanilla before adding in the peanut butter. I have found this technique lets all the wet ingredients incorporate fully.
To grind the oatmeal, I like to use my food processor, but a high powered blender will also do the trick. You'll measure a half cup of oats to grind. Once the oatmeal is the consistency of flour you will add it back to your half cup measure. If it's short of a half cup, fill the remainder with all-purpose flour. Then you'll add it to your all-purpose flour, baking soda and salt. Finally, you will add the dry ingredients to the wet and combine until the flour mixture is incorporated.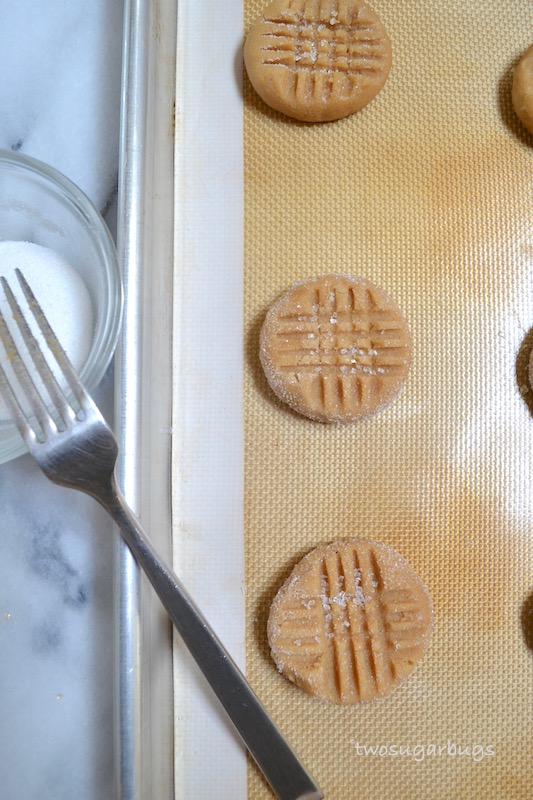 The dough then needs some time to chill in the refrigerator. A minimum of two hours is needed. More chilling if you can. Trust me on this. They are worth the wait. If you rush the chilling process the cookies will spread and potentially end up as one big, flat cookie and nobody wants that!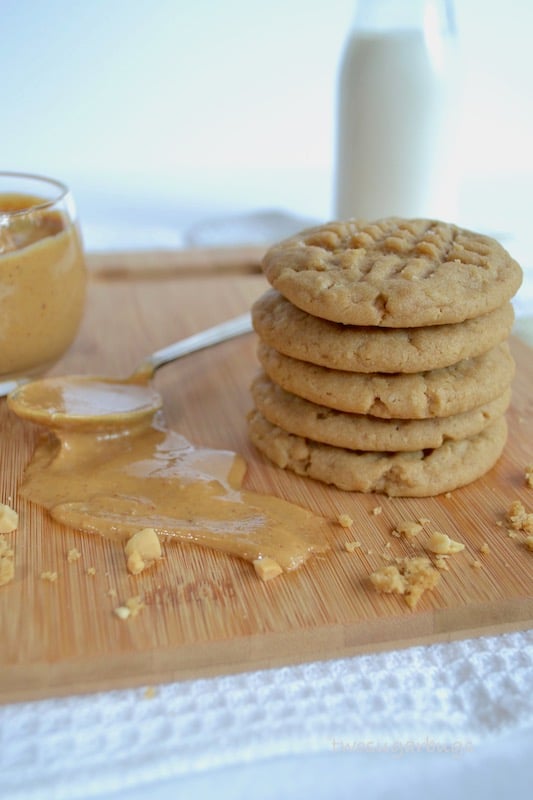 These peanut buttery, pb cookies bake up soft, thick and chewy. An explosion of peanut butter flavor with a fabulous chew factor. They are perfect for all the peanut butter lovers in your life.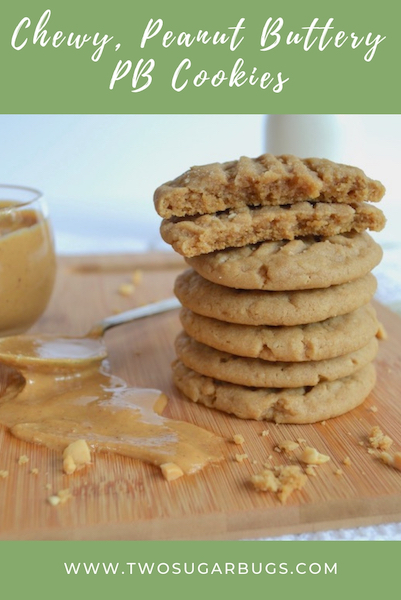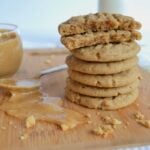 Print
Chewy Peanut Buttery PB Cookies
A chewy, thick, peanut buttery pb cookie. This cookie has a little twist on the classic with the addition of some ground oatmeal. The oats add a phenomenal chew factor and also some nutritional value.
Ingredients
½

cup

rolled oats

ground to flour consistency

1

cup

all-purpose flour

1

teaspoon

baking soda

¼

teaspoon

salt

½

cup

unsalted butter

room temperature

½

cup

brown sugar

½

cup

granulated sugar

1

large egg

½

teaspoon

pure vanilla extract

¾

cup

peanut butter

Coarse sugar for tops

optional
Instructions
Blend ½ cup of rolled oats in your food processor or blender until flour like consistency is reached. Add oat flour back into ½ cup measure, if not a full ½ cup fill remainder with all-purpose flour. In a medium bowl, whisk together ground oats, flour, baking soda and salt. Set aside.

Using a hand mixer or a stand mixer fitted with the paddle attachment, beat the butter and sugars on medium speed until light, fluffy and smooth. Add the egg and vanilla and mix until combined. Scrape up and down the sides and bottom of bowl. Add the peanut butter and combine until light and fluffy, about 1 minute.

With the mixer on low, add the flour mixture and combine until all the flour is incorporated. The dough will be thick and sticky. Cover the dough tightly and chill for a minimum of 2 hours (and up to 2 days) in the refrigerator.

Preheat the oven to 350°F. Line baking sheets with silicone baking mats or parchment paper.

Roll dough into balls (about 2 tablespoons per cookie). Place about 2 inches apart on prepared baking sheets and press down the balls with a fork dipped in sugar, creating a criss-cross pattern. Sprinkle with coarse sugar, if using.

Bake 7-9 minutes, until very lightly browned on the sides.

Allow cookies to rest on the pan for 5 minutes before transferring to a wire rack to cool completely.
Notes
Cookies stay fresh covered at room temperature for up to 1 week. Baked cookies freeze well for up to three months.
I do not recommend using natural peanut butter for these cookies.  A brand like Jif or Skippy works best.
DID YOU MAKE THIS RECIPE?
Be sure to tag @twosugarbugs on Instagram and hashtag #twosugarbugs