This easy cherry nectarine crostata is the perfect way to celebrate summer's fresh stone fruit. It's a rustic, simple and downright delicious dessert!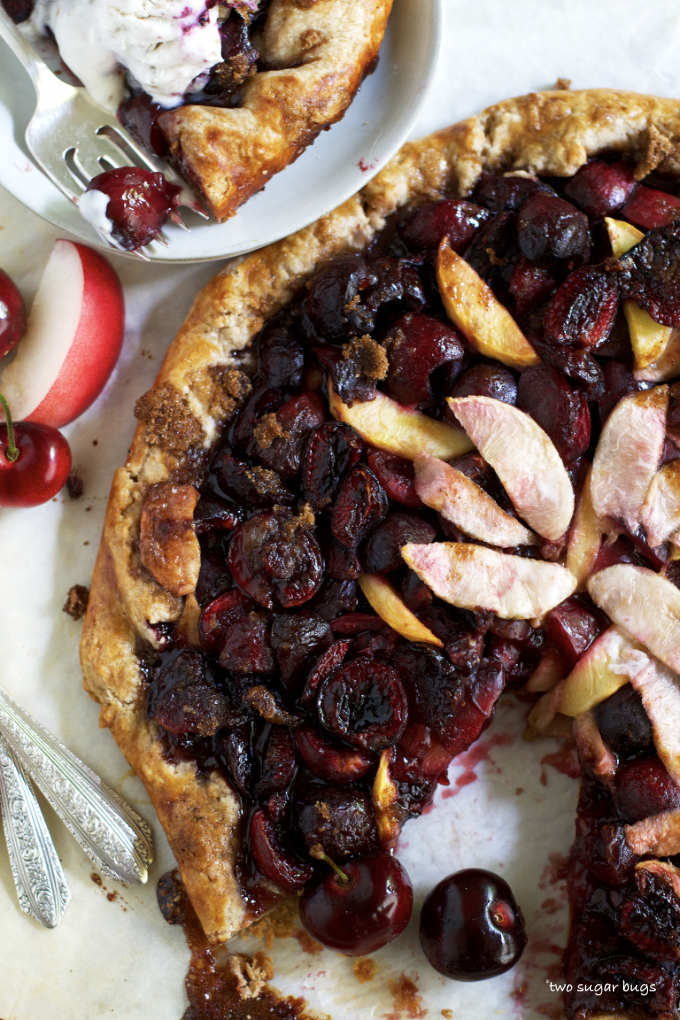 It's hard to beat summer in the Pacific Northwest! The sun shines more than it rains. It is typically warm, but not crazy hot, and the daylight lingers well into late evening.
We frequent several of our local farmer's markets; which are filled to the brim with local fruits and vegetables. We also love to visit some of the local farms to pick our own berries. Greenbluff, in Eastern Washington is one of our favorite places in the summer. It's become a tradition to go cherry picking every year, which has driven me to create lots of cherry centric recipes.
Disclosure | This post may contain affiliate links. As an Amazon Associate I earn from qualifying purchases.
So, remind me again, what is a crostata?
Think of a crostata as pie's messy, but totally cool older sister. You still get a flakey and tender crust, but instead of having to crimp it and make it pretty, you get to make it rustic. That rustic crust is filled with cherries and nectarines today, but can easily be made with other fruits. Crostata is the Italian term and a galette is the French version. Basically it is a free form pie!
When is cherry and nectarine season?
Depending on where you live, there may be a little variance to when these fruits are available locally. The typical season for both cherries and nectarines is May through August.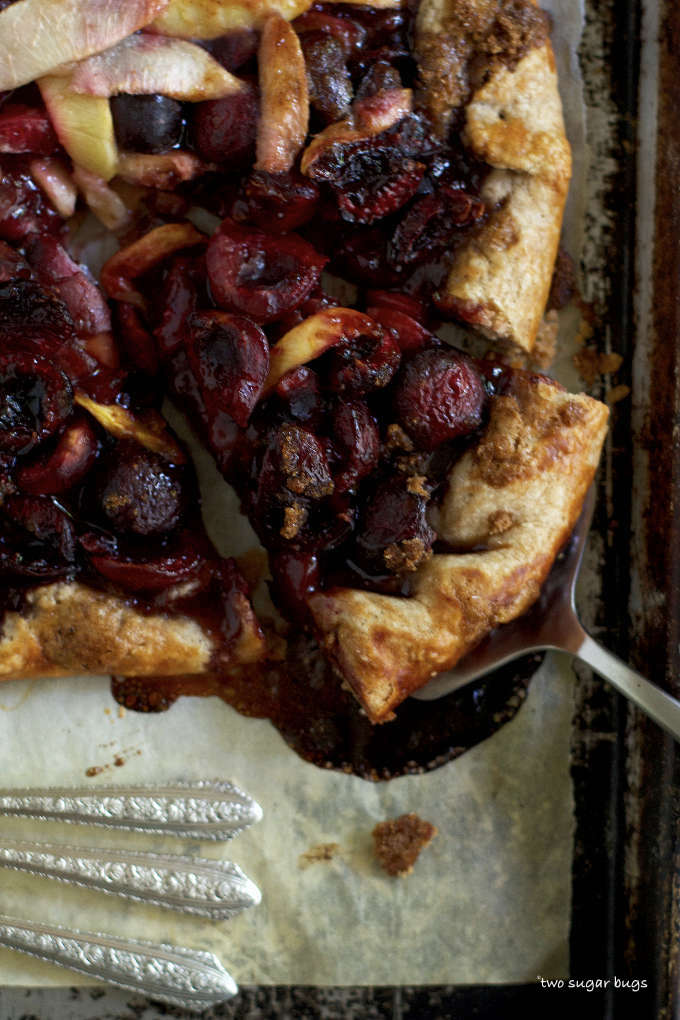 Remember to pin this recipe to Pinterest! Use the button on the recipe card or the share buttons on the side or bottom of this page.
Let's make a cherry nectarine crostata!
First prepare the crostata dough. This dough works off my perfect all-butter pie crust with just a couple changes. I've made the crust with the addition of cinnamon and without. It is delicious either way!! The dough needs about 45 minutes of rest time in the refrigerator, but you can also prepare the dough up to several days ahead. Just let it warm on the counter 20 minutes or so before rolling it out.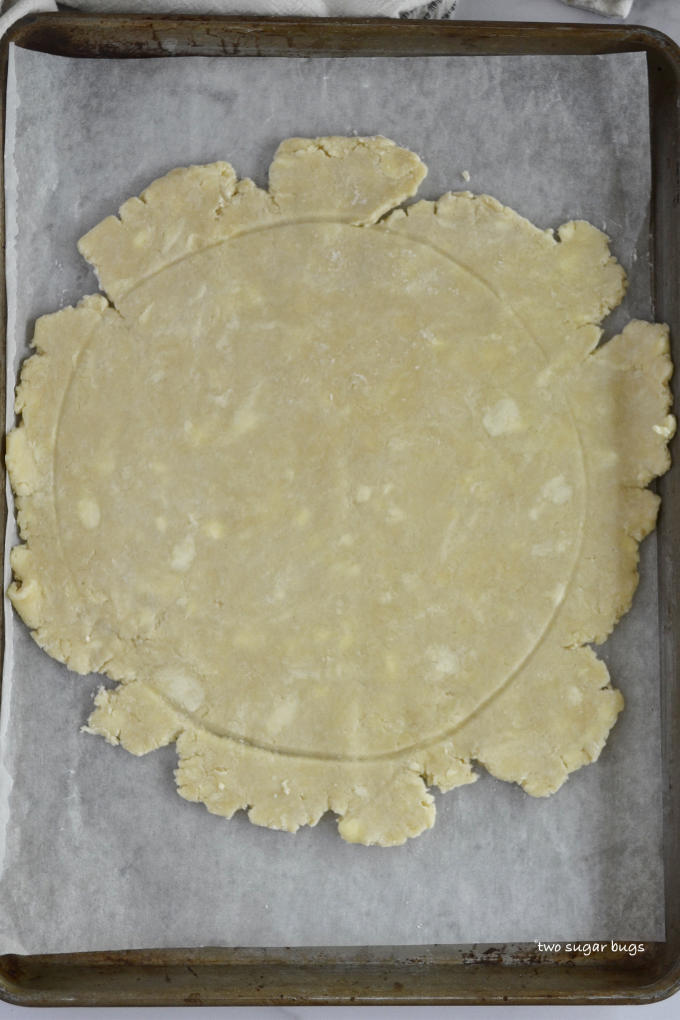 Then prepare the fresh cherries. If you don't have a cherry pitter, I highly recommend getting one. I resisted for far too many years and it truly is a time saver! I have two, a stainless version that I got at my local kitchen store and this OXO Good Grips one. This recipe calls for 4 cups of cherries, pitted and chopped in halves and quarters.
Now peel (this is my favorite set of vegetable peelers!) and slice the nectarines and add them to the cherries. I've used both yellow flesh and white flesh, either one works perfectly!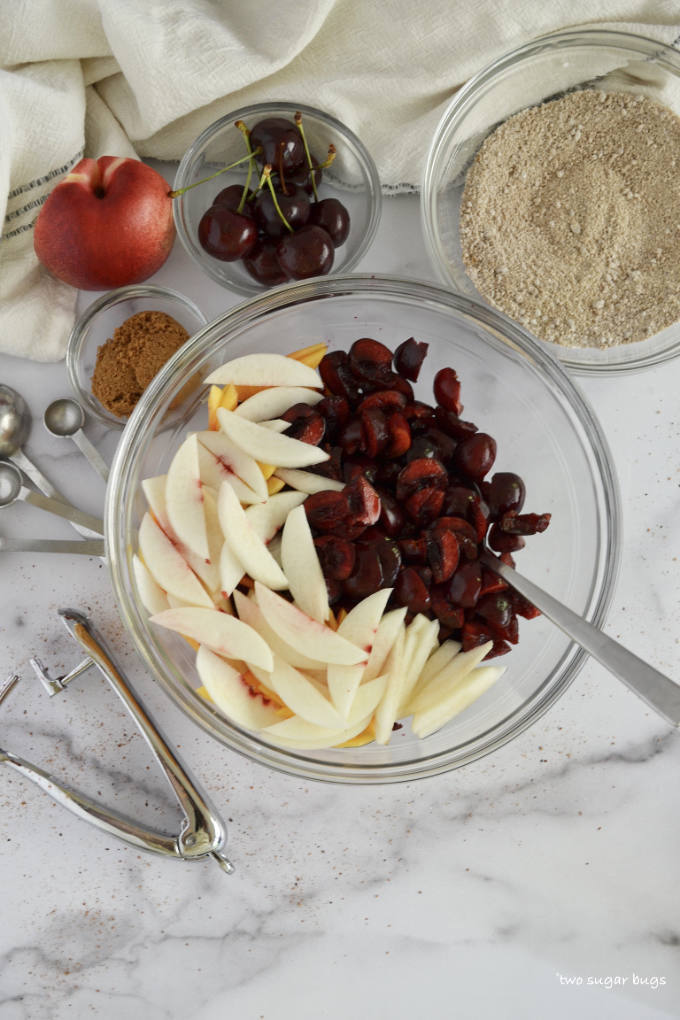 Now it's time to mix the filling. You will need ~
brown sugar
cinnamon
nutmeg
vanilla extract
all-purpose flour
First, mix the brown sugar, cinnamon, nutmeg and vanilla. Then you will remove two tablespoons and set it aside. Add the all-purpose flour to the remaining mixture and toss it with the cherries and nectarines.
putting the crostata together
Roll out the prepared dough into approximately a 12 inch circle. It doesn't have to be perfect! Then transfer the dough to a parchment lined baking sheet. I like to use a 10 inch plate or bowl to make a visual so I don't get the fruit too close to the edges.
Now use a slotted spoon to place the fruit on the dough. You do NOT want to include any of the juice that has settled in the bottom of the bowl.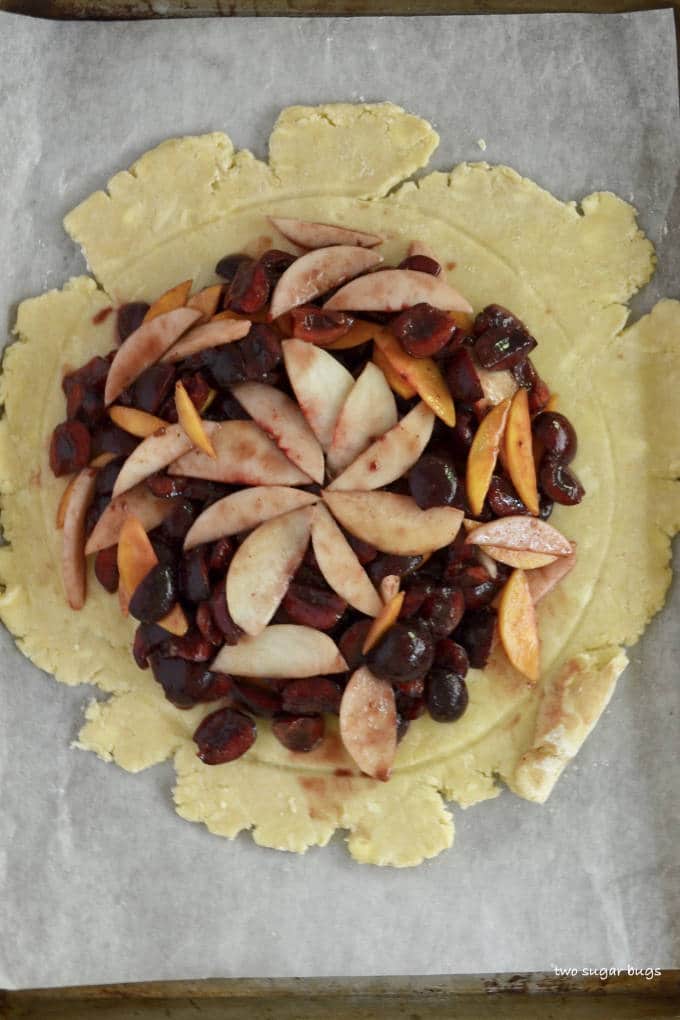 Now roll the edges up and around the fruit. Again, this doesn't have to be perfect! Just make sure to create a rolled border around the whole crostata. Then sprinkle the reserved brown sugar mixture over the entire top of the crostata, being sure to get the dough edges.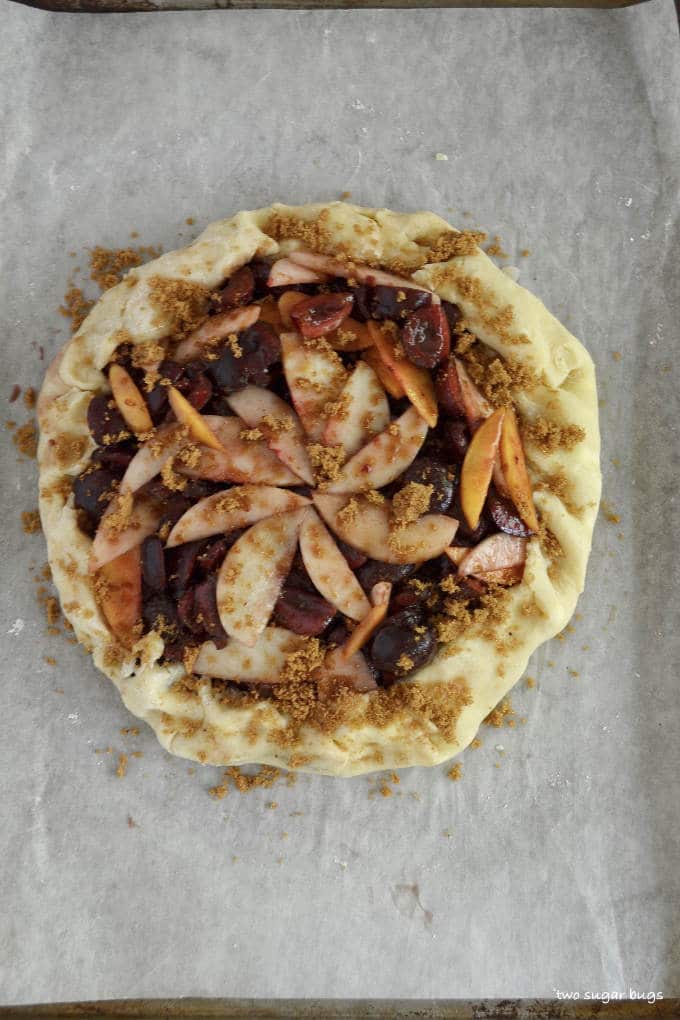 Pop the prepared crostata in the freezer while you preheat the oven to 400°F. Once the oven is fully preheated, bake for 30-45 minutes, until the filling is bubbling and the crust is lightly browned.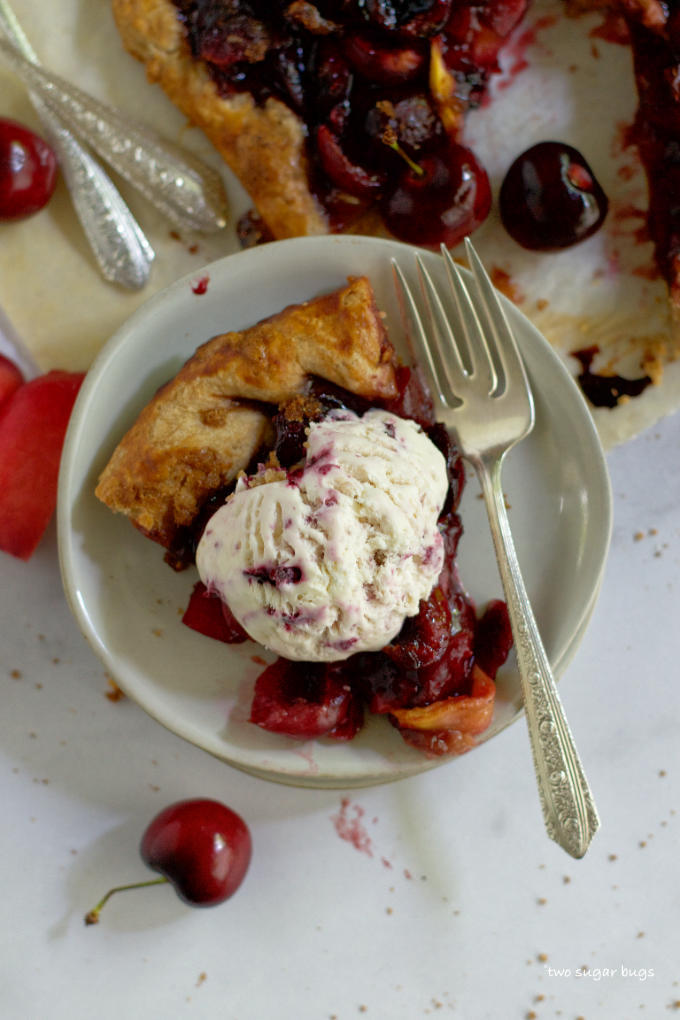 Be prepared to fall in love with this cherry nectarine crostata! It's perfect for sharing with friends or for a Sunday dinner. Enjoy this easy summer dessert warm, at room temperature or chilled. It's also fantastic with a scoop of cherry bourbon crumble no-churn ice cream!!
More cherry recipes to make and enjoy ~
Remember to snap a picture and tag me @twosugarbugs on Instagram if you make this cherry nectarine tart. It warms my heart to see you bring these recipes to life! Thank you for being here and happy baking!
If you make this recipe (or any recipe!) from two sugar bugs please come back and leave a review and a star rating. I read every comment, and I LOVE hearing from you!
Yield: 10 slices
Cherry Nectarine Crostata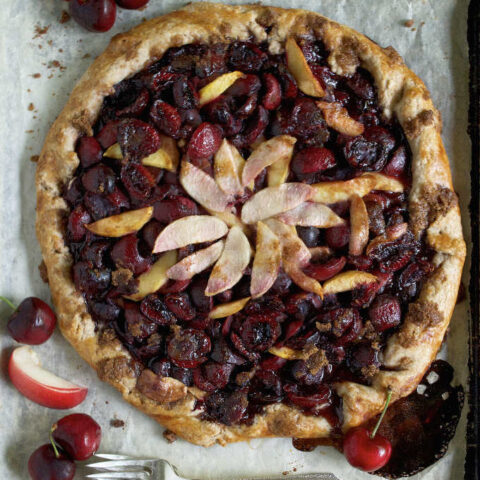 This easy cherry nectarine crostata is the perfect way to celebrate summer's fresh stone fruit. It's a rustic, simple and downright delicious dessert!
Ingredients
Crostata Dough
10 tablespoons unsalted butter, cubed and well chilled
1 ½ cups all-purpose flour (plus more as needed for rolling)
3 Tablespoons granulated sugar
½ teaspoon salt
2 teaspoons cinnamon, optional
4-6 tablespoons ice cold water
Cherry Nectarine Filling
⅓ cup brown sugar
¼ teaspoon cinnamon
¼ teaspoon nutmeg
1 teaspoon pure vanilla extract
3 tablespoons all-purpose flour
4 cups cherries, pitted and chopped into halves and quarters
2 nectarines, peeled and cored and thinly sliced
Instructions
Cut your butter into small cubes and return it to the refrigerator.
In a medium-large size bowl, mix your flour, sugar, and salt (plus cinnamon, if using). Add your cold butter to the flour mixture. Using a pastry cutter (or two forks) cut the butter into the flour mixture until the butter is the size of small peas. A few larger bits of butter remaining are okay too.
Fill a cup or small bowl with ice water and use this to add to your butter and flour mixture. Drizzle the water in 1-2 tablespoons at a time and stir with a rubber spatula. Continue to add water until the mixture forms larger clumps. I usually use 5-6 tablespoons. The dough will be a slightly sticky and moist, but not wet.
Dump dough onto a lightly floured work surface. Use floured hands to fold the dough into itself until the flour and butter are fully incorporated. Remember you are not kneading the dough; you just want the dough to come together enough to shape it into a ball. Then flatten the ball into a disk about 1-inch thick. Tightly wrap the disk in plastic wrap and refrigerate for at least 45 minutes before using (and up to several days*).
Cherry Nectarine Filling - In a small bowl, mix together the brown sugar, cinnamon, nutmeg and vanilla. Remove 2 tablespoons and set aside; then add the flour to the remaining brown sugar mixture and mix well. Set aside.
Place the chopped cherries and sliced nectarines in a medium-large size bowl. Add the brown sugar mixture and toss well.
On a lightly floured surface, roll out the crostata dough into a 12 inch circle. Transfer the dough to a parchment lined baking sheet.
Place the cherry and nectarine mixture in the center of the dough (leaving a 2-3 inch border). If the fruit has created juice, do not add any of the juice.
Roll up the edges of the dough up around the fruit, creating a border. Sprinkle the fruit and crust with the reserved brown sugar mixture.
Place the crostata in the freezer while the oven preheats to 400°F.
Bake for approximately 35-45 minutes, until bubbling and the crust is lightly browned.

Notes
Serve warm, room temperature or chilled.
Cover and store any leftover crostata in the refrigerator for up to one week.
*If crostata dough has chilled longer than 2 hours, allow to sit on the counter for 20 or so minutes prior to rolling out.
Nutrition Information:
Yield:
10
Serving Size:
1
Amount Per Serving:
Calories:

270
Total Fat:

12g
Saturated Fat:

7g
Trans Fat:

0g
Unsaturated Fat:

4g
Cholesterol:

31mg
Sodium:

111mg
Carbohydrates:

39g
Fiber:

3g
Sugar:

20g
Protein:

3g
The nutrition information is an estimate and may not be entirely accurate.
DID YOU MAKE THIS RECIPE?