You are going to love this blueberry zucchini bread!  It is wholesome and healthy, sweetened with bananas, a little brown sugar and bursting with sweet blueberries.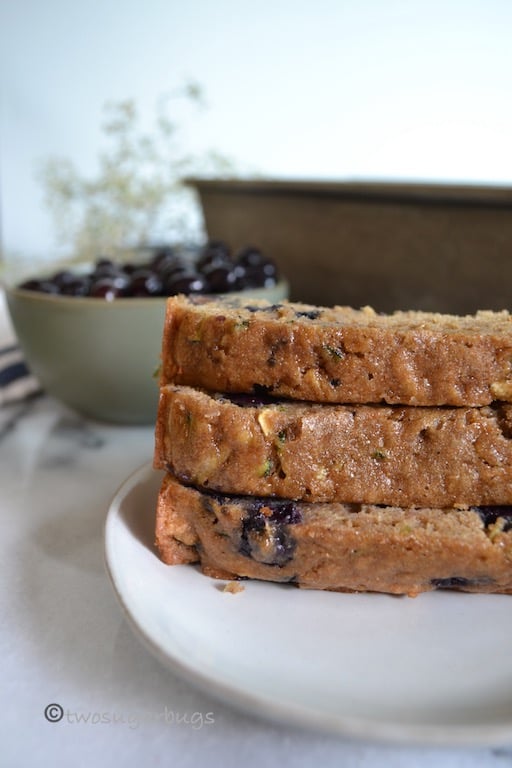 I'll be honest.  I only started eating zucchini after my oldest, Big E, was born.  It is one of the few vegetables that I have always had a hard time with.  It's a texture thing.
After becoming a mom I decided that I needed to introduce all the vegetables to my girls, even those I find less desirable.  This gave me a new challenge as I had to figure out how to prepare them so I would enjoy them too!  I mean, what kind of a role model would I be if I did not eat the things I prepare for everyone else?
Disclosure ~ This post contains affiliate links. The price you pay as a consumer does not change, but I may make a small commission based on your purchase. As an Amazon Associate I earn from qualifying purchases.
I have learned that I can deal with the texture of zucchini better when shredded.  And being that I rarely meet a bread that I don't like, why not put zucchini in bread?  Now I know what you are thinking....zucchini bread, nothing new here.  But this is healthier zucchini bread, one you can feel good about feeding to your family for breakfast.  Plus, you mix it all by hand so no need to drag out your mixer and dirty more dishes!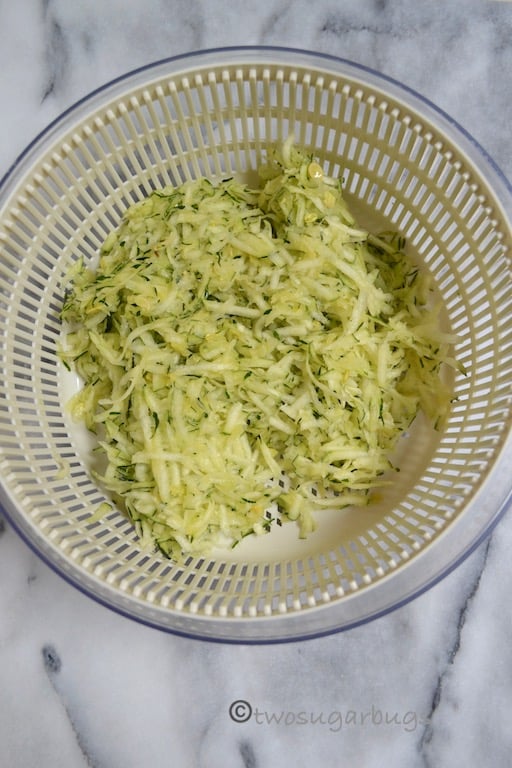 It's imperative to extract most of the moisture from the zucchini for this recipe.  In addition to the zucchini; bananas, brown sugar and blueberries are added to the batter.  All of those ingredients add moisture, so we do not need additional moisture from the zucchini.  I like to shred the zucchini on my box grater.  I used to then place a colander in the sink and use clean hands to press the excess water out of the zucchini.  Then one day my daughter was using the salad spinner for an "experiment" while I was prepping this bread and it gave me an idea.  Let me tell you, a salad spinner is perfect for this job!  Just place your shredded zucchini in the bowl of your salad spinner and give it a couple of spins.  Voila!  No more soggy zucchini!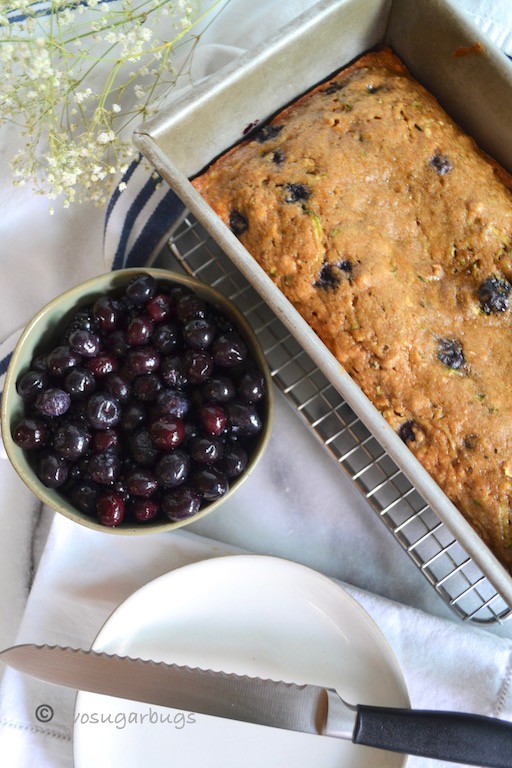 This blueberry zucchini bread has become a favorite for my family.  My kids know it is chock full of zucchini and they devour it anyway.  You are going to love this blueberry zucchini bread because it is slightly sweet, super moist and bursting with blueberries.  I hope you make it for breakfast tomorrow. 🙂
Recipe shared with Meal Plan Monday , Full Plate Thursday and Weekend Potluck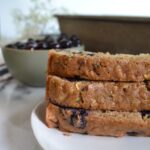 Print
Blueberry Zucchini Bread
Blueberry Zucchini Bread ~ wholesome and healthy, sweetened with bananas, a little brown sugar and bursting with sweet blueberries.

Ingredients
2

cups

zucchini

shredded and drained

3

cups

whole-wheat flour

1

teaspoon

salt

1 ½

teaspoon

baking powder

¼

teaspoon

baking soda

1

tablespoon

cinnamon

1 ½

cups

bananas

mashed, about 3 medium bananas

3

large eggs

1

tablespoon

pure vanilla extract

1 ⅓

cups

brown sugar

packed

2

cups

blueberries

if using frozen, do not thaw
Instructions
Preheat oven to 350°F. Grease two standard loaf pans.

Shred zucchini and remove as much moisture as possible (I like to use my salad spinner). Set aside.

In a medium size bowl, whisk together whole-wheat flour, salt, baking powder, baking soda and cinnamon. Set aside.

Mash bananas in a large bowl with a fork or potato masher. Then add shredded and drained zucchini, eggs, vanilla, and brown sugar. Mix with a wooden spoon until well combined.

Add flour mixture to dry ingredients and mix until just combined. Gently fold in the blueberries. If using frozen blueberries, do not thaw them.

Divide batter evenly between the two loaf pans.

Bake for 50-60 minutes, baking times vary, so use these times as a guide. The bread is done when a toothpick inserted in the center of the loaf comes out clean.

Remove the bread from the oven and set on a wire rack to cool. Allow the bread to cool completely before slicing and serving.
Notes
Bread can be covered and stored at room temperature for up to 3-4 days.
DID YOU MAKE THIS RECIPE?
Be sure to tag @twosugarbugs on Instagram and hashtag it #twosugarbugs